For the IBF heavyweight champion of the world, victory starts in the kitchen.
As Anthony Joshua prepares for the biggest fight of his life against boxing legend Wladimir Klitschko later this month, the Londoner's nutritionist has revealed AJ's extraordinary diet as he prepares for battle.
Speaking to Betway​ ahead of the fight on April 29th, sports nutritionist Mark Ellison lifted the lid on AJ's 5,000 calories per day meal plans:
"He's unbelievably committed, he focuses on the details and he works his absolute nuts off. The challenge for me is making sure he eats enough.

When you're training four hours a day, twice a day, your opportunities to eat are massively reduced. If we can use liquids to get in some proteins and carbohydrates quickly, then that serves a great purpose."
Anthony Joshua consumes 5,000 calories per day in training.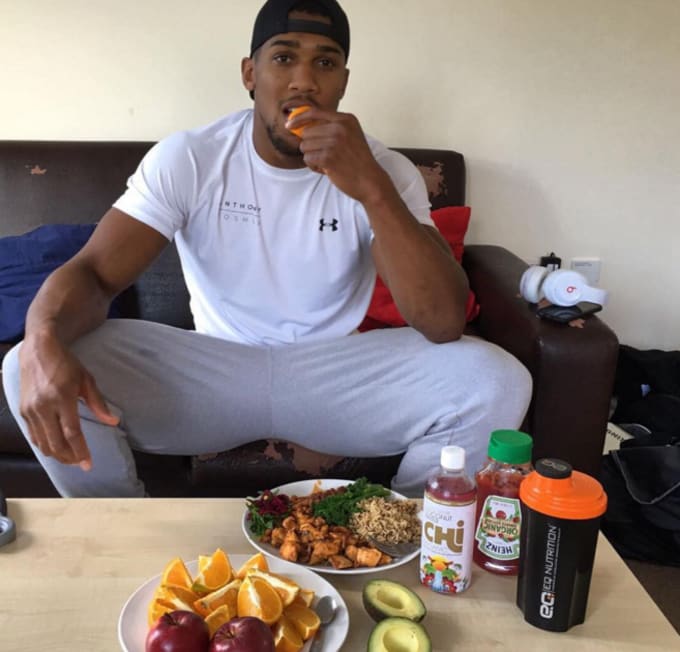 Joshua's breakfast consists of five eggs, two slices of wholemeal toast, greek yoghurt and fruit.
Lunch is a portion of lean fish – either salmon or tuna – two baked potatoes and salad. For dinner, AJ will typically take chicken, white rice, pitta bread, mashed potatoes and vegetables.
White meat is used on heavy training days as it's easier to digest but the iron in red meat means steak is also on the menu once or twice a week. 
Now we know why athlete's need a personal chef.
[via Betway]