Marcus Rashford has enjoyed a past 12 months that most teenagers only get the chance to dream of—but then, Marcus Rashford isn't most teenagers.
After scoring with his first ever shot on his Premier League debut, the 19-year-old Mancunian has taken England internationals and cup finals in his stride, and seen his star rise as quickly as his blisteringly fast feet carry him on the pitch.
Rightly heralded as one of United's next big things, we joined Marcus whilst he was competing at Nike's first ever #StrikeNight, a head-to-head knockout competition seeking to crown the world's deadliest goalscorer.
Interview: @LewisScrafton
How does it feel to be in such elite company at an event like this, just one year after making your senior debut?
I think it's good to be at this stage a year on from when I first started. I think being around these types of players is good for me so I'm happy to be here.
I was hoping we'd see a foot race between you and Aubameyang tonight—do you think you'd live up to the 'Rapid Fire' name if that was to happen?
[Laughs] I've gotta be honest with you: I'm not 100% sure on this one—he looks pretty fast on TV, so... I think it's one of them where we'll have to wait and see in a game.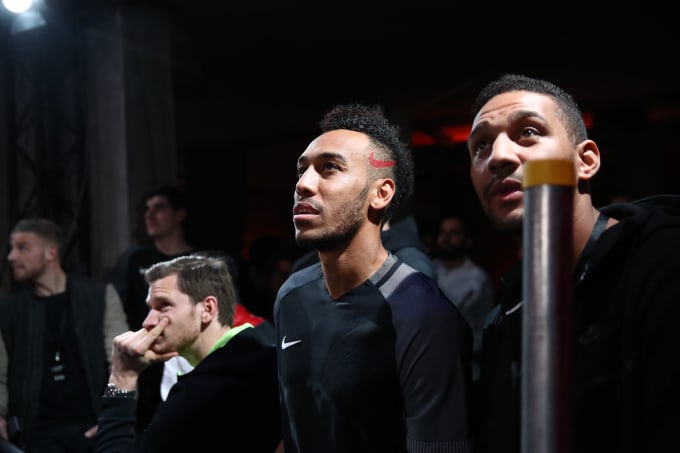 You've had so many highlights this past 12 months—debuts, cup finals, scoring for England—but what has given you the biggest high?
I think the goal against City or winning the FA Cup were the biggest highlights but winning is just the best feeling so any trophy that's available, we all wanna win it, and that's a good mentality to have.
I can imagine there's a big buzz in the changing room after that cup final win...
Yeah, definitely. We've just won a cup and we're still in three more competitions so I think it's just positive and staying in the competitions and giving it our all to try and win it. If we do that, then, come the end of the season, we could be looking back in a positive way.
Has there been a favourite goal so far?
I think maybe the goal on my debut against Midtjylland or the City game; they're my two favourites. But I think each goal you score, it's a massive feeling that you get so you just wanna keep recreating those moments no matter what circumstances you're in.
There's so many characters in that United team now—Zlatan, Pogba, Rooney. But who would you say is your biggest influence at the club?
I think not only since I've been playing with him but also watching him over the years, Rooney's been a massive influence on not only me but on a lot of attackers. The way they want to attack in this era, around my age, a lot of them have been watching Rooney and top forwards like that from when they were very young, so, for me, he's had the biggest influence and having the other characters in the changing room, like you said it all rubs off on you, so it's massive for the younger players.
You've been at United since you were just seven years old. Who are the players you looked up to when you first arrived?
Rooney and Ronaldo for me. They were the two. When they were at their peak, when they were playing the best football for United, them two together was flying, and so to watch them live was a feeling and trying to replicate that is what a lot of players my age are trying to do. Them two for me are the standouts.
What's it like for a seven-year-old to join a club like United? How much do you remember from that period of your life?
I weren't thinking too much about kind of joining the club and the stature of the club, because you don't 100% know it when you're that young. I think as soon as you go into the building and start seeing the players around you and things like that, you start to realise how big the club is and then you start to get an insight into the history of the club and that's when you really understand what the club means. I think when you're young, you're just enjoying it and playing football with a smile on your face and just having fun—and then when you get older and older, you realise how big a club it is.
It looks like you've taken everything in your stride so far—have you been nervous or starstruck yet?
I wouldn't say I've been starstruck or nervous. I think you get an exciting buzz in you and I think it's good to have that kind of feeling when you're pulling to say cup finals or debuts in a certain competition, so they're good things to have. I think you just take games game by game, and you never know what's going to happen.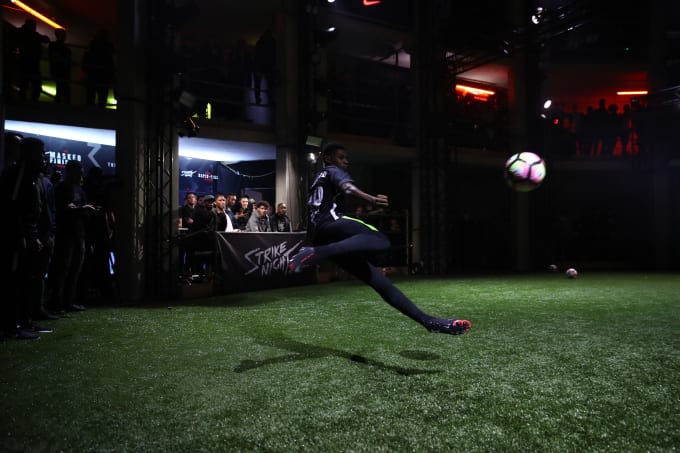 You've been heavily involved with FIFA 17 this year. As a teenage kid, who presumably grew up playing that franchise, that must have been mad?
Yeah, not only me but a lot of my friends and family play FIFA, so just being on the game is kind of weird at the start but everyone gets used to it.
Working with Nike so closely must be good for a young guy like yourself. What's your trainer collection looking like at the moment?
I've always loved Jordans. I wear a lot of Jordans so I'm gonna start bringing them back a bit more—start fishing for a few new pairs—but they're probably my favourite Nike shoe. I like a lot of Air Max as well, but, for me, Jordans are the ones.
How would you describe your style? Is fashion a big thing in the United dressing room?
It's weird: a lot of us dress quite similar and most of the time, I'm just in casual clothes—say, Nike tracksuits—but then every now and again I try and do myself up a bit, put a pair of jeans on and whatnot. But it's not often, so most of the time I'm just relaxed.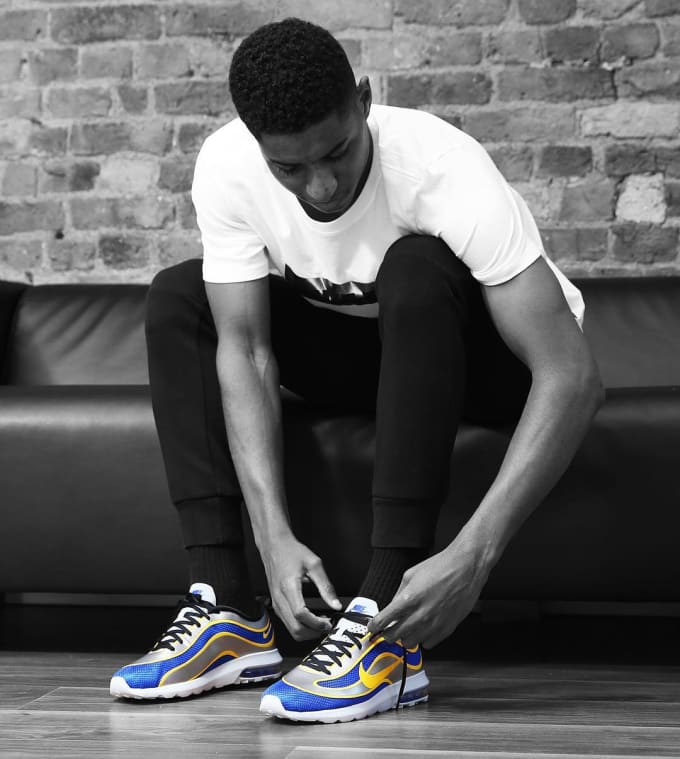 What's on your pre-match playlist right now?
Stormzy's new album! That's been on quite a lot recently. I've not heard all of it yet, but the tracks that I've heard, he's doing well and it's good to see UK artists come from the bottom to the top—it's a great thing to see. Then, obviously, you've got the big hitters like Drake, so it's usually quite good in the dressing room for music.
What do you want to achieve for the rest of this season?
My personal ambition is to just keep learning the game. Everything's changing all the time so it's difficult—you've never got time to rest and think "Oh, I'm good enough now." So I think just keep learning, keep training hard is the main thing for me and for the team, it's about winning trophies and it's always been about winning trophies. And like I said, we're still in three competitions so we've got a good chance to win it and we have the squad to do it as well.
Designed for finishers, the Nike Hypervenom 3 is built for goalscoring. Available now at nike.com.