The New York Knicks entered 2016-2017 feeling like this was finally the turnaround season. In Year 3 of the Phil Jackson project, the team balanced veteran players with youthful, fresh talent. By early December the Knicks sat at the fourth spot in the East, and all was well. Since then poor health and inconsistent play have redirected thoughts from the Knicks' future back to their murky present. Questions are swirling and the bulls-eye again has been set on All-Star forward Carmelo Anthony.
What makes this even more contentious is that many of the questions are coming from Knicks President Phil Jackson. With critiques that range from over analytical to downright shady, Phil has made it pretty clear since his arrival that Carmelo is not his ideal player.
You can imagine the skewed perspective Phil must have—here's a guy who's had the luxury of coaching nothing but top 10 all-time players like Michael Jordan, Kobe Bryant, and Shaq. Nevertheless, his comments regarding a highly critical Bleacher Report article on Melo seemed to be the final straw, leaving no one with any doubt that Jackson does not want Melo in New York. Many thought Phil would get his wish. It didn't happen that way as the Knicks stood pat at the trade deadline. Too bad. Anthony deserves better.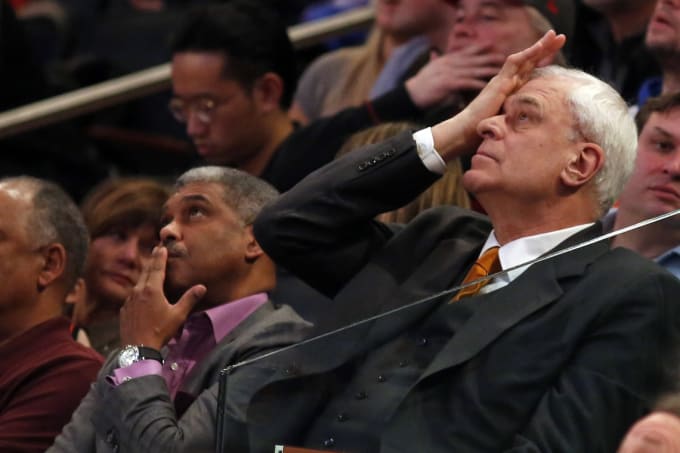 In the face of consistent losing, Anthony has done everything in his power to change the tide. Folks like to say that Melo "forced" his way into New York. While many people feel the Knicks gave up too much in the trade that landed Anthony (a position that has shown itself to be false) Carmelo has never wavered in his loyalty to the team, city, and its fans.
Think back to how many made-up media narratives sought to make Melo the bad guy. He arrived at the trade deadline six years ago to join a team led by Amar'e Stoudemire. At the time "STAT" had the Knicks back in the playoff picture and even had a few MVP nods. The belief was that an Amar'e-Carmelo duo would be as formidable as any in the game. The players needed time to adjust to each other—time that was never granted, as reports immediately started asking if there were enough shots to go around. On top of that it was asked, "Who's team is it now?" Call it fake news for sure, as no such tensions existed at any point. Sadly for the Knicks, Amar'e would be hampered by injury for the remainder of his time in NY, so he never got a solid run with Carmelo.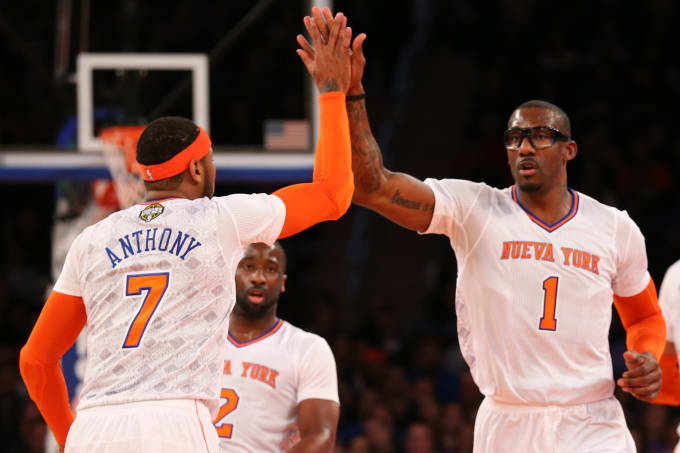 That led to the short-lived Linsanity era under run-and-gun coach Mike D'Antoni. He pulled Melo out of his prime position as a finisher to attempt a point forward style of play. Melo is not LeBron James, and the clash of styles again gave media fuel to paint Anthony as the stubborn malcontent—especially when 10-day contract reserve Jeremy Lin arrived and went on a monthlong tear through the league, saving the Knicks' season. While that too would fade away, the idea of trading Anthony to focus on Lin was entertained by many.
Tommy Dee of TheKnicksBlog.com has reported for years on the inner workings of the Knicks and gives this firsthand insight in the Melo drama:
I was at Melo's first game against the Bucks, and I saw Knicks fans literally crying. They won, it was an ugly game, but you saw what Melo was capable of. He was amazing the rest of that year, literally carried them to the playoffs, and then Amar'e gets hurt in warmups in Game 2 against Boston. They had a chance to win that series. That was a sign of things to come with Amar'e; Melo just couldn't rely on him.

You can say whatever you want about Melo the player, but the guy is a warrior. Every time they had a chance to do something great, his teammates crumbled around him. Amar'e, Lin sitting out the playoffs vs. Miami, JR Smith melting down in Boston and disappearing in Indiana, Chandler getting dominated by Roy Hibbert and being basically invisible the next year. The one constant, good or bad, has been Melo, so I totally understand why he feels the need to rely on himself. People call that "selfish." I call that controlling what you can control.
Carmelo knows the game, and while he earns a fortune to play this sport, he also understands the weight of the position he's in. He has never disrespected the team. He's been the model of #unbothered at a time when many would be out for blood. Earlier this year after a buzzer-beating shot by Bucks star Giannis Antetokoumpo sealed another Knicks loss, Carmelo summed up his burdens thusly: "When we win it's us; when we lose it's me."
New York as a sports city lives and breathes for its teams. Winning in NYC is like nothing else. Yet when you exist in a consistent losing state it's a horrible position to be in. There is always the need to point fingers, and the best player on the team is always the first target. Fans scream, media scrutinizes, and management antagonizes. Potential young talent become disenfranchised with the mess and seek greener pastures. This is no place for a player like Anthony. As he plays out this season, inching farther away from his prime, hoping for a late playoff push, would anyone fault him if his mind wanders to the possibilities of other cities? Would becoming the second or third option elsewhere be the key to success and peace of mind?
We won't get those answers until the summer, but for those who follow and support this New York Knicks team and organization, remember that Hall of Fame talent doesn't come along often. If positive change doesn't happen soon many will find themselves looking back and saying, "We didn't appreciate what we had when we had it."