Glenn Robinson III is your 2017 NBA Slam Dunk Contest champion, but the high-flying Pacers reserve barely had any time to practice his jams. 
"I only got about three or four practices in, just because of our schedule, and we had some back-to-backs, and you know, it's tough to do during the season," says Robinson. 
If you missed it during All-Star Saturday night in New Orleans, GRIII defeated DeAndre Jordan, Aaron Gordon, and Derrick Jones Jr. to win his first ever Dunk Contest trophy. Fittingly, Robinson was the biggest underdog in the competition, which happens to be a theme in his life.
The Michigan alum was selected 40th overall by the Timberwolves (hence why he wears No. 40) in the 2014 NBA Draft. Since then he has bounced around a bit, eventually finding a home in Indiana. During the 2015 offseason, Pacers GM Larry Bird took a chance on the young swingman, giving him a three-year contract. Glenn hasn't looked back and continues to improve on his game by being the most #overlydedicated. Complex spoke to the Slam Dunk champ about backing up All-Star forward Paul George, being the son of a No. 1 overall pick in the NBA, and confirming he will defend his crown in next year's competition. 
(This interview has been edited and condensed for clarity.)
A huge congratulations on winning the Slam Dunk Contest. Tell me a little bit about that whole experience. How much did you prep? Were you nervous? Are you still riding the high? 
Yes, to all. So I prepped, probably had a couple of weeks to prep, but really I only got about three or four practices in, just because of our schedule, and we had some back-to-backs, and you know, it's tough to do during the season. But I was definitely excited. I think I was a little nervous, more excited though. It was a big stage; you know the Dunk Contest is a big deal, and I was ready to put on a show. But a lot of people watched it and went crazy after it, so things have kind of changed for the better for me. A lot more people know my name, definitely, but it was an awesome experience; my first time participating in All-Star Weekend, New Orleans, and I had a great time.
Will you be defending your crown in next year's Slam Dunk Contest?
It's looking like it, it's looking like it right now. You know, it will be in LA, a lot of fun. We'll see. You know I'm going to just enjoy this one, it was a lot of fun, like I said, and when the time comes, we'll see, but, definitely it's looking like it right now.
You brought out your teammate Paul George during the contest, and there were a lot of trade rumors surrounding him recently. Were you glad that he stayed?
Yeah, I am, especially after that. He's a guy I really look up to, he's like my big brother. Playing the same position, me backing him up, he teaches me a lot and I've learned a lot from him these past few years playing with the Pacers, and I would have hated to see him leave.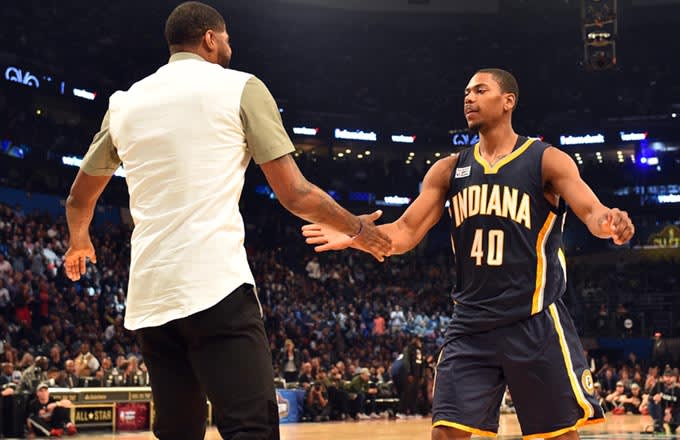 Where's the trophy going? Are you giving it to your mom?
No, actually, so she has a little trophy room in her house, with me and my brother's stuff, but when I buy me a house, I'm going to get a trophy room and I'm going to put it in there. But yeah, I'm not letting go of that one [laughs]. 
And are you going to put some Way of Wades in there? I know you're signed— 
Yeah, I am. Yeah I'll sign some—I mean I'll keep the ones that I did in the Dunk Contest, and I'll definitely get them framed along with a big poster of a couple of the dunks. 
Ex-NBA dads are kind of a thing right now, with you, Tim Hardaway Jr., Steph, and a few other guys. What was it like growing up with a dad who played in the NBA? 
It was really cool. Having a dad who was in the league, I think that a lot of people loved him, but at the same time for me, growing up with that, I was around basketball all the time, and it kind of prepared me for where I am right now, and I think with my dad, you know it's different when you've got a dad who was in the league, who's been through everything that you've been through, he can really be—he teaches me a lot and I think I can grant some of my success off of that. 
And there are a lot of Michigan alums in the NBA I've realized; how does that make you feel? 
It makes us feel good, makes us feel proud. You know, I think we worked hard to get where we are and I think that we're representing the university really well. 
I want to ask you about music. What's on your pregame playlist?
You know, I got some Drake on there, I got the new Future that just came out, I'm a big J. Cole fan as well, so I listen to a little bit of everything.
And I saw that you're boys with Cal Scruby, you looking forward to his project? 
Yeah, yeah, I'm waiting on his new project. You know, it's crazy, we actually became friends through my agent, he actually knew his manager, and I was listening to his music one day, and he was like, "Who's that?" I said, "Cal." He was like, "I think I know him," and that's like my best friend, so we've gotten close, man, we've gotten close ever since then, that was like two years ago.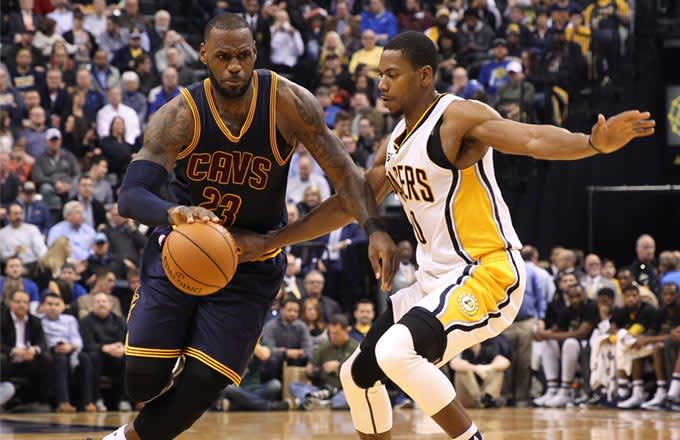 I feel like you've found a good spot in Indiana, why do you think the Pacers have been a good fit for you?
When I got there, Larry Bird, he told me that he had his eye on me for a while, and throughout the whole draft process, and I was definitely happy, but he gave me an opportunity, signed me a three-year deal. I think that they thought I'd be a developmental guy when I first got there, but after playing preseason two years ago, they found out that I could really hoop, and they just gave me a shot, man. This year, at the beginning of the year, Paul George, he got hurt, and I filled in his role, and I played really well, and I don't think I've looked back since then. So it's really just about opportunity. I think that Indiana needed that in the wing spot and needed another defender, and I'm just glad that I could help. 
So I know the season's a couple months away from ending, but what do you really want to focus on in the offseason? What do you want to improve on?
I think that, just my ball-handling because I think next year will definitely be a big year for me, because I'll get more opportunities to make plays with the ball, so ball-handling, continue to work on my overall game, my shot, and just continue to get better.