Gisele Bündchen is Tom Brady's biggest cheerleader. And we're not saying that in some "she's his wife so she really roots him on in everything that he does in life" kind of way, either. We mean that she's literally his biggest cheerleader.
After Brady and the Patriots won Super Bowl 49 against the Seahawks, she ran down on the field and gave him a kiss as he prepared to collect the Lombardi Trophy: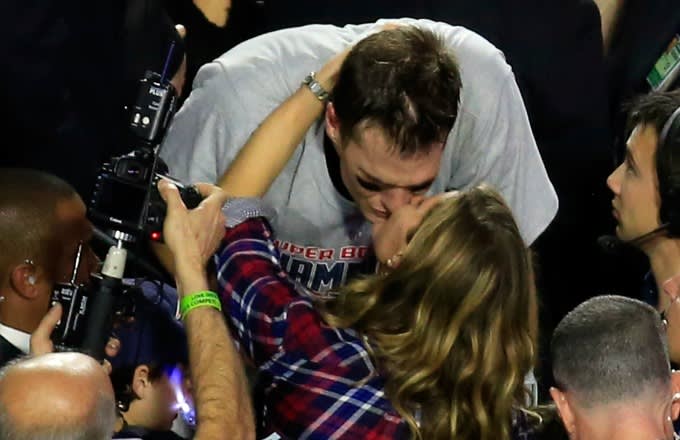 After Brady won the AFC Championship Game against the Steelers a few weeks back, she posted this on Instagram:
And at the tail end of Super Bowl LI on Sunday night, after James White scored in overtime to give the Patriots an improbable 34-28 comeback win over the Falcons, Gisele lost it. Lost. It. She was on her phone at the time, and she recorded herself freaking the eff out while the whole world watched her on TV:
And after she was done doing that, she was like "Why stop now?" and started freaking out again. This time, it appeared as though she may have been communicating with Brady on the field—or at least, trying to communicate with him even though she was nowhere near him—and dancing as if she had just won a Super Bowl, too. Even the NFL's official Twitter account got a kick out of it:
Well then. Gisele and Brady also shared a quick kiss once she made her way down to the field: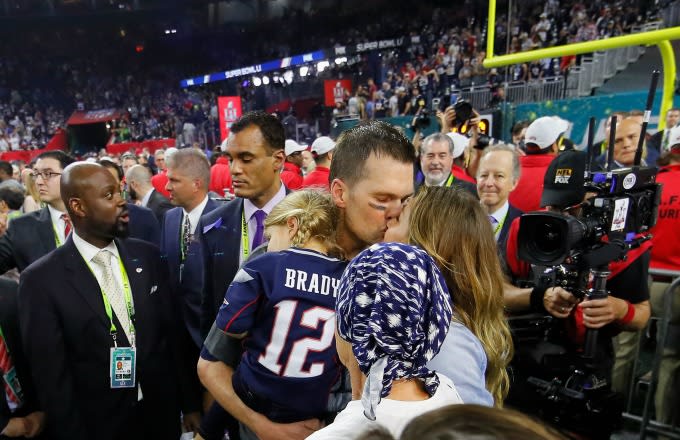 And this great family photo showed up on Brady's Instagram account on Monday morning:
Win or lose, Gisele has always been ride or die when it's come to Brady's career. She cheers him on when Brady leads the Pats to victory, but her most memorable Super Bowl moment might just be the time she ethered the Patriots wide receivers after a Super Bowl loss to the Giants in 2012. Who wouldn't want someone like that on your side?