Is Floyd Mayweather-Conor McGregor going to happen? Like, actually happen?
Your guess is as good as mine considering we've seen this kind of posturing before from Mayweather, who for years ducked Manny Pacquiao until the Filipino champion had lost a few MPH off his fastball. And while reports are running rampant that it's going down, Mayweather keeps dousing the rumors that a deal is imminent.
But maybe all the hot air between Mayweather, the undefeated (and retired) boxing legend, and McGregor, the top MMA fighter in the world, isn't going to be wasted breath since bookmakers around the world are taking wagers on the match. And if the bookies are gearing up for what would be the biggest fight since Mayweather-Pacquiao in 2015, then you know that where there's smoke there's fire.
So with this mega-fight seemingly imminent, a fight that would make both fighters an insane amount of money and probably break all the PPV records, who are you taking?
In a traditional boxing match, without any hesitation, we've got Floyd.  
Listen, if this were an MMA fight we all know who the pick would be: McGregor in the first round. But McGregor's about to box with a god.
Yeah, Mayweather's 39 years old and ain't the same boxer he used to be during his prime, but are you going to bet against the best defensive boxer we've ever seen over an MMA fighter who hasn't been trained in the sweet science for his entire existence the way Mayweather has?
Of course McGregor, 28, currently the UFC's light heavyweight champion, is arguably the baddest man on the planet. He can rough up just about anyone, anytime, anywhere. And obviously he's a hell of a lot younger than Floyd. But we know Mayweather-McGregor isn't going to be an MMA match. No kicking, no chokeholds allowed. McGregor has to put up his dukes and try to land a flush shot on Mayweather's chin. Just ask the 49 guys who tried that how easy it is.
In every fight we've seen from Floyd he's emerged practically unscathed, without a scratch on his pretty face. The way he rolls and avoids taking big hits isn't just something to be studied; it's something to be marveled. And while Mayweather was never the biggest puncher in the game, you don't think he can find a window to land some precision blows to McGregor's face and body and wear him down over a hypothetical 12-round bout?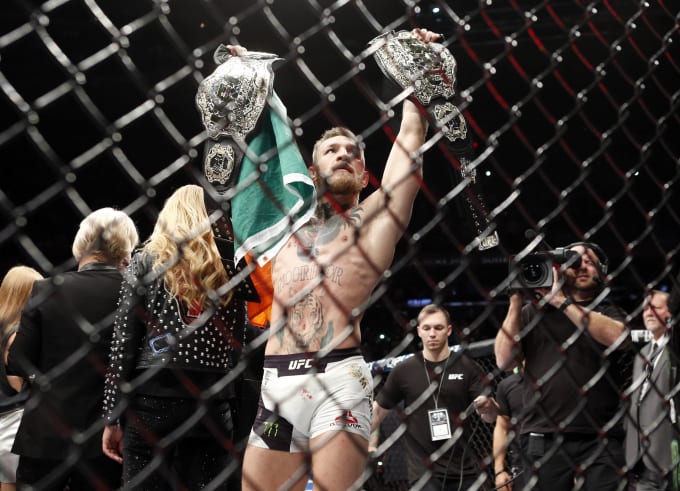 Yes, McGregor is a threat to Floyd. His punches can be devastating. His left cross that lands on the chin is vicious. He's got the kind of punching power that can turn a guy's lights out before he hits mat. We love his enthusiasm for this fight. And his bravado in general. But what kind of opening is Mayweather going to give him? Will McGregor's inexperience in a major boxing match affect him? Will his training in other fighting styles flood his brain during the match? Will his suppression of his natural fighting instincts mess up his game? Mayweather has home-field advantage in this one, and while taking the favorite is rarely fun from a betting perspective (depending on the book, Mayweather has been installed a GIGANTIC favorite over McGregor), I really can't see how you justify taking McGregor.
Listen, if this were an MMA fight we all know who the pick would be: McGregor in the first round. But McGregor's about to box with a god, and we have Mayweather taking it in typical Floyd fashion with a unanimous decision after the final bell.