Skip Bayless, Truth Teller: "I Have Consistently Been Correct On All These Outrageous Takes"
The star of Fox Sports' "Undisputed" and the most polarizing talking head in sports, Skip Bayless never contrives the debate. And says he's never lost one.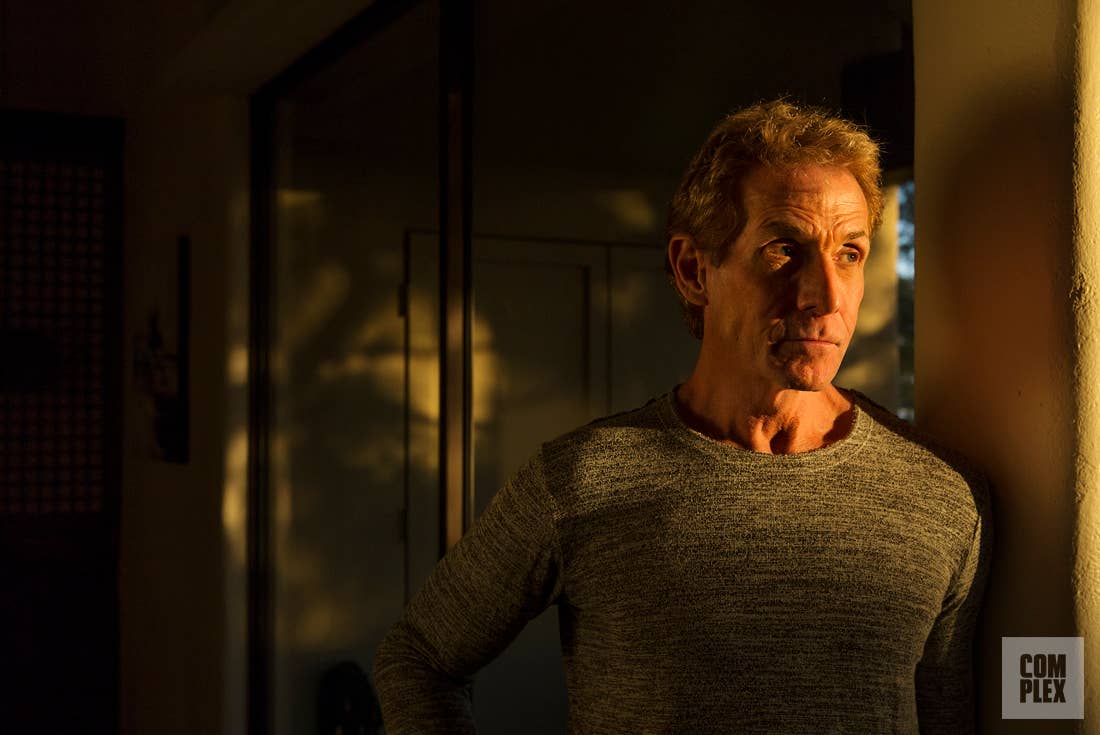 Complex Original
Fox Sports personality and co-star of "Undispited," Skip Bayless is pictured at his Los Angeles home.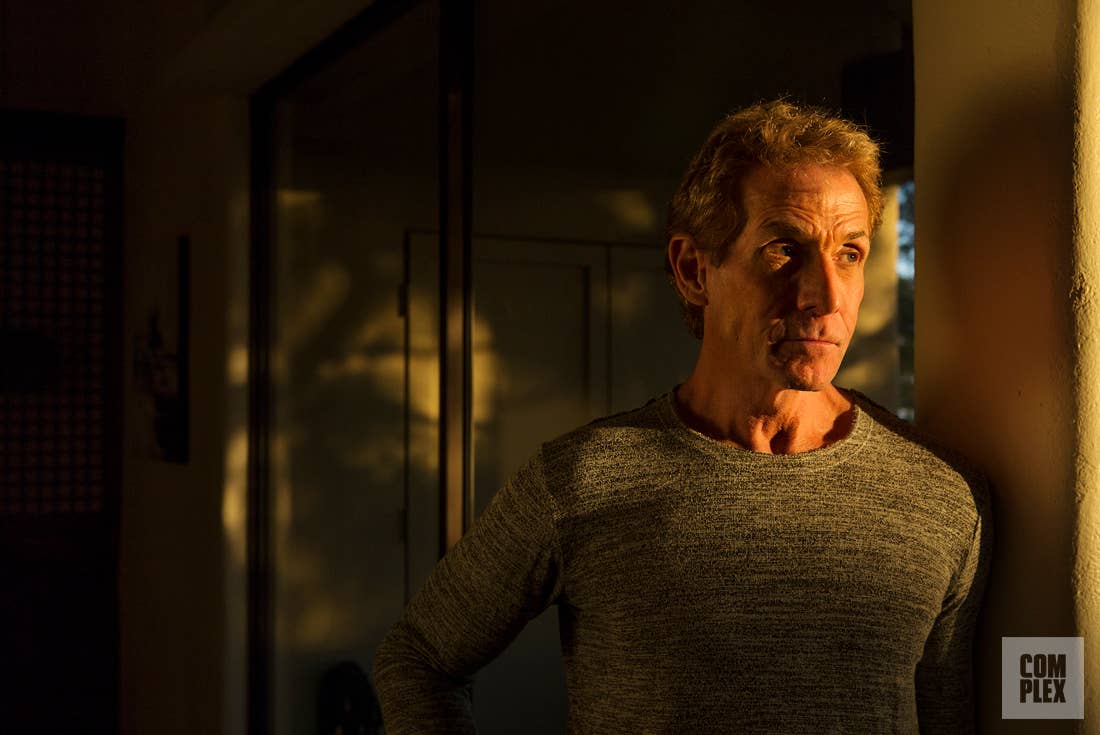 His watch reads 8:23 a.m., but it's really 5:13 a.m. Pacific Standard Time. Because, despite his departure from Bristol, Connecticut to Los Angeles, the man furiously writing out his thoughts—his hot takes—prefers to live his life like he's still on the East Coast. And 10 minutes ahead of everybody else. No laptop in front of him, no looking in the mirror and reciting a bunch of lines. Sitting in a windowless dressing room at the Fox Studios, this is Skip Bayless in the final stages of "prepping his brains out" before the cameras are live.
He drops the blue pen, wraps his hands around his head, biceps bulging out of his gray T-shirt, and thinks for a minute. Bayless, the co-star of Fox Sports 1's live debate show Undisputed and arguably the most polarizing talking head in sports, is liable to say something that will set off a huge swath of sports fans when it's his turn to talk in an hour and 17 minutes. But if you think he's just stirring things up for the hell of it, while collecting a princely sum of money (reportedly $5.5 million a year), he'd like you to know that he's just a man of convictions—strong ones—who calls it like he sees it. "You never contrive the debate," he insists.  
Which is something many accuse him of doing, considering how passionate and oftentimes outrageous his opinions can be. Whether it's his incessant criticism of LeBron James, or his deeply held beliefs in the abilities of Tim Tebow as an NFL quarterback, the Skip Bayless on TV five days a week, who first gained notoriety at ESPN before taking his talents to Fox Sports last year, says it's always genuine. "I just speak from my heart; I just get to truth telling," says Bayless. "And I have consistently been correct on all these outrageous takes."
What Bayless calls "truth telling" others might call "trolling." But sitting in his chair on the set of his show Undisputed, the 65-year-old believes everything he's about to say and is supremely confident he has "never lost a debate." The man who called LeBron's chasedown block in the 2016 NBA Finals "overrated" and Dak Prescott a can't-miss QB after watching three preseason games swears he isn't slinging a bunch of bullshit.
"Skip is 1,000 percent authentic—what you see is what you get," says Shannon Sharpe, the retired NFL Hall of Fame tight end who is now Bayless's Undisputed co-star. "When he believes something, you can't talk him off the ledge. And when I realized you couldn't talk him off the ledge, I was like, I'ma leave his ass up there."
It's been quite the transition since the early 2000s for Bayless, who has scaled the ranks from conventional print media to television. He was once an award-winning journalist whose first taste of controversy came when he wrote a scathing column about his high school baseball coach in the school paper in Oklahoma City where he grew up. Now, he's the most provocative debater in sports. To have carved out a career on TV like Bayless, who left ESPN's hit show First Take last spring after a 12-year run, you kind of have to be a little crazy. And there's definitely a method to his madness, which is why he chose to stay on East Coast time after relocating to L.A. this past summer.
The prep begins every night—or afternoon, since that's when the games start on the West Coast. Bayless is glued to his TV watching what everyone will be talking about the next day. "This audience is watching the games, so you had better [watch too], or you will get exposed," he says. Before he heads to bed he knows what he's going to say on the show. The alarm goes off at 2 a.m. and he's on the treadmill or bike by 2:30, watching highlights and solidifying his takes. By the time he walks into the 4 a.m. meeting, he knows how he's going to attack Sharpe. The next two hours are spent finding "second- and third-level statistics"—jewels like a quarterback's fourth quarter performance from two seasons ago—that bolster his takes, loosely jotted down on blank sheets of computer paper.
"By the time the show starts, he's got a stack of notes that no one in life could read them but Skip," says Joy Taylor, the host of Undisputed. "It's got everything on there you would need to take somebody down."
On this show, a week before Thanksgiving, the first topic of the day is Bayless's favorite team, the Dallas Cowboys. With Tony Romo cleared to play again, Bayless says that one bad game from Prescott could send him to the bench. It sounds preposterous, as the rookie unexpectedly led the Cowboys to an 8-1 record and arguably was the NFL MVP halfway through the season.
"I'm happy people react but if you hate me, I'm okay with that. I would like to think if they got to know me they wouldn't hate the messenger as much as they hate the occasional message."
"If you know me, I'm not going to back off," says Bayless. "I have regularly been correct."
Not always, of course. The Twitterverse constantly brings up his tweet about how Johny Manziel would be a bigger deal in Cleveland than LeBron and how he would take RG3 over Andrew Luck. Bayless defends his famous support of Tebow, pointing out how he never said the NFL washout was a Pro Bowl caliber quarterback, but that he could win some games. And he was the one who called out LeBron for consistently coming up small in big games way before anybody else.
Ah, LeBron. Bayless has been the King's harshest and most vocal critic, drawing the ire of social media every time he has a new LeBron take. Bayless almost never misses one of his games, and knocked him early in his career for lacking what he calls "the Clutch Gene—that last second, last minute gene the way Michael [Jordan] took over games."
And the King paid attention. During the 2008-09 season, James invited Bayless to sit courtside for a game; afterward the two were supposed to amicably debate Bayless's critiques and tape it for First Take. Ultimately, it fell through for reasons Bayless can't remember. Regardless, soon enough LeBron's Ls on the NBA's biggest stage validated Bayless.
"When LeBron struggled in the Boston series and against Dallas in the 2011 Finals, that made Skip look like he knows what he's talking about," says Chris Broussard, Bayless's former ESPN colleague who now also calls Fox Sports home. "Nobody else was saying that."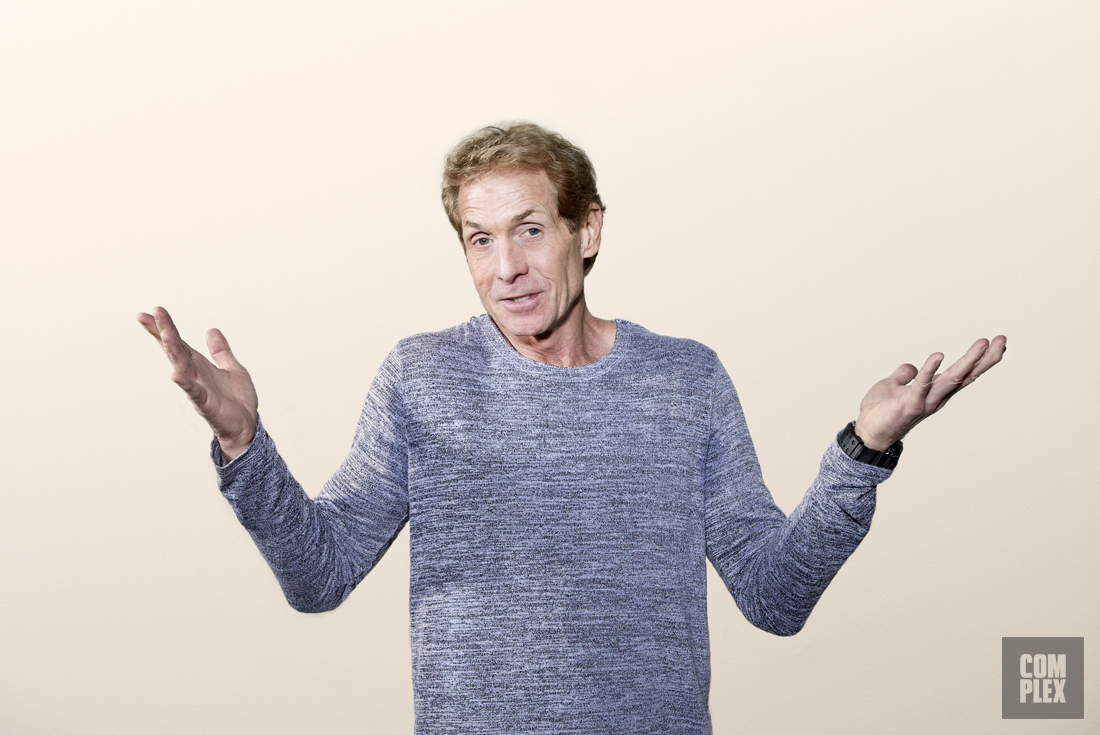 But do the athletes he rips and occasionally praises actually care about what he has to say or even watch? Washington cornerback Josh Norman called out Bayless in 2015 for picking against his former team, the Panthers, on Thanksgiving. And while LeBron might not always mention Bayless by name, a source close to the NBA star told Complex that he was fully aware Bayless was leaving ESPN this past summer.  
"[Players] have mentioned Skip, like, 'Skip is crazy, what is he talking about?'" says Broussard. Having covered the NBA for two decades, Broussard says "over time" Bayless has "gotten guys' respect. They may disagree with what he says, but he's almost become an institution."
"My goal is to make you have an opinion," explains Bayless. "I hope you respect mine, whether you love it or hate it. I'm happy people react, but if you hate me, I'm okay with that. I would like to think if they got to know me they wouldn't hate the messenger as much as they hate the occasional message."
People debate Bayless just about anywhere, at a restaurant or even at the gym. Things got so crazy when he arrived in L.A. that he started to wear headphones (sans music) so he could finish his workouts without interruption. The gym's a sanctuary for Bayless—you'll find him there at least three days a week lifting weights, sculpting a physique guys half his age would die for. His competitiveness, stemming from slights suffered at the hands of coaches while playing high school baseball and basketball, has driven him professionally and personally. He says he's down to 7.3 percent body fat and, despite multiple knee surgeries, maintains a no-days-off policy. Bayless claims he hasn't missed a cardio session since May 3, 1998.
"If you know me, I'm not going to back off. I have regularly been correct."
"That's a little crazy. But that's who he is," says Jamie Horowitz, president of Fox Sports' national networks. "Go to dinner with him and he'll have crazy takes on pasta, too."
Horowitz is a big reason Bayless defected to Fox Sports, relishing the idea of reuniting with the man who is credited with turning First Take into a runaway success as its showrunner. "Skip was always a Fox guy working somewhere else," says Horowitz. Indeed, Bayless says he started to hold back during his last few years at the Disney-owned, traditionally conservative ESPN.
"There would be that flashpoint moment of 'Should I say that?' And I taught myself over the last couple of years that, if there was the slightest doubt, bite your tongue," says Bayless. "I don't bite my tongue on Undisputed."
Plus, Bayless wasn't really a fan of Bristol, Connecticut, where ESPN is located. Nobody is. It's in the middle of nowhere. And he would mostly spend the weekends with his wife Ernestine in New York City. That doesn't mean leaving First Take was easy. Bayless is still tight with his former co-star, Stephen A. Smith. "He would be the first to admit to anybody that I'm the only reason he would have stayed," says Smith. But Bayless hasn't watched an episode of First Take since his departure "because it's too painful."
The move to Fox Sports was announced last April, and Bayless agreed to stay through the NBA Finals. On his way out, two prominent ESPN personalities took shots. SportsCenter host Scott Van Pelt said it was time for Bayless to "find a new act" after James led the Cavs to an improbable NBA Finals comeback over the Warriors; ESPN radio host Ryen Russillo said the "problem is when you disagree with Skip, you're not allowed to. Then he gets mad at you about it. So like, nobody wants to deal with it."
"I don't know either of them very well, but they did not hurt me," says Bayless. "I understood it. ESPN was under fire from Fox Sports 1. I just took it as lashing out as competitors, and a positive for us that they were starting to be threatened. I'm driven by those comments."
Undisputed debuted in September, and the ratings gap between the newcomer and First Take, while still significant, has narrowed. According to Fox, ESPN's advantage in the time slot a year ago was 23:1; it currently sits at 3:1. But a year ago Fox was largely airing reruns. On any given day, Undisputed attracts over 100,000 viewers, while FirstTake, which just switched from ESPN2 to ESPN, was attracting 300,000-plus viewers. Undeniably, Bayless is an attraction; despite being an old white guy, there's a segment of the audience that overlooks the age difference and vibes with him. "The kids gravitate to my energy," he says.
Regularly texting with Lil Wayne also earns you cred. It was Bayless's idea to get Weezy to rhyme Undisputed's theme song "No Mercy"; all it took was a text to seal the deal. He also debated the finer points of MMA vs. boxing with Kanye West while sitting ringside at a UFC fight back in August. As Bayless recalls, when he told West he needed to check out the Ali-Frazier trilogy on YouTube, Yeezy shrugged and said he loves UFC.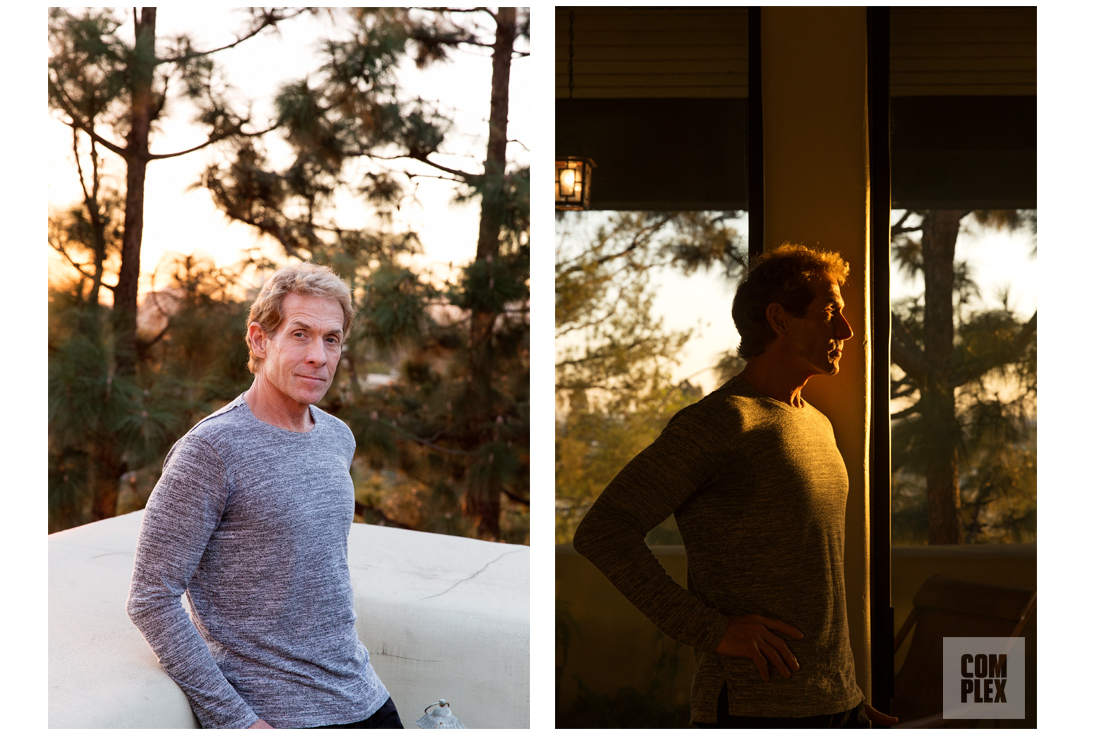 Bayless says he has two books in the works—including one about fitness—but they've been put on the back burner while Undisputed finds its footing. And despite decades spent agonizing over the written word, he says, "I'm better at debating than I am at writing. But my mom continues to tell me, 'You're a writer. What are you doing?'"
At his Century City pad that offers spectacular views of west L.A. and the Pacific Ocean—"beats Bristol, Connecticut," Bayless jokes—his wife marvels at the sunsets and frequently tries to coax Bayless outside to join her. But one was enough, he says. "I get it. It's always going to be there."
Besides, he's got games to watch and debates to win the next morning. Bedtime is 9 p.m. and Bayless is racing the clock.
"They all want me to come into the barbershop because I'm that guy—the lightning rod, the guy that won't back off, the guy they love maybe to hate but they actually love to love," he says. "In the end, as stubborn as I am, we can agree to disagree and all laugh and come back the next day and start it up again."