On Sunday afternoon an eagle-eyed Patriots fan caught Bill Belichick and his girlfriend passed out while taking a ferry to the New England resort island of Nantucket. After snagging a glimpse of the prickly coach napping like a cute little middle-aged baby, he did what everybody does nowadays: he took a picture and posted it on social media.
As is frequently the case with a viral image like this, ESPN's Assignment Desk reached out to @AdamMarko to see if they could use the image on their shows/website/etc.:
Now, as you may know, Patriots fans are still pretty pissed about how ESPN covered/over-covered DeflateGate, which was perhaps best summed up by this now-deleted Chris Mortensen tweet that inaccurately stated 11 of 12 of the footballs used by the Pats against the Colts in the 2014 AFC Championship were under-inflated: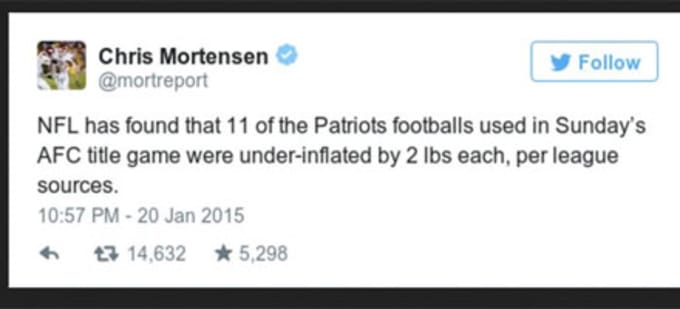 The overkill that was the coverage of air pressure in footballs eventually died down when Brady was finally forced to serve a four-game suspension at the beginning of the 2016 season. Because of all of this, it wasn't surprising that ESPN's request to use the sleeping Bill Belichick pic was smacked down by @AdamMarko in a very public manner on Monday:
If this all seems familiar to you, it's probably because it also happened with a different Pats fan back in September. Here's a recap in three tweets:
Get your revenge any way you can, Pats nation.