Mia Khalifa has successfully slandered a handful of athletes on social media over the last year or two. From then-Bills safety Duke Williams to Ole Miss quarterback Chad Kelly to, well, the entire WNBA, the adult film star—who is still one of the most-searched names on Pornhub by the way—has used Twitter and Instagram to make a bunch of athletes look silly. But when she tried to add Joel Embiid and his 76ers teammates to her list late Sunday, she got denied.
Embiid and the 76ers earned a rare win on Sunday afternoon when they beat the Nets 105-95 in Brooklyn to move to 10-25 on the season. And shortly after the game ended, Embiid and two of his Sixers teammates, Ben Simmons and Nerlens Noel, met up with none other than Meek Mill to hang out. They posted this photo on Instagram of the four of them together:
That prompted Mia to take a shot at the four men by reposting the image on her own Instagram account along with the caption, "Room full of L's."
And when Embiid got wind of what Mia did, he decided to clap back at her. That shouldn't come as a surprise, seeing as how he has pretty much owned social media since first coming into the NBA back in 2014. But Embiid really went all the way in with his response to her. He wrote—welp—this in the comments section under the IG photo she put up: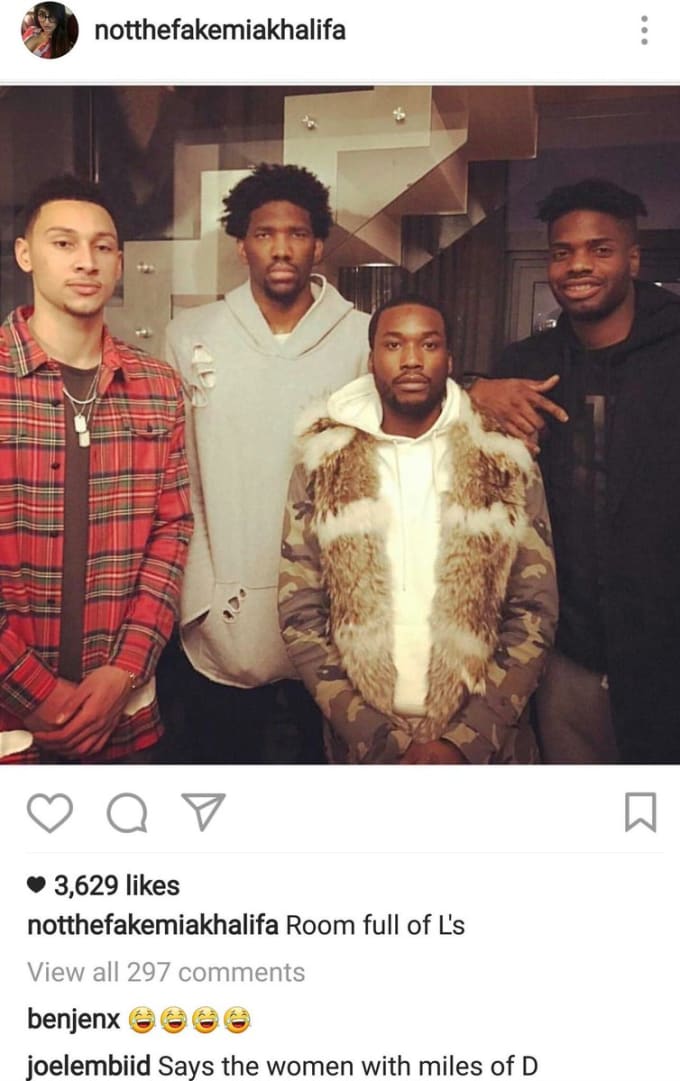 Mia is, if nothing else, a good sport about these kinds of social media shenanigans. So when she saw what Embiid wrote to her, she was the first one to call attention to it by reposting it on Twitter:
Thankfully, it didn't go any further than that. But it appears as though Mia may have finally met her match on social media.