Jalen Rose shouldn't be alive today. In September 2003, Rose was the target of an attempted murder at a stoplight in California. The NBA veteran, who was playing for the Bulls at the time, was shot at nine times minutes after leaving a nightclub. While Rose was uninjured, his friend was shot in the face and somehow survived. Although Rose miraculously emerged unscathed, the experience made him realize how vulnerable professional athletes could be.
"This didn't happen in a crime ridden neighborhood, this happened in Brentwood," Rose tells Complex Sports. "They followed me out of the club and were looking for an opportunity to attack. This experience changed how I moved around but it didn't turn me into a hermit and make me never want to leave the house. I later learned that there were several people that night who were being targeted."
The ESPN NBA analyst is one of the many current or former athletes that have been a victim of gun related incidents over the past decade. Former Washington Redskins safety Sean Taylor was famously shot and killed during a home invasion in 2007, Los Angeles Clippers guard Paul Pierce survived a stabbing back in 2000 and former New Orleans Pelicans player Bryce Dejean-Jones was fatally shot in Dallas last May. Incidents like these have forced teams to step up their security initiatives. Last year, Golden State Warriors general manager Bob Myers hired multiple guards to keep MVP Steph Curry safe. Other NBA players such as Houston Rockets guard James Harden and Atlanta Hawks center Dwight Howard have used bodyguards in the past as well. The ripple effects can also be seen in the NFL where the New York Giants and several other teams have used a service called Players Protect, which provides players with transportation and bodyguards when they go out on the town. These security measures have kept players safe, but they have also changed the nature of the relationship between athletes and the public.
"If you are carrying a gun, there are two basic problems; you likely at some point will be moved to use the gun and you're likely to go places that you shouldn't be going to."
"There used to be a time when athletes could party until the wee hours of the morning without it ending up on social media," said Rose. "Today athletes makes top dollar and have bigger acclaim, but they can no longer creep because every text, picture, and direct message will be exposed."
While several athletes have tragically, and notoriously, died violently in years past, psychologist Dr. Harry Edwards believes that professional athletes face more danger today than ever before. Edwards faced brutal circumstances years ago when he protested for black athlete rights with Muhammad Ali, Kareem Abdul Jabbar, and Jim Brown, but the 74-year-old believes things are much worse today than they were during the height of these protests.   
"In the 1960s, I had to deal with politically malignant racists when I was calling for black athletes to boycott the Olympics, but today athletes are absolutely in more danger because of social media and the number of guns on the streets," says Edwards. "The higher profile you have, the more likely you are to draw the attention of these people. There are so many more people armed today compared to the 1960s. Our country is a house divided and armed to the teeth against each other."  
Dr. Edwards knows athletes who have been held up at gunpoint from outside of a club to outside of a mall. Edwards, who is a Professor Emeritus of Sociology at the University of California Berkeley, believes these situations are even more likely today because of the ability to learn about a player's specific location through social media geotags. Dr. Edwards advises teams such as the San Francisco 49ers and Seattle Seahawks on how players should conduct themselves in public. Although Edwards acknowledges that you can't avoid every dangerous situation, he doesn't believe carrying a gun for protection is the answer.
"If you are carrying a gun, there are two basic problems; you likely at some point will be moved to use the gun and you're likely to go places that you shouldn't be going to," says Edwards. "I tell guys all the time, if you feel the need to bring a gun to the place where you are going, you probably shouldn't go."
Gun possession is not only one of the most controversial topics in America today, but also the world of sports. In October, Philadelphia Eagles linebacker Nigel Bradham was arrested in a Miami airport when security officials found a loaded gun in his bag. The NFL has advised players for years to stay away from guns, but can't legally mandate the rule because of the Second Amendment. In 2013, Oakland Raiders defensive end Aldon Smith was charged with three felony counts of illegal possession of an assault weapon and Denver Broncos cornerback Aqib Talib suffered a self-inflicted gunshot wound in his leg last year. And who could forget back in 2010 when Washington Wizards guards Gilbert Arenas and Javaris Crittenton pulled guns on each other in the Wizards locker room. Both players were hit with season ending suspensions after violating Washington D.C.'s strict gun laws. The NBA's most recent collective bargaining agreement included specific language that prohibits a player from possessing a firearm at the arena or while on the road. Unlike Dr. Edwards, Rose doesn't have an issue with an athlete legally carrying a firearm. "I respect someone's liberties to bear arms or do whatever they need to do to protect themselves," he says. The same goes for Baltimore Ravens tight end Benjamin Watson.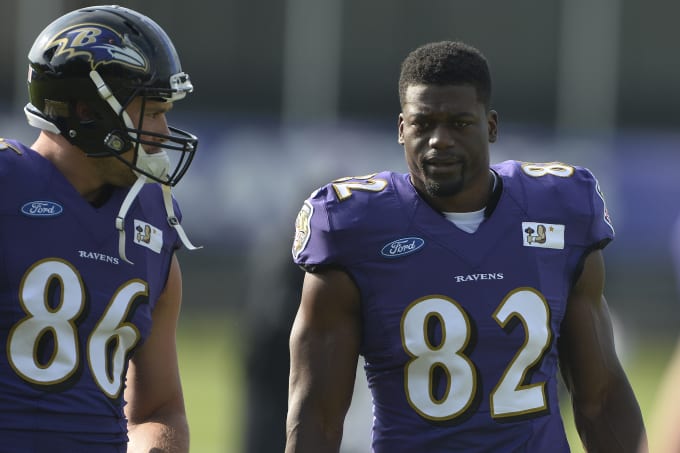 "The problem is a lot of times, dangerous places come to you," says Watson. "We all have the right to bear arms and that is why I have no problem with an athlete carrying a gun as long as the gun is registered. They need to understand how to use it and make sure it's a legal firearm. Players are recognizable by their faces, cars and even body types. If you look like an athlete, you can be targeted."
Watson has been actively working with the NFL to teach players about gun safety. For the first time this year, the league has added mandatory training and conversations about gun ownership and the keys to safe storage of weapons. The NFL has provided players with social responsibility training for the last three years. This issue hits close to home for the 36-year-old who was a close friend with former Saints defensive end Will Smith, who was shot and killed last April during a traffic altercation in New Orleans. The 2004 1st round pick learned the hard way why NFL players aren't immune to this type of tragedy.
"My first reaction was sadness. I knew him and his family and I got the chance to work out with him when I signed with New Orleans. I hate the fact that we had a lot of tragedy in the NFL family this past year," says Watson. "These types of things happen all the time in our country, but we hear about it a lot more when it involves someone famous. We have a problem with violence, but an even bigger problem with people and the value of life and how we take life without remorse sometimes."
Tragedies like this one have forced Watson to speak up about the deeper issues in our country. The Super Bowl XXXIX champion wrote a book called "Under Our Skin: Getting Real About Race--And Getting Free From the Fears and Frustrations That Divide Us," after his Facebook post about the events in Ferguson went viral and got 850,000 likes. But Watson walks a fine line with his social activism. For every compliment he receives, there are just as many comments and tweets filled with vitriol. While many envy the lives professional athletes and the money they make, their unique security threats are unlike anything a regular citizen must rationalize.
"This society is rife with predators. Not just those who are scheming to get their hands in your pocket, but those who will kill you for what you got," says Edwards. "The more high profile you are, the less you can do. Being in the spotlight carries a phenomenal burden of responsibility. Even if you have a gun, there's no guarantee that you are going to be the one to come out of this situation alive."