Earl Thomas almost punctured Rob Gronkowski's lung in November and nearly broke the city of Seattle's heart in December.
The hard-hitting safety, a five-time Pro Bowler and still only 27 years old, scared football fans—and the 12th Man in particular—when he fired off this tweet:
This game has been so good to me no regrets.. A lot is running through my mind including retirement thanks for all the prayers.

— Earl Thomas (@Earl_Thomas) December 5, 2016
The tweet came after Thomas suffered a brutal leg injury in a blowout win over the Panthers Dec. 4. Fortunately for the Seahawks, who have prided themselves on their star-studded secondary for years, Thomas will be back next year.
"Yeah, a lot has changed (in the past few weeks)," Thomas told Complex Thursday. "I just left the VMAC (Virginia Mason Athletic Center). I sat through practice, and I definitely missed it. Right now I'm just focused on my recovery and trying to get back as soon as possible."
We caught up with the talented safety to talk about partnering with Chef's Cut Real Jerky ahead of Seattle's Wild Card Weekend showdown with the Detroit Lions. We discussed the playoffs, Thomas' experiences meeting Michael Jordan and Barack Obama, Richard Sherman's media blackout, and…Migos?
(This interview has been edited and condensed for clarity.)
"I'll never forget those words; he called me an All-Star. I felt like a little kid, you know, when your dad's proud of you. I kind of felt like that."

 
The Seahawks are pretty heavy favorites at home against Detroit this weekend. You've been analytical during your time on the sidelines and your Twitter analysis has really been on point.
[Laughs] Appreciate it.
So from your vantage point, what will be the difference maker in this game?
I think where we're going to separate ourselves, especially on defense, is up front. We have a very explosive front, we have a lot of experience up there, so I think if you look for any glaring domination in the game it would be up front.
One of the big headlines right now is Richard Sherman's media blackout. What do you make of it?
Really and truly, I just think it is a distraction, especially at this point of the season. If he's using it as a source of motivation, or if it's going to help him play better, I'm all for it...I just think it is unnecessary.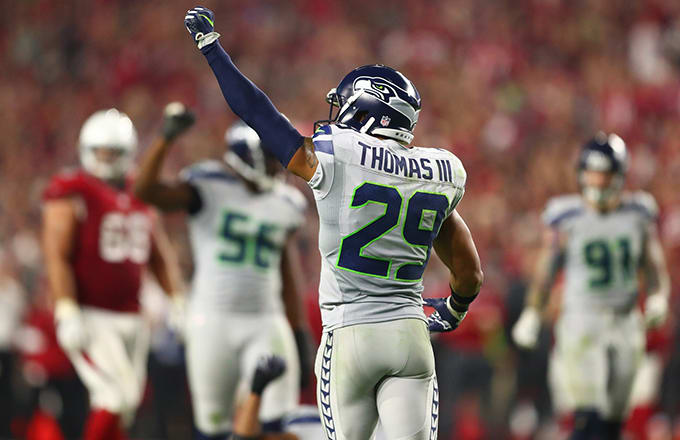 The Russell Wilson we see on commercials and in interviews seems different from the Russ on the sidelines. What's something people get wrong about him?
I don't know what people think about him. I just think he's a laid back, cool dude. We have great conversations. He's a competitor, as everybody knows.
I know you're into cars and have an impressive collection. Other than you, who on the Seahawks is driving the best car right now?
I would have to say Cliff Avril. It seems like every other day he's driving a different car. His parking spot is right by mine, so of course I would notice it.
Which one is his most impressive?
I think it's a combination. Any time you get a Maserati, then you come in with a Bentley truck, that's a sick combination.
You're sponsored by Jordan. It seems like everyone who's met M.J. has an interesting story. What's your best story about the G.O.A.T.?
The first championship, I got invited to the (NBA) All-Star Weekend, and Jordan throws a big party. My first time meeting him, I'm thinking, he knows I won a championship. So I shake his hand, and the first thing he says is, "anybody can win a championship once." That kind of stuck with me.
He challenged you.
Right, that's how I took it. He was challenging me.
Speaking of meeting impressive people, what are your favorite memories from visiting President Obama at the White House?
When I shook his hand, the first thing he said was, "All-Star." I'll never forget those words; he called me an All-Star. I felt like a little kid, you know, when your dad's proud of you. I kind of felt like that.
Would you have any reservations about visiting Trump in the White House if the Seahawks won the Super Bowl?
It's a touchy subject. I don't get into politics. That's a touchy subject, man, I don't know.
Last thing—complete this phrase: Raindrop.
Ah! Uhh...raindrop. [Thinking] Drop top.
I knew you'd pull through.
Yeah, yeah, yeah. I was going to say flip-flop, but then I remembered.
The culture is going to be so proud of you.
[Laughs] Appreciate it, bro.
And tell us why did you decide to partner with Chef's Cut Real Jerky?
I just thought it was a great fit. I tasted the product, I really loved it, and I thought it could help me in my routine as far as training. It has a lot of protein; it's healthy for me, especially at this time because my leg is hurt and I'm getting older and have to watch what I eat. This is a great fit for me and it helps me out in that way.