The chants weren't faint. They were just tough to make out. On a July night, Brooklyn became Belfast and as the main event grew closer, the thousands of fans who had made the trip to Barclays Center to cheer on Carl Frampton could hardly contain themselves. 
"Frampton's on fire, Santa Cruz is petrified!" they shouted before Frampton's featherweight championship bout with Leo Santa Cruz got underway. When it was all over the rowdy revelers were half right. Santa Cruz was far from petrified—in fact, he was incredible, throwing over 1,000 punches—but Frampton, the 29-year-old from Northern Ireland, couldn't be contained. He claimed a majority decision, and the WBA belt, in what turned out to be one of 2016's fights of the year. 
Now the two are headed for a rematch this weekend in Las Vegas and Frampton knows it's going to be tough to top last year's classic. He also knows it "could well be an even better fight."
Don't tease us, Carl.
The undefeated featherweights—who top the scales at 126 pounds—put on a breathtaking display and just about every boxing scribe had it among their best bouts of 2016. In all, 1,670 punches were thrown over 12 brutal rounds. But the man known as The Jackal isn't going to brag and boast like the typical boxer after a emerging victorious and enjoying a hugely successful 2016. That's just not his style, which is why Frampton hasn't taken advantage of the butler he has access to while posted up in Vegas this month. 
"There are only certain characters that can get away with the brashness, the arrogance, like Connor McGregor. I'm just being me," he says.
We caught up with Frampton (23-0) a few days before Saturday's hotly anticipated rematch with Santa Cruz (32-1-1) in Sin City airing on Showtime at 10 pm ET. He's expecting approximately 4,000 supporters to flood the MGM Grand Garden Arena and see him defend his title. And he's got a special reward for all who made the trip scheduled for Sunday. 
 "You know he threw over a 1,000 punches the last fight, potentially he'll throw a little bit more, but that will just give me a chance to nail him and hit him clean."
(This interview has been edited and condensed for clarity.)
How do you top the first fight?
To be honest, I'm not thinking about that too much. All I want to do is win the fight and do whatever it takes to win the fight. If you look at our styles and how we fight, I think it's always going to be a good fight. It's going to be difficult to top the last one, and it could well be an even better fight than the last one, but I don't care. As long as I win, that's my main focus.
Did you ever appreciate in the middle of the fight how good it was?
When you're in the fight, when you're in the moment, you don't really think about but it's something you reflect on after. The appreciation from the fans you could tell it was a pretty good fight. But I don't know. When you're in the moment, in the fight, you don't really think about it.
You've talked about Santa Cruz being your dance partner, the one fighter you could end up being associated with more than any other in your career. What makes the two of you a perfect match?
Both of us have a lot of heart. Both of us will do whatever it takes. There's not an ounce of quit in either one of us and our styles kind of gel well together. All of these ingredients combined just made it a really interesting rivalry. If we fight 100 times, it's never going to be a boring fight.
Do you change your approach for the rematch?
Strategy, we're making some slight adjustments. The training has been the same. I sparred with guys like Santa Cruz, with similar styles to him. I feel like I've improved as a featherweight. I feel like I'm getting better all the time. The strategies change slightly but not drastically. If I can carry them out I think I win the fight more convincingly this time.
Are you expecting a few new tricks out of Santa Cruz?
I don't know. I'm just expecting a very difficult night. Whatever he has I think I'll be able to deal with it, be able to cope with it, and I'll be able to adjust which I've done my whole career. I don't think Santa Cruz will be all that different. You know he threw over a 1,000 punches the last fight, potentially he'll throw a little bit more, but that will just give me a chance to nail him and hit him clean.
I was in the building for your first fight and was just floored by the number of fans at Barclays. Why are you so popular? Why such a big following on the road?
To be honest, I don't really know. They support me and I never really take myself too seriously. I think people appreciate that. New York was almost like Belfast, the atmosphere was incredible and I felt I had most of the support of the arena that night. We're a three-hour drive away from LA here in Las Vegas, but I believe I'm going to have even more support than Leo Santa Cruz in the arena and that's a big statement to make.
Is that because you're more relatable, you have this everyman mentality?
Yeah. I think it's from being grounded. There are only certain characters that can get away with the brashness, the arrogance, like Connor McGregor. I'm just being me. I'm just doing what I do. I haven't changed since I turned professional in 2009. I'm a normal guy. I go and have a pint with these guys after the fight and they seem to like it.
We don't need to bullshit. Especially when you're involved with fighters like Leo. Leo showed me a lot of respect. I'm not going to disrespect him. He's a great guy. I'm not going to be disrespectful to any opponent unless they're going to be disrespectful to me.
What did earning Ring Magazine's Fighter of the Year honor mean?
It's a big deal. You never expect to win these things. I want to win titles and be in involved in big fights. But when you pick up these awards at the end of the year, just to be talked about potentially as Ring Magazine's Fighter of the Year is a big deal. But to actually go and win it is a huge honor and I'm very proud.
This is your second bout as a featherweight. Is featherweight where you think you belong, where you're at your best? Is bantamweight completely in the rearview mirror? 
I think so. Realistically I probably should have been a featherweight maybe three fights before I was. But I was a champion at junior featherweight and I just had to keep doing what I was doing. I'm much more comfortable and enjoying boxing again at featherweight and I'm not having to starve myself.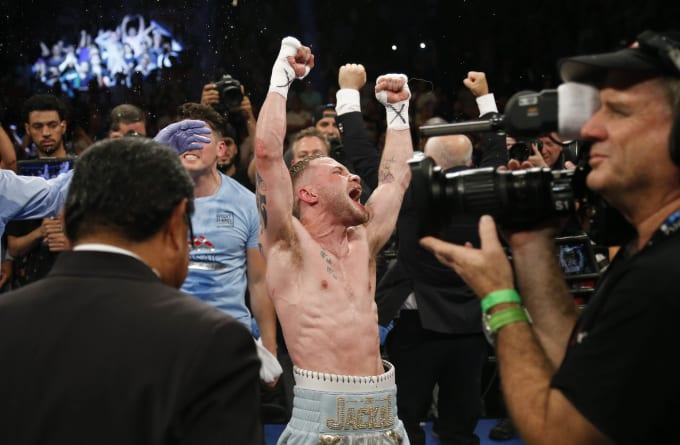 Have you thought about the fight after this?
I would say it's important to look to the future and hopefully project what's going to happen in a fight. And if I come through Leo, which I intend to do, I want to fight at home: first and foremost my next fight has to be in Belfast. I would like it to be a unification match. I think that makes a lot of sense. If any top guys want to come to Belfast, I'm happy to welcome them.
I read that you have your own butler at the MGM this week. What's that like?
It's strange. I'm not the only one at the MGM [with a butler]. I haven't used the butler yet, by the way. I have the option, but it's strange. It's not a big deal.
You treated 1,200 fans to beers at a Midtown Manhattan bar after the fight last summer. What are you going to do if you win Saturday to top that? You have plenty of options in Vegas to throw a party.
The day after the fight we we're getting together at a place called Nine Fine Irishmen, which is in the New York, New York. We're going to just meet up and take a few pictures and show my appreciation for the travel and support and have a couple of drinks with them. I just want everyone to be happy and hopefully we'll celebrate.