Von Miller just wants the NFL to let him be himself, but he knows it doesn't work that way with the Shield.
"In football, it's only possible to be creative through your cleats," says the Broncos linebacker.
So Miller hasn't been shy wearing about customs at various times this season, including a pair of rooster inspired cleats when the Broncos battled the Titans last Sunday. The man known for wearing big glasses and raising chickens currently leads the NFL in sacks with 13.5 through 13 games and before he suits up for Sundays marquee matchup against the Patriots, Complex caught up with the Super Bowl 50 MVP. We talked to him about his new project with DiGiorno Pizza, his affinity for custom cleats, his gyrating sack dances, and the one NFL rule he really wants to see changed.
(This interview has been edited and condensed for clarity.)
So what's the DiGiorno "Rise to the Occasion" Song?
The DiGiorno "Rise to the Occasion" song was created to be the ultimate party anthem. It helps fans get the most out of any occasion especially game day. It pumps up the fans and sets the tone for any party.
So who were the other people involved in the project?
The project involves Rapper DJ Redfoo as well as Devvon Terrell, Marcus Perez, Madilyn Bailey and Diamond White; all people who are larger-than-life personalities in music and social media.
What's your favorite type of pizza
I just like a plain cheese pizza. Just classic cheese...I'm a cheese guy
You've been known to wear unique cleats, such as the chicken inspired and the blue snakeskin cleats for your pre-game warm ups. Is this a fashion statement or is there a deeper meaning to the elaborate cleats you wear?
Yeah there's a deeper meaning to the cleats. In reality we are just regular people who are out there having fun. I'm lucky to be involved with a company that believes in creativity and I get the opportunity to show some of that through my cleats. In football, it's only possible to be creative through your cleats. With some of the elaborate styles that I have created, the design was only possible through the support of great people and a great company. Adidas is behind me 100 percent.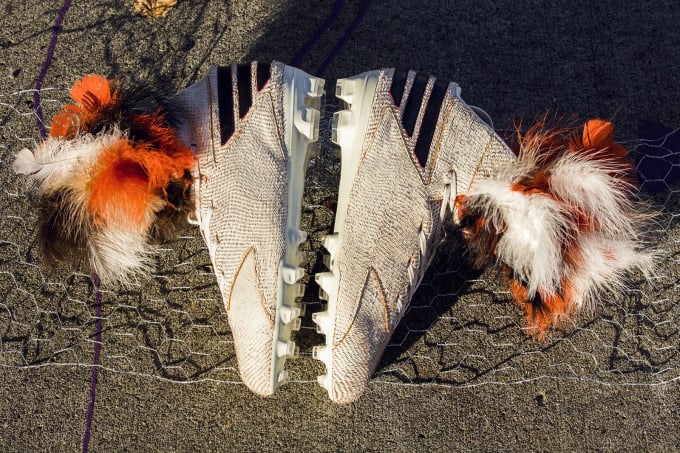 Do you think you will ever get your own line of cleats and or sneakers with Adidas?
Yeah, I think we might be work something out. I've been with Adidas for nine years now. They've always been great to me and I've always been great to them. So whatever happens, happens and I'm okay with it.
So what's your favorite pair of sneakers?
I'm going to have to go with the classic Yeezys. The 350 lows. They're just really nice.
Speaking of Yeezys, you showed off the Yeezy cleats on Twitter and you also wore them for a couple of games during the season but the NFL banned them. Did you ever find out why the league said you couldn't wear them?
Well there are two styles of the Yeezy cleats. The 350s are banned because of the colorway, the NFL has rules regarding the color of cleats and the 350 colorway is illegal. But the 750 highs, the ones that I actually wear, are actually legal.
What's one rule in the NFL that you would like to change?
No chop blocks. No cutting...no cutting at all. It's dangerous. Running backs and everybody, you gotta stay above the waist. Well, except for tackling. When you tackle you can go lower but everything else you got to stay above the waist.
You're known as one of the greatest sack dancers in the league, you were also on Dancing with the Stars. With this professional dancing experience, are your celebrations choreographed or are they more of a spur of the moment thing?
It's a little bit of both. I'm always dancing and always coming up with new choreographed dance moves at home so that way when I make a play, in the spur of the moment, I can just put it out there.
You're also a self-proclaimed nerd. What is the nerdiest thing that you do?
I get lost watching YouTube videos...I watch documentaries too.
If you weren't playing in the NFL what would you be doing?
Um...I don't know. That's a really good question. I don't think I would be the same person that I am right now without football. I don't know what it is but it would probably be something else. I probably wouldn't be the same guy that I am today.
Which QB is your favorite QB to sack in the league?
All of them. It's tough in the league today to break through the line and sack the quarterback. So anytime you get the opportunity to sack the quarterback, it's a special moment.
Do you ever feel sorry for the QB's when your sack them?
No, not at all, I have to get the QB. That's why I'm out there and that's what I get paid to do.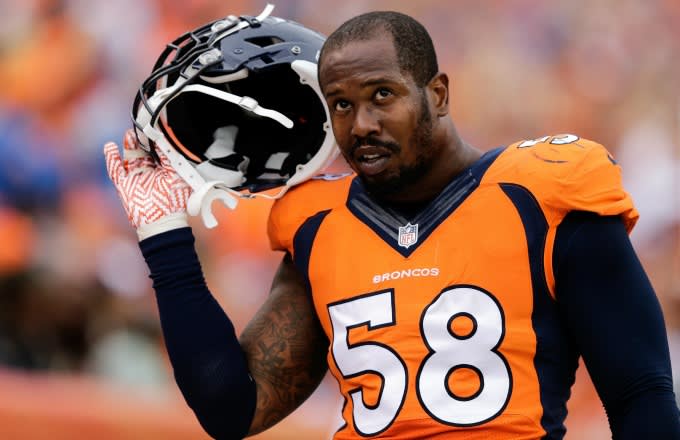 So what's the biggest perk of being the Super Bowl MVP?
Um....I don't know. Just having the title of being the Super Bowl MVP is a perk in itself. It's an honor and privilege just to achieve and have that title next to your name.
We asked what your favorite song was back in 2011, right before the draft. So I just wanted to ask again, what's your favorite song?
What was my favorite song back then?
It was Tyga, the Black Thoughts 2 Mixtape.
Oh wow [Laughs.] yeah I've been on Drake...I've been listening to Views and the "More Life" material that he dropped. I've also been listening to J. Cole's "Immortals" too. That's slapping right now.