Courtney Lee's been performing on the NBA's biggest stages for nine years now, but taking his talents to the small screen presented some new challenges.
The Knicks shooting guard filmed a cameo this off-season for the go90 series The 5th Quarter, a short form mockumentary comedy series that pokes fun at the famed 30 for 30s from production company OBB Pictures.. And while Lee—who will appear on the series along with Blake Griffin, Karl-Anthony Towns, Metta World Peace, and others—said his first acting experience was more difficult than he expected, the project's showrunner says Lee shouldn't be so hard on himself.  
"He's much more natural than a lot of other athletes. Some need more directing than others but he was able to understand what we were going for," says Michael D. Ratner. "His improv was some of the funniest stuff. He took it in a direction we weren't expecting which was cool."
Lee rolled up to the Complex offices last week to discuss his Dec. 28 debut in The 5th Quarter episode "Trailblazing Trailblazer: The First Ugly Player in the NBA," his acting aspirations, when Knicks fans can expect their squad to start taking off, and his mysterious Jordan plug.
(This interview has been condensed for clarity.)
Tell me about your experience filming The 5th Quarter and why they reached out to you.
I've known Mike Ratner awhile and he proposed the idea that I come to the office to see what he's been working on. He showed me some clips and I thought it was an instant hit. It was comedy, which I love watching, and to see some of the other guys—Blake Griffin, Chandler Parsons, Gary Harris, Mark Cuban—involved in it I told him I wanted to be in it.
Was there any sense of competition after watching the performances of the other NBA players? I don't know if you have an acting or drama background—
No acting background. Blake got the big role because he has the acting experience, but this was something to get my feet wet. I enjoyed doing it.
Do you have acting aspirations?
Now. I enjoyed it the whole time; being coached and getting in front of a camera isn't such a bad thing.
What surprised you about getting in front of a camera?
You think that you just read lines or you just know what to say and it comes natural. But I stuttered on simple lines and things I wanted to say I was just messing up. Then you have the people behind the camera just staring at you and I'm just sweating for no reason.
Any of your teammates know you did this?
Not yet.
phMzB3NzE6TtLpbDugx_eP4I7-hPnQVg
Now to basketball, you've been a Knick for a few months now. Has it been what you expected? You've obviously played at Madison Square Garden plenty of times.
It definitely met and exceeded [my expectations]. I had an idea but just being here, getting stopped in the street every so often to talk about the season, talk about what's going on with us.
What's the craziest fan interaction you've had so far in New York?
I really haven't had one yet. Everybody has been cool. They'll come up and give their two cents and coaching tips. A couple of people have told me I need to shoot more.
The team didn't get off to the start most fans expected, but has played better recently. When do you think this team will finally gel and take off?
I think we're right there on the cusp. We started off slow because there are 10 new guys on the roster. Everybody is just trying to get comfortable with a new system, new coach, and learning each other's game. It takes time to build chemistry. But we're headed in the right direction. We've won some games against good teams.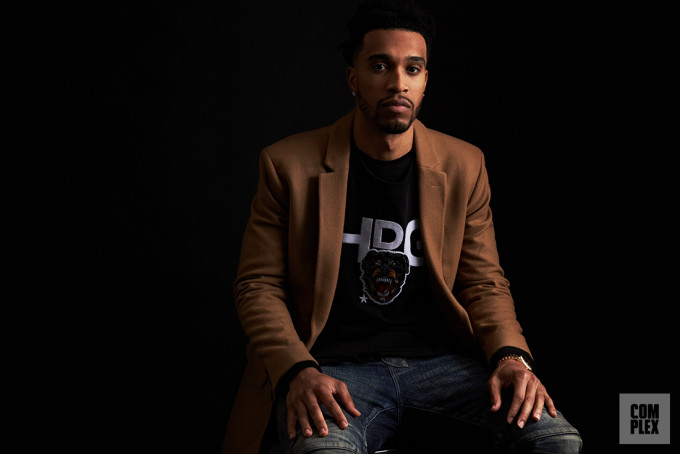 Can you sense the impatience of Knicks fans?
After the first loss you could. It was just like everybody hit panic mode. But it takes time. Everybody's used to being in certain systems and you come in here and learn the Triangle. It all takes time.
The Knicks had a well-chronicled meeting two weekends ago. Did it catch you by surprise and could that be something looked upon later as a turning point in the season?
It could just because the guys might not have been on the same page or might not of had the same understanding of what the team was looking for or what the players wanted to do. So just having that meeting and getting everything off their chest and everyone getting on the same page is only going to benefit us going forward.
The Complex Sneakers guys wanted me to ask you who your Jordan plug is because apparently you get hooked up with a ton of heat.
[Laughs.] I'm not sure. Over the years I've just had relationships with a lot of people. I do have a good relationship with Marcus Jordan, [Michael] Jordan's son. He lives in Orlando, that's where I live in the off-season, and he's become a good friend of mine. And I played for Jordan in Charlotte.