It's been awhile since we've heard from ex-Panthers/Cowboys defensive end Greg Hardy (well, besides that whole getting arrested for possession of cocaine thing), which is largely due to the fact that he isn't in the NFL anymore because his off-the-field behavior—combined with his on-field performance—was so bad that even Jerry Jones wasn't willing to take a continuous PR hit by keeping him on the roster. That being said, Hardy is still only 28 and wants to play in the NFL, which is evident from his publicly polished Twitter persona, so he's trying to get his name and his interest in playing football again back out into the world.
On Sunday night, Hardy teased that he was going to share some exciting news with his fans remaining fans on Monday:
And on Monday afternoon, he delivered by announcing that he is now calling himself Greg Hardy 2.0 and calling his current situation "The Ultimate Comeback." But unfortunately, he chose a really, really unfortunate Vince Lombardi quote to celebrate the occasion. There are tons of Lombardi quotes that Hardy could have gone with, but instead of going with a safe pick, Hardy settled on this quote: "It's not whether you get knocked out, it's whether you get back up." Welp. Not exactly the kind of quote you should use to promote yourself when you've got a history with domestic violence.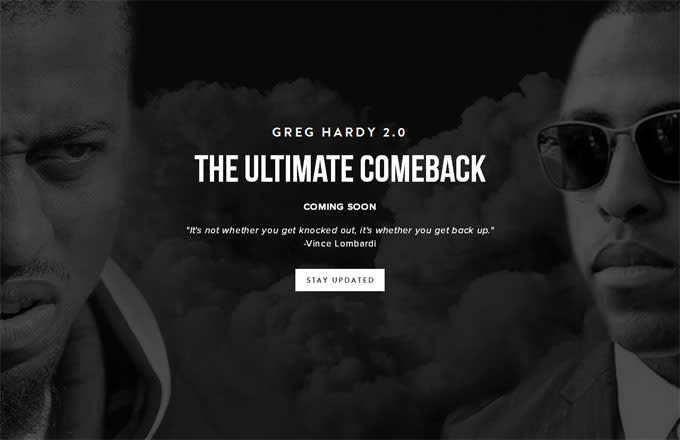 Next time, may we suggest any of the following Lombardi quotes in its place?
"Perfection is not attainable, but if we chase perfection we can catch excellence."

"The difference between a successful person and others is not a lack of strength, not a lack of knowledge, but rather a lack of will."

"The harder you work, the harder it is to surrender."

"The quality of a person's life is in direct proportion to their commitment to excellence, regardless of their chosen field of endeavor."

"Winners never quit and quitters never win."
Literally ANY quote—from Lombardi or not—would have been better than the one that Hardy chose. Is it already time to scrap Hardy 2.0 and start using Hardy 3.0 instead?