Last week a new NFL season began with a primetime rematch featuring the league's biggest star not serving a deflated football-related suspension, and the defense that tormented him in last year's Super Bowl. That star, of course, is Cam Newton, the reigning league MVP whose "controversial" 2015 rise transformed him into a lightning rod for manufactured debate.
Sure, most failed to cite credible evidence of what exactly made Newton controversial, but that mattered little as the peddling of this label eventually turned it into conventional wisdom. The most common example of Newton's divisiveness was a letter to the editor written by a Tennessee mother who took umbrage with Newton's celebratory dancing after he ran in a fourth quarter touchdown against her Titans.
Now, I understand millennials don't read newspapers, but you should pick one up—assuming your local one didn't go out of business—if only to realize that letters to the editor are frequently pompous and almost always fucking stupid. They were internet comments before the internet existed. They're meant to be mocked, not elevated to the height of the national discourse so some folks can feel morally superior. 
Nearly everybody (including us) reported on this letter. And, at the beginning, it seemed it would simply serve as an entertaining tidbit before quickly disappearing like most bite-size news. But, for whatever reason, this same freakin' write-up to the Charlotte Observer is still routinely referenced by media companies with a hell of a lot more reach and sway than a single North Carolina newspaper.
That shit has been completely beaten into the ground like the crying Jordan meme or tributes to everyone's favorite dead gorilla. There are literally thousands of examples including these from The Washington Post, the New York Daily News, CBS Sports, The Nation, Salon, Fox Sports, ESPN, The Huffington Post, Robert Flores on SportsCenter, Saturday Night Live the night before the Super Bowl, and, again, lest you think people in glass houses shouldn't throw stones, us. All of these references took place long after the letter was published, well beyond the statute of limitations for a letter to the editor.
Other (but far less cited) confirmations of Newton's controversial nature appear to be based around a couple more letters to the editor, a 2011 pre-draft report, a delusional petition to ban him from playing at CenturyLink Field in Seattle because he threw a guy's 12th man flag, and these overtly racist rantings from an angry loner who has no power or influence in life.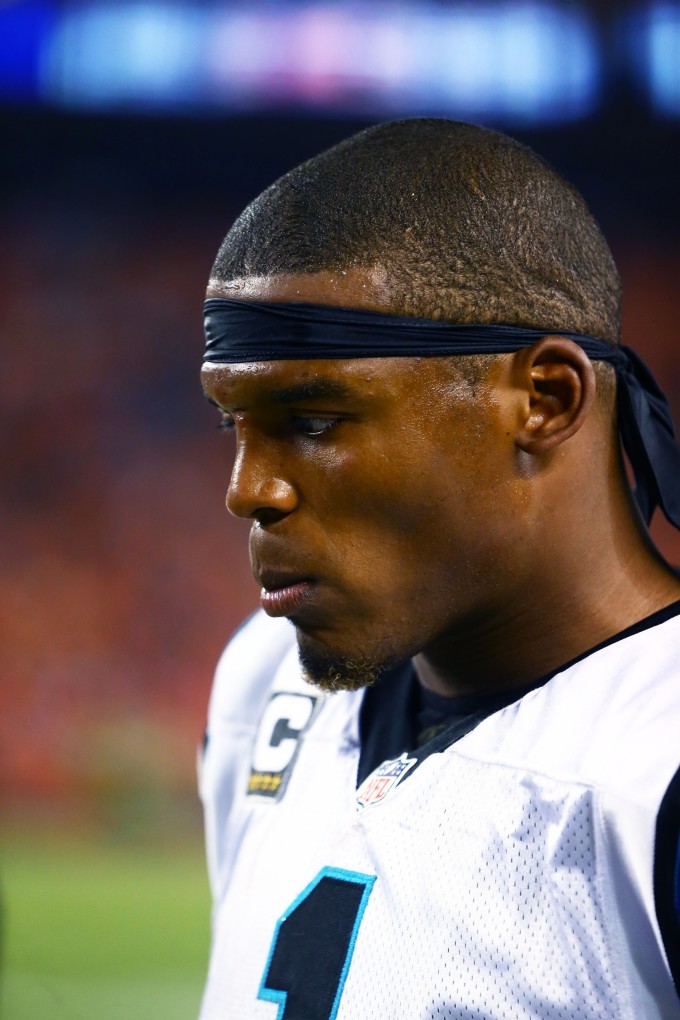 Despite these thin examples of some nationwide backlash against the NFL's most valuable player, the fact of the matter is Cam Newton is one of the league's most popular figures. Which, in some small part, appears to stem from the belief that rooting for him is a revolutionary and courageous stance.
The evidence supporting Newton as a well-liked figure is just a tad more substantive than a hastily-written note from an angry mother who had no idea what she was getting herself into. For starters, there's this Dallas News article on something called "The Marketing Arm" which, in the words of the publication, "[K]eeps tabs on how consumers feel about nearly 4,000 athletes, entertainers, politicians, musicians and other notables so that advertising clients can find the best personalities for their brands." Essentially companies put buttloads of research into celebrities before finally settling on an endorser for their products.
In the lead up to Super Bowl 50, Cam Newton was side-by-side with Peyton Manning in a number of categories including his appeal, influence, and whether people want to be like him. That popularity led to Newton banking an estimated $11 million in endorsements with companies like Under Armour, Beats by Dre, Gatorade, Oikos Greek yogurt, and L'Oreal. And, as we all know, there's no shame in coming second to Peyton Manning—a guy who made sure to shout-out Bud Light and hug Papa John on international television before riding off into the sunset—when it comes to shilling for billion dollar corporations.
This reality where Newton's disproportionately fending off unfair criticism left and right is an alternative reality where only bloggers and columnists appear to exist.
You may remember that, back in 2012, the NFL made Newton their face of the Play60 movement, culminating with a commercial featuring a kid telling the young QB he was going to play so well he'd win over Newton's own mom. Newton also had the second best-selling jersey in the NFL between April 2015 and January 2016. And, on a less official note, try Googling his name. The results are overwhelmingly positive. For every obnoxious tweet read by no one (unless you actively search for it), there's a column praising Newton that's read by thousands.
Look how widespread and outlandishly popular dabbing became after Newton took it as part of his end zone cele. He may not have started it, but for a lot of people, Cam Newton was their introduction to the dab. We've seen kids bust it out everywhere from basketball games to the National Spelling Bee, Hillary Clinton attempted to use its popularity to pander on Ellen, countless A-list celebrities have tried their hand at it, and many of the people at the Super Bowl were wearing shirts with cartoons of Newton performing the move.
To further illustrate how forced the controversial Cam Newton narrative was and still is, look at the season opener. Last Thursday, in a game that ended up being much better than the Super Bowl, the Panthers lost 21-20 after missing a 50-yard field goal that would've reversed each team's fate. In the contest Newton got whacked around, taking a number of fucked-up hits to the head from Denver defenders that weren't called by the referees.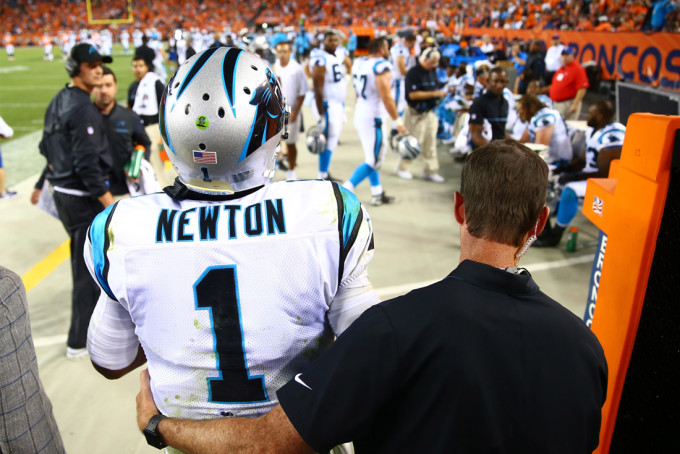 The post-game coverage of Newton was—as it frequently is—positive, with the No. 1 story being that it was reckless as hell for the refs/doctors/Panthers to leave Newton on the field as he continued to absorb those shots. In fact, that was the No. 1 topic on SportsCenter, Around the Horn, PTI and probably whatever other copycat shows are out there featuring people arguing about sports.
If anything, the game helped highlight the common disconnect between the perception of Newton coverage and the actual coverage itself. It works like this: Newton plays, something happens that people think could become fodder for a think piece (like Cam flossing or debuting a new dance or saying "I feel shitty" in the postgame presser), people on Twitter say some variation of, "Oh geez, can't wait to see the anti-Cam takes tomorrow #eyeroll," then nobody of note ends up writing such a take. Then the next week the same process repeats itself.
This reality where Newton's disproportionately fending off unfair criticism left and right is an alternative reality where only bloggers and columnists appear to exist. In the future, when you see hot takes on how polarizing a player Cam Newton is, ask yourself: Is the person bashing Cam Newton a public figure with any sort of audience? Are there any talking heads/writers/personalities getting on TV and painting him as a villain? And—most importantly—why the fuck does this criticism matter? If it's just a letter to a newspaper or some anonymous bozo on social media—it doesn't.
The bottom line is that Cam Newton's name is now on par with the biggest athletes in America, and with that massive amount of coverage comes some level of detraction since the biggest names are the ones for whom people generate opinions. There are bad things written on the internet about Tom Brady, Peyton Manning, Aaron Rodgers, LeBron James, Kevin Durant, Brett Favre, Michael Jordan—the list goes on. To deny that race never plays a role in how fans feel about certain players would be naive, but to claim Cam Newton is some unique lightning rod is untrue and self serving.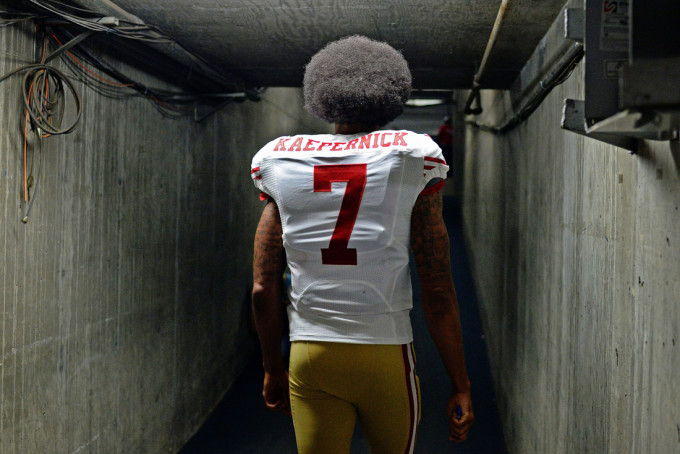 Media people rarely write bloated thinkpieces defending Tom Brady for not handing his cell phone over to Roger Goodell, or J.J. Watt from accurate accusations that he's super corny, and we don't castigate an old Chicago-area lady for telling Jay Cutler to go fuck himself in her obituary, because that stuff doesn't fit a narrative that pisses people off enough to click.
Exaggerating narratives is garbage and prioritizes emotion over facts. We've seen what actual backlash looks like through Colin Kaepernick's national anthem protest (and the subsequent ridiculous #boycottNFL hashtag), which is not even close to the same reaction Cam Newton got for dancing and dabbing. In reality, if there has been any groundswell of national anger directed at Cam Newton, it has been for his recent limp stances on racism in America, a clumsy attempt by the MVP to appease NFL fans of all colors. 
Now, there's certainly a possibility that somebody in a position of power could try to unfairly vilify Newton at some point in the future, but at least wait for that to happen instead of boldly standing up to some mom in Tennessee (who, for the record, apologized a long time ago). If someone's going to make generalizations about the temperature of the entire country, have them back up their assertions with something more convincing than one letter to the editor.