Many were shocked when the U.S. Women's National Team crashed out of the 2016 Olympics, missing the semifinals for the first time ever. What wasn't so surprising was hearing Hope Solo bad-mouth the opposing team. "We played a bunch of cowards," she said of Sweden, which defeated the U.S. despite having only six shots compared to 27 for the U.S. Solo is one of the best goalkeepers to ever play the game, but her career has often been overshadowed by bad-mouthing, poor sportsmanship, and, more recently, criminal behavior.
When U.S. Soccer announced her punishment for the outburst Wednesday—a surprisingly lengthy six month suspension—some were happy to see the organization finally crack down on a bad actor who also happened to be one of its best players and among its most high profile. To others though, the punishment rang hollow. Is this not the same Solo who received only a 30 day suspension after letting her husband Jerramy Stevens drunkenly drive the team van during WNT training camp? The same Solo who received no suspension at the international level after being charged with domestic violence for drunkenly assaulting her nephew and half-sister? The same one whose misinformed comments about Zika virus led to relentless trolling of not only the soccer team, but U.S. athletes across many sports in Rio? And yet, she's now receiving a half-year suspension just for being a sore loser?
Atoning for past sins is a good start, but it doesn't make up for them happening in the first place. For Hope Solo and U.S. Soccer, this punishment simply feels like too little, too late.
This decision reeks of an attempt to make up for past mistakes. U.S. Soccer knows it's under-punished her for much more egregious offenses in the past, and seem to be trying to atone for it now. The trouble with this decision is its incredible convenient timing. Despite all her past transgressions, Solo played in the 2015 World Cup, when her stellar goalkeeping helped the U.S. to its third title. She also played in the Olympics, where she performed less admirably, but was still viewed as an indispensable part of the team. The U.S. needed her in both tournaments, but the shadow of her behavior loomed heavily over her play. Now that she's served her purpose and—at 35-years old—is arguably on the way out, U.S. Soccer suddenly has the courage to crack down on her bad behavior.
Let's not forget, there are many areas of sports where women are still not equal to men—with pay for the very successful women's national team chief among them—but in this case, it seems the same disappointing standard very much applies. Players that are deemed irreplaceable have their controversies swept under the rug, no matter how egregious, unless the roar of public opinion becomes too loud to ignore. Yes, Ray Rice got suspended from the NFL, but not until horrifying footage of him assaulting his wife made it too hard for Roger Goodell to ignore.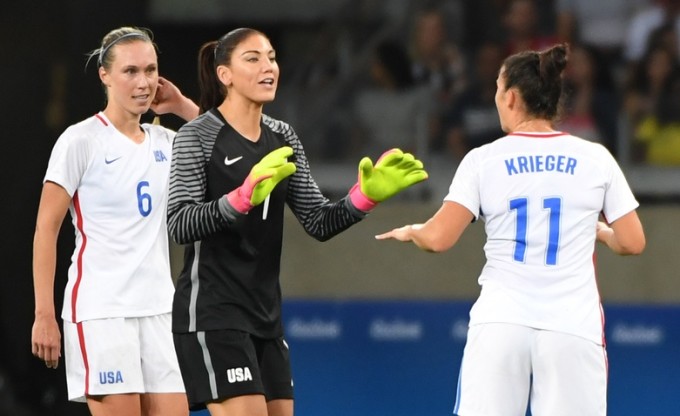 Let it not be mistaken, Solo's assault was a serious one. In an interview with ESPN, Solo's half-sister Teresa Obert claimed that Solo "grabbed [her nephew] by the head and she kept slamming him into the cement over and over again." She later punched Obert in the face repeatedly. Unfortunately, in a society where women are primarily the victims of domestic violence, a female perpetrator is simply not viewed with the same seriousness as a male committing the same crime. Coupled with the lower profile of soccer in America in general and her outsized role in the national team's success, Solo was able to skirt by without real punishment despite the seriousness of her crimes.
However it happened, Solo's suspension is undoubtedly a good thing, but it just doesn't feel legitimate. After keeping her on the team through much ugly behavior and controversy, U.S. Soccer suddenly has no problem suspending her once their major tournament runs are over. She can drunkenly assault a teenager, commandeer the team van under the influence, and spread fear and misinformation about Zika virus in Brazil with little consequence, but bad mouthing an opposing team is apparently what crosses the line. Atoning for past sins is a good start, but it doesn't make up for them happening in the first place. For Hope Solo and U.S. Soccer, this punishment simply feels like too little, too late.