Ever since Brett Favre retired from the NFL in 2011, he's been a pitchman for Wrangler jeans. You know, those dad jeans you see in commercials with blue-collar workers driving pick-up trucks in slow motion, happy as can be with country tunes on blast for the background music. Favre seems to be the right guy for the 45-and-over male target demo living in rural America.
After being inducted into the Pro Football Hall of Fame on Sunday, Favre was given the ultimate form of flattery by his endorser. Wrangler gave Favre his own life-sized statue with Wrangler jeans that has images of him playing for both the Packers and the Vikings.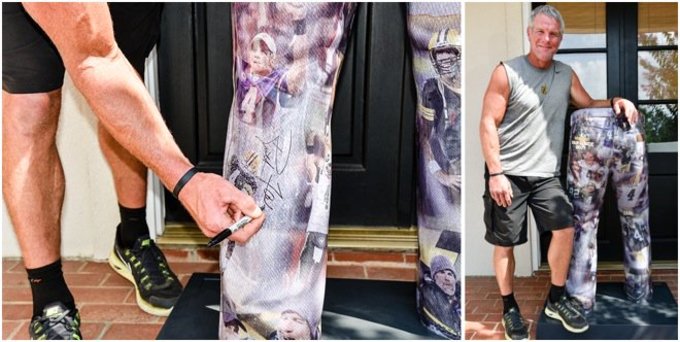 He can be seen above signing these dad jeans, but they look more like a bad attempt to create some quasi hip-hop style airbrushed jeans sold from a shopping mall island cart than from the Wrangler brand.
Perhaps the jeans are meant to represent a timeline of the best years of his career in Green Bay and in Minnesota. Favre looked thankful for his statue, or rather his life-sized leg bust, that he can add his NFL Hall of Fame bust onto. He just needs the torso filled with some images of his brief year with the Jets, and maybe some mannequin arms, to complete his "body of work" that spans his legendary NFL career. Congrats, Favre.