"And like that...he's gone." —Verbal Kint, The Usual Suspects
Tim Duncan announced his retirement from the NBA today—although that's not quite right. The San Antonio Spurs announced Duncan's retirement, a small but significant difference. Duncan himself hasn't said anything. The last we heard from Duncan was in the playoffs, as he finished what would be his last game shooting 50 percent—7-of-14—from the floor and an improbable 5-of-6 from the line in a loss to the Oklahoma City Thunder. He also had a dunk attempt killed by Serge Ibaka, but nevermind that now. The last we had heard of Duncan, he had opted into his contract for next season. And now, without a word, he's done at 40, after 19 seasons and five championships.
There was never going to be any long, drawn out farewell for Duncan, no retirement tour, no video tributes on opposing team's Jumbotrons or anything like that. Had he returned for one more season, his 20th, there certainly would have been some. Instead there will be a press conference; at some point this season his No. 21 will be raised to the AT&T Center rafters, and then—after the mandatory-yet-entirely-necessary five-year waiting period—there will be an induction ceremony in Springfield. One thing to remember on the occasion of Duncan's quiet exit is this—he leaves the Spurs better than he found them. Not all retiring superstars can say this.
(A long aside here: There will be many comparisons made between Kobe Bryant and Duncan, both of whom won five titles, both of whom spent their entire careers on the same team, and both of whom retired this year. It will be very easy to praise Duncan at the expense of Bryant, who took a huge balloon payment and engaged in a year-long farewell tour during a historic Lakers downturn. Do not do this. Bryant was Bryant to the end, just as Duncan was Duncan. Two entirely separate paths that will eventually lead to the same place—the Hall of Fame. Expecting Bryant's career to end like Duncan's is as ludicrous as it would have been to expect Duncan's to end like Bryant's. Both were perfect in their own way.)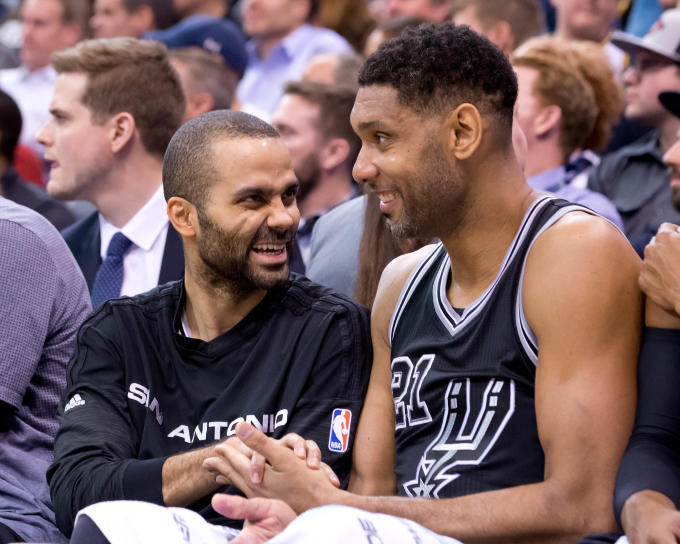 Whatever the opposite of volatile, that's what Duncan's career was. Not placid, although he was able to remain calm amidst plenty of on-court storms: "Freedom From Expression" was what I headlined one of many SLAM magazine pieces about him. Everything about him was just...level. In a profession where failure and success, both individual and team, create jagged, EEG-type patterns, Duncan's was a high, flat, line, only slightly declining towards the end. He averaged 21.1 points, 11.9 rebounds, 2.7 assists, and 2.5 blocks in his Rookie of the Year season, and averaged 19.0 points, 10.8 rebounds, 3.0 assists and 2.2 blocks for his career. He emerged like Athena, fully formed (although, to the best of my knowledge, not through anyone's forehead). Don't worry if you don't get the reference—Duncan certainly does.
Tim Duncan won 71 percent of his games, made the playoffs every single year, never went more than six seasons between championships, won titles in three different decades. He finishes his career sixth all-time in blocks, seventh all-time in total rebounds, eighth all-time in games played, 13th all-time in PER, 14th all-time in points and 94th all-time in assists. He played in 252 playoff games, won 1,001 games in the regular season. He was almost certainly the best defensive player to never be named Defensive Player of the Year.  Aside from his free throw percentage, which dipped below 60 percent as many times as it went above 80 percent—once—there's nothing you can point to and say, yeah, he could have done that better.
The weird thing about Duncan is that he wasn't a throwback, no matter how much we try and hang that tag on him. He mastered the fundamentals, certainly, but so did Bryant, and no one ever tried to call Kobe a throwback. Duncan took bank shots not because they were old school, but because they were the right shots to take. The fact that very few other players take them says more about NBA players in general than it does about Duncan. Duncan's game wasn't old-fashioned, it was timeless. At some point, he had all the trappings of the modern-day player—max contracts (he made $240 million in his career), signature shoes, national commercials, tattoos, and custom cars. Hell, he has his own custom car shop. He played video games. He just didn't let any of that stuff take over. Basketball remained his primary focus until, well, today. There's a reason he always used to hug the ball.
Duncan's game wasn't old-fashioned, it was timeless
Duncan will be remembered as an elite player, a terrible dresser, a fantastic teammate. His night-after-night consistency provided the space for others to work, his willingness to do the work provided the space for a culture to take root. His primary legacy will not be his own numbers, but the work that will be continued by others—from Gregg Popovich to Tony Parker to Kawhi Leonard. For 19 years, he put his head down and worked, but in doing so he lifted everyone else up. Teammates as different as Boris Diaw and Stephen Jackson offered their undiluted praise.
Someday soon, Duncan will address his retirement. He will be self-effacing, thankful, likely short. Boring. This is by design. In select company—say, teammates—Duncan can be funny, cutting, sarcastic. Spend enough time in the Spurs locker room and you've likely even hear some of it. Joey Crawford heard it. But that was never for us. In an ever-expanding media world that increasingly demands more and more, Duncan succeeded at keeping some things private. Which is fine. What he gave us was plenty.