Sue Bird has accomplished just about everything imaginable in the game over her 15 years as a professional, her four years at UConn, and three runs with the Olympic team. But is the 35-year-old point guard nearing the end of a legendary run? 
A day after we chatted with her talented teammate Breanna Stewart, we talked to Bird on the eve of the Storm's showdown with the Liberty at Madison Square Garden Wednesday afternoon about her future in the game, the upcoming Olympics, her relationship with Stewart, and whether super teams are good for the game of basketball.
(This interview has been edited and condensed for clarity.)
How excited are you for the Olympics?
Very excited. I'm really looking forward to it. We have a lot of amazing opportunities ahead of us, and obviously representing your country and being selected to the team in itself is an honor, and I'm just looking forward to it.
Is there a difference between playing for the WNBA and winning a championship there and defending your country and trying to win a gold medal?
Yeah, there's a lot of differences. First and foremost, with the Olympic team, I think for a lot of women's basketball players, there was no WNBA growing up. Some of the younger players, there was, but for me, there was no WNBA growing up, so the Olympics is always kind of that upper echelon-type honor. It was the end-all be-all of it all. So you always wanted to reach that level, and so the Olympics will always, for me, kind of be a little bit higher than anything else, and it's a lot harder, because we're just thrown together. We have a couple weeks to train, and then we go, whereas all these other teams, they have like months and months that they get together and get ready, so for us it's a crash course, and then we just gotta take the court and figure it out quick. But the cool thing I think about the WNBA is that it's definitely gotten better and better as it's gone, and now it's probably the most challenging championship to win in the world. I mean, that's just the talent level that's in the WNBA. The regular season can be a grind, the playoff format's hard, so it's probably the more difficult championship to win, but like I said, for me, the Olympics will always be a little bit higher.
With everything going on in Rio, are there any concerns of the Zika virus at all between you, any of your teammates, or any other athletes that you've talked to?
Truthfully, I haven't really talked to many other athletes. Obviously, I read the news just like everybody else. I see that some people pulled out and other people have concerns. USA Basketball along the way has kept us informed and given us literature to read, told us some of the steps and measures they're gonna take to help keep us safe, and I trust them. I'm very comfortable with that, and it's nothing that's on my mind on a daily basis, but it's definitely there. I mean, I feel like every day something new comes out, good or bad, about Zika, about what's going on in Rio.
You mentioned the WNBA and how growing up, there was no such thing as that for you. Now, the WNBA is celebrating the 20th anniversary this year, and you've been in this league for a decade-and-a-half. What's it like to have been playing in 15 of those 20 years and becoming a household name when it comes to the sport?
It's been great. I think when you're a kid coming out of college, you're just kinda going with the flow, you don't really understand what's happening around you, you're just out there playing basketball, but now that I'm older and I see where the league has come in my 15 years, it's pretty cool to have witnessed it. The talent level just keeps better and better. The competition just keeps getting better and better, and we still have a long way to go, but the fact that we have gotten to 20 years, it does say a lot about our league, and I see the young talent that's come in the last couple years, and I know it's gonna be in good hands, and it's exciting to think about that.
From a fan's standpoint, I'm sure people who are Golden State fans are loving that right now. They're loving every second of it, and I'm sure Cleveland fans right now are like, "Are you serious?"
Practically none of this happens without Pat Summitt. Describe what she meant to you, your career, and women's basketball as a whole.
Well obviously it was very sad news, and really with Pat Summitt what we lost is someone who whether or not you knew her, she had an impact on your basketball career. I actually did not know her that well, we had very few interactions, but obviously played against her in college, and really how I know her is through playing—having teammates who were her former players. That's how I know her, because that's where I heard a ton of stories and that's where I realized the impact she had directly on those Tennessee players. Just knowing them and seeing Pat through their eyes is something I'm thankful for. Now that she's gone, you kinda go back and see what she's done for women's basketball. Like I said, even as somebody who didn't have many interactions with her, I know the impact she had on my career, because without her so much would've been different in women's basketball. She pushed the envelope left and right, whether it was just from a mere fact of being such a great competitor to literally pushing the envelope and fighting for more money, fighting for more opportunity, so it's obviously sad that she's passed, but again the things that I'll remember are the stories and the way my teammates would talk about her, those that played for her.
Even though you didn't have a tremendous relationship with her, are there any personal stories that you have between you two?
Well obviously, I feel really lucky in a lot of ways now. Looking back, when I went to Connecticut, the UConn-Tennessee rivalry was probably at one of its highest levels. We played them every year—for two years, we actually played them twice in the regular season, like a home and away, which was unheard of for an opponent at the time—and then I played them two times in the Final Four as well. I've been a part of some of the best games in terms of that rivalry, and obviously it was never easy, it was always the game that we marked on our calendar, and it was my senior year—and my best memories are gonna be positives for Connecticut—but my senior year, we played them in the semifinals, and we beat them pretty good, pretty handedly, and after the game, Pat Summitt came into our locker room. I mean, this was after the game, if you can imagine semifinals of the Final Four, and she said this was one of the best teams she's ever seen, and just how good we were, and congratulating us. You don't really hear that much, and she really is such an amazing competitor where you wouldn't even expect something like that, so for her to even do that, wow. Obviously I think it's something that we all remember.
You mentioned UConn, and now your teammates with Breanna Stewart, is she the best Husky of all time?
[Laughs] I get this question a lot. I am 100 percent honest when I talk about this, and I admit that I am totally generationally biased—Diana (Taurasi) will always be the best Husky in my opinion, but that's because I played with her, I know the impact that she can have on a team. But at the end of the day, if you kinda step outside and you fast forward five, six, seven years from now, and you look back on players like D, Maya Moore, Stewie, you look at their careers, Stewie has four national championships, so it's really hard to argue that. It says a lot about her and just her ability to stay focused throughout a year, throughout her career. It's a tough precedent; I doubt it will ever happen again to be honest, so she's obviously up there. But again, I own my bias, because you can make arguments—I think D, Maya, and Stewie are the three that you probably talk about first. You can make legit arguments about all three. I mean, look at Maya now. Maya right now [has] like catapulted herself in terms of her play, and she had a great college career as well. It's tough, it's tough. I mean those three are incredible.
Are you better than her?
Hell no. My bias doesn't go that far.
What's your relationship like with Breanna? Any rookie hazing? Any mentor-mentee relationship?
[Laughs] I'm not big on rookie hazing. I didn't wanna be hazed as a rookie, so I definitely didn't want to do it to others. But no, she's cool, it's been good to get to know her, play with her. She has such a huge amount of talent. Her ceiling is crazy right now. She's already shown so much and it's just her first year. I think she'll just keep getting better and better with experience. Off the court, she's a great person, very laid back in a lot of ways, has some aspects to her that you know she's 21-years-old and then there's other times where she's extremely mature in how she handles everything that's thrown at her, so it's been cool to hang out and get to know her.
Kevin Durant is going to the Warriors. Do you think super teams are good for basketball? What would happen in the WNBA had a super team if they don't already?
I think this is an interesting topic, because as a player in a league, you dread a super team, I think. You dread the idea of, in Golden State's case, four All-Stars on one team, because that, on paper, speaks dominance. And I think as a player on another team, you don't want that. You want the thing to be a little more equal to make it more competitive. From a fan's standpoint, I'm sure people who are Golden State fans are loving that right now. They're loving every second of it, and I'm sure Cleveland fans right now are like, "Are you serious?" It can go either way, but truth of the matter is the way free agency is and it opens up that opportunity, you can't fault a player for doing that. Obviously we haven't seen something like this in a really long time, it's almost like LeBron James leaving Cleveland—basically he was the first franchise player in his prime to leave maybe ever. So maybe he started a trend, who knows? Only time will tell. As far as it related to the WNBA, again, it's hit or miss. There's something about dominant teams that draws fans in. People like to see this, they like to witness dominance. When L.A. and Minnesota were both undefeated, that game got a ton of hype, so there's a good part of that, but is it good for two or three teams to dominate a 12 team league for, five, six, seven, eight, nine years? I don't know, it remains to be seen. But it brings up a lot of interesting points. I think it's hard to compare the NBA and the WNBA, but the thing about the NBA is they just have a ton of movement every year, but the WNBA doesn't. Free agency is not set up that way, the money is obviously not set up that way, so when one player moves, it could set the stage for literally like six or seven years.
What's the lifestyle with the Seattle Storm, and what will the lifestyle be like in the Olympics?
When we're on a team in Seattle, we go out, when we hang out—my team, I'm the oldest by a lot, so we have a very young team, so I joke that they keep me cool—for the most part, everybody, in terms of pop culture and what's in and what's not, my team is very on top of it. Whether it's the music or the dance moves or where to go in the city, everybody is on top of it and wanting to go out and have a good time. I think when we're out and about, people recognize us a lot. Seattle's a big city in some ways but a small city in a lot of other ways, and right now, us and the Mariners are the two pro teams that are playing, so when we're out, people recognize us. Obviously you have a group of tall women walking around, people are going to notice anyways, but for the most part, I think the Seattle fan base really supports the Storm, and you can see it whether they're trying to buy us drinks or they just wanna hang out with us, you can feel it. We have a good time when we go out, and I think our fans are great in Seattle. As far as the Olympic team goes, similar. I bet it's similar in every WNBA city. It's funny, because our popularity gets questioned a lot, but the interesting part about our popularity is it's there, it exists. People know us, they come up to us in airports, they see us in restaurants, they want pictures, they want that. Our issue as a league is getting those people to come buy tickets and go to the game. That's where there's a little bit of a disconnect, but the popularity's there. And with the Olympic team, rolling around with them, think of some of those names that's on that team. You can't go anywhere; these women get stalked left and right.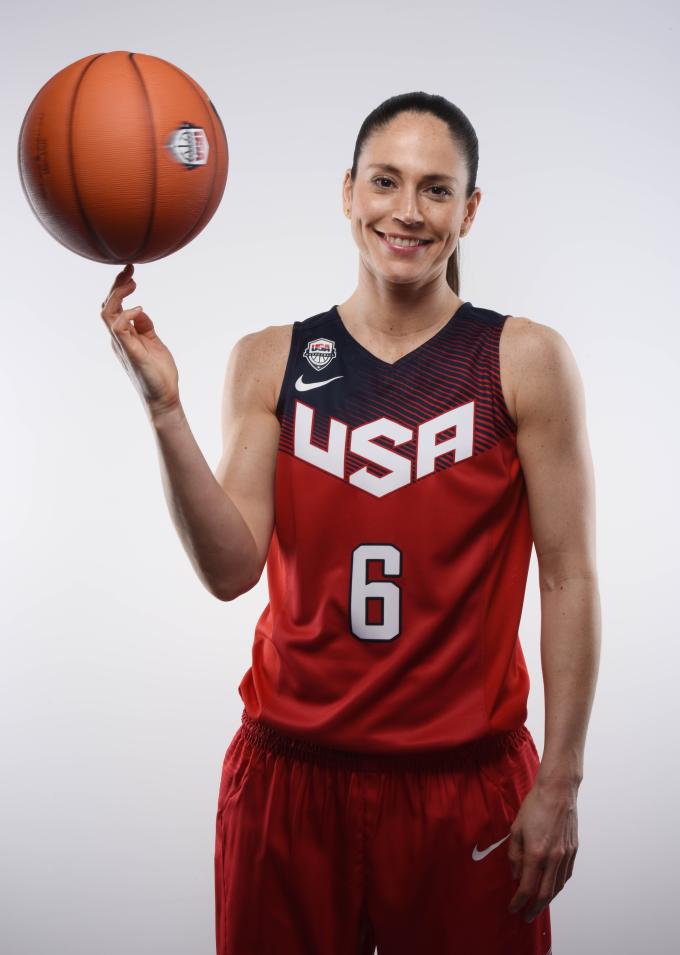 What is your future looking like? Is this your last Olympics?
[Laughs] You know what's funny, the older I've gotten, and the more my counterparts in the same age range have started to retire, whether it was Tamika Catchings, Swin Cash, Lauren Jackson, I mean these are three people that I basically grew up in basketball with. And with them retiring, obviously the question has been posed to me even more, and the one thing I can tell is I don't know that I'm gonna wanna have some big announcement. I don't know that I'm gonna wanna talk about it. I think maybe I'll end doing a Ray Allen or a Tim Duncan and just kinda fade to black, who knows? But what I do know is that I'm not quite there yet. I feel good this year, and I joke about it, but it's really serious, I'm on a one-year plan. I'm just gonna take it one year at a time and see what happens. Obviously for the Olympics, the next one's not for four years, so it's probably safe to say that this would be the last, but I'm not trying to make that the storyline. I think it's not about that, so I'm just gonna try to take it one year at a time.