Cowboys rookie Ezekiel Elliott has been accused of domestic violence by his ex-girlfriend, according to a report released Friday morning by TMZ Sports. The woman, who claims she lived with Elliott while the two were dating, filed a police report in Columbus, Ohio on Friday and told police Elliott assaulted her while she was seated in the driver's seat of her car early Friday morning. The 20-year-old woman reportedly denied medical treatment at the scene, but she told police she had pain in her wrist and she reportedly had a red mark on her arm.
According to TMZ Sports, police spoke with Elliott, who turned 21 on Friday, after the alleged incident, and he denied assaulting the woman. He also told police he never lived with her. Additionally, police spoke with four witnesses who were near the scene, and they all reportedly told police they did not see an assault take place between Elliott and the woman. One of those witnesses was inside of the woman's car at the time of the incident.
Elliott was not arrested due to the conflicting reports that were given to police. However, the woman was told to contact the local prosecutor's office if she wanted to press charges against Elliott, and shortly after she filed the first police report, the woman also reportedly filed a second one on Friday. In that report, she claimed Elliott "struck her several times leaving bruises on her arms" between July 16 and 20. According to Deadspin, the woman also put up two Instagram posts on Friday morning that featured photos that show bruises on various parts of her body. Elliott reportedly told police that he "never touched [the woman] in a harmful manner," and TMZ Sports is reporting he told them the bruises in the photos were the result of a bar fight the woman was involved in.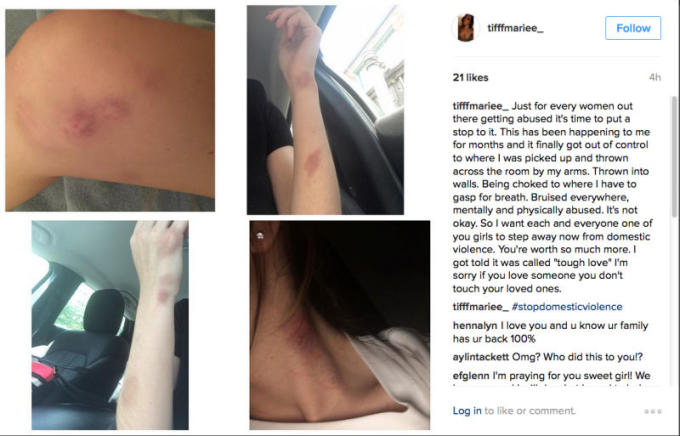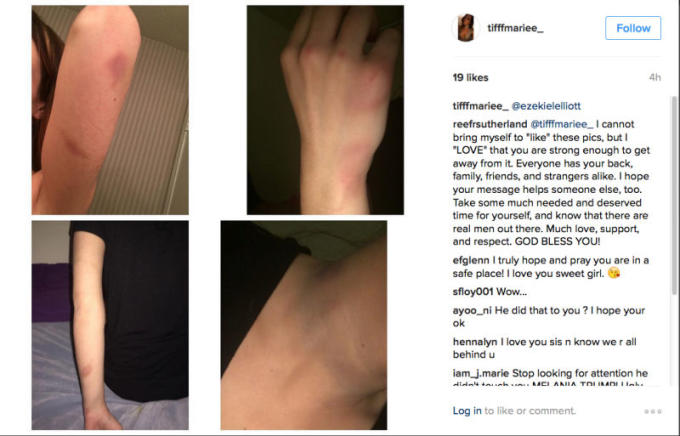 TMZ Sports also released audio from the 911 call the woman made:
Elliott has not released an official statement about the accusations made against him yet, but his agent told Complex one will be released sometime on Friday. The Cowboys haven't released an official statement either, but they did publish a statement from Elliott's dad on their team website. Stacy Elliott calls the accusations made against his son "completely false":
The NFL told TMZ Sports the league is already looking into the incident. "We begin a review when we become aware of a potential violation of the personal conduct policy," a representative for the league told TMZ Sports.