Oscar De La Hoya is still fighting.  After an illustrious 17-year career that included a Gold Medal at the 1992 Olympic Games and world titles in six weight classes, the former face of boxing is as energized as ever when it comes to the sport that made him a household name.  
After battling several personal issues, De La Hoya seems rejuvenated as the head of one of boxing's premier promotional companies, Golden Boy Promotions (GBP).  This weekend, on May 7, his company is promoting one of the biggest events of the year pitting GBP's marquee fighter, Canelo Alvarez—who many in the media have proclaimed the new face of boxing—against one of the U.K.'s most popular fighters, Amir "King" Khan. The fight is the quintessential matchup of speed versus power, and one that many expect will deliver action to match the hype.    
Complex News was able to catch up with enigmatic fighter-turned-promoter to get his thoughts on a number of topics including the Canelo vs. Khan matchup, a future fight between Canelo and Triple G, boxing's future, and how his mentality has changed moving from fighter to promoter. Watch the video above, and read the unabridged transcript below.
How did you first discover Canelo and how has your relationship blossomed over the years?
We discovered Canelo many years ago, when his present manager and trainer was a fan getting an autograph.  It was back in Arizona, and he handed me a picture of this red-headed, freckled 14-year-old kid, and he tells me, "Watch this kid. He's gonna be something. You want to sign him now."  
I'm thinking, this kid is 14 years old—I obviously have to wait until he's 18. And I haven't even seen him fight, but he's already expressing himself as if he was the best thing that has ever happened to boxing. Not that I brushed him off, but I said, "Okay, when he's 18, come back and we'll take a look at him." So, time passes, finally he's 18 years old and [his manager] calls and tells us, "Look, he's 18 and he's ready to fight." So we actually put him in tough, against a fighter who was undefeated. We fought him here locally in L.A.  and he passed the test with flying colors, and that's when I knew we had something special.
How important is Canelo to the future of Golden Boy Promotions?
Well, Canelo is important to the future of boxing. Obviously, he's the superstar of boxing now and he's a very important fighter to Golden Boy Promotions, and the future. [Him] being 25 years old, it gives us the opportunity to develop more champions and more stars.  In boxing, there is protocol. There are certain guidelines you have to follow and Canelo Alvarez, when he fights, the world watches. Therefore you have a perfect platform to build your next stars, to fight them on the undercards, and to expose them on these huge pay-per-view shows, and build your next champions.  So Canelo is very important to the company, but most importantly he's important to boxing.
Canelo is the future of boxing, now that Mayweather is retired, now that Pacquiao is retired.
A lot of people expect Canelo to win his fight against Amir Khan. What would a loss mean for him?
A loss [in] Canelo's career, against Amir Khan, would just mean a minor setback.  We do have a rematch clause in place, for that specific reason, [since] Amir Khan is a dangerous opponent for anybody.  Because of his speed.  Because of his lateral footwork. The trainer he has in Virgil Hunter. The ring IQ that Amir presents is a high one, and can possibly upset a fighter like Canelo.  Canelo has to be ready at all times, he has to be alert.  It's going to be a real fight.  So, a loss [in] his career now, the fact that he's 25 years old, wouldn't be much of a setback, but it would kind of be a black eye for him. And obviously, over time black eyes heal. He wouldn't have to start all over again, but he would have to regroup himself and continue winning fights.
With Canelo being the new face of boxing, where do you think the sport goes from here and where does GBP fit into the landscape of the sport?
Canelo is the future of boxing, now that Mayweather is retired, now that Pacquiao is retired.  When Canelo fought Miguel Cotto it was like the passing of the torch. It generated close to 1 million pay-per-view buys and we sold out in Las Vegas.  The world was watching. Therefore, a new star emerged out of that fight, and his name is Canelo Alvarez. So now, as promoters, it's our responsibility to continue putting together these high profile fights. When you have Amir Khan, who is the most popular fighter in the U.K., and you have Canelo Alvarez, who is generating hundreds of thousands of pay-per-view buys, you're going to get a huge event come May 7.  
It's a matter of continuing to win for Canelo, and it's a matter of building rivals, of finding that perfect opponent to create that big super fight, and there's plenty out there.  I think one fight a lot of people are looking forward to, aside from May 7, is Gennady Golovkin—they call him Triple G.  It's a fight that I believe is going to generate the same numbers that a Mayweather vs. Pacquiao fight generated. Mayweather vs. Pacquiao turned off a lot of fans because of a lack of action. Boxing was on the main stage, fans that never saw boxing were tuning in for the very first time and they tuned off because there was no action.  So how do I attract those fans once again? How do I bring back those fans?  I believe it will be the Triple G vs. Canelo fight, which will happen very soon.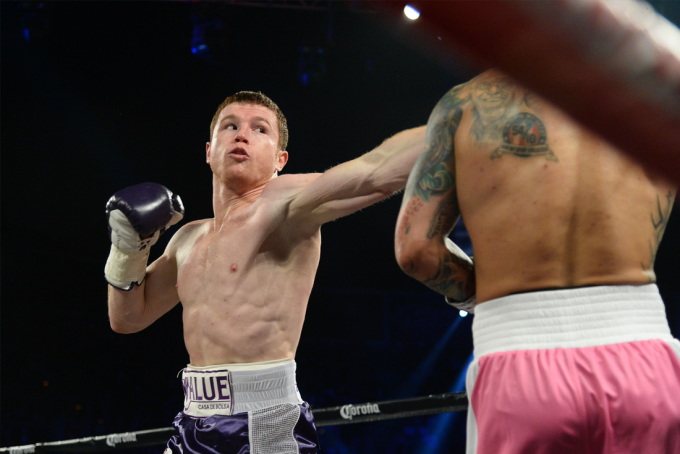 Most fans and media don't believe that fight will happen this year. How do you feel about that fight for Canelo specifically? And realistically, when do you think it will happen?
The bottom line is, the fight is not ready to happen yet.  As a promoter, I want to make sure that Canelo is at his peak, in terms of his popularity, in terms of maturity and growing into his strength. He's only 25 years old, and that's what a lot of people tend to forget.  Gennady Golovkin, he's already 31 years old.  He's already strong, he's already at his peak, but the problem is he's not generating enough attention in the mainstream, and that's a big problem because I want to get back those fans that Pacquiao and Mayweather [turned off] with their fight. Bottom line is, [the fans] shied away from the sport because of that. I want to get back those fans, and in order to do that both fighters have to be at their peak. Canelo is ready, he wants to take on anybody. But as a promoter, it's my job to make sure that fight is at a perfect time.
Everyone knows you as a fighter, but as a promoter you have different goals. How it is going from fighter to promoter? How has your mindset has changed?
It's funny because as a fighter I always fought the very best, and as a promoter as well, we put our fighters in tough. Sometimes I get criticized a lot for throwing them in there too young, and testing them too young. Once again, Canelo Alvarez, he's 25 years old. When I was 25 years old, I didn't have a resume like Canelo's. [He's] fighting Austin Trout, and the best fighter on the planet—Floyd Mayweather, [he's] fighting Erislandy Lara, fighting Kirkland.
When I take a look at my career, I [didn't have] half the resume he had at that age. There's a certain age when you build into your strength, and that's all I'm waiting for. For Canelo to build into his man strength, which is going to happen very soon. It's hard because I have to hold him back. He wants to fight everybody just like he did when he faced Mayweather at 22 years old.  You don't face the very best fighter on the planet at 22 years old, you just don't do that, but that's who Canelo is. He's a competitor.  He's a warrior. But I think the time is coming, where I'll say, 'I'm going to unleash the beast.'
So how do I attract those fans once again? How do I bring back those fans?  I believe it will be the Triple G vs. Canelo fight, which will happen very soon.
When you were looking for opponents for Canelo's May 7 fight, who came up with Amir Khan? Was it hard to make that deal considering his alliances?
When I was making the May 7 fight, I was thinking, how can I shock the world?  How can I make the best possible matchup, the biggest event for a brand new arena, the T-Mobile Arena opening up May 7? 
I thought about the most popular fighter across the pond and Amir Khan came to mind. I thought about Amir Khan taking the most difficult challenge of his entire career, and we came up with speed versus power. This is a classic matchup of speed versus power.  I think about Sugar Ray Leonard, I think about Marvelous Marvin Hagler, when they stepped into the ring.  Nobody gave Sugar Ray Leonard a shot—people thought Sugar Ray was crazy, his management was crazy, his promoter was crazy, and he shocked the world. We think that Amir Khan has the tools, he has what it takes to shock the world. 
He believes in himself, and when has Amir Khan ever been in a boring fight? He goes down, he gets back up, and he fights until the end. That's who Amir Khan is, and these are the types of fights that the public appreciates because they're entertaining. 
Explain to the average boxing fan how hard it is in today's climate to make these kinds of fights, and how this particular matchup could play out.
It's fairly easy when you have a fighter who's willing to take on any challenge. Here you have Amir Khan, who is jumping up one weight class, because the fight is at 155.  There is a cap in the weight.  So, yes it's a middleweight title, but the weight is 155, [which] is one pound over 154.  Amir Khan is a big guy already.  He can carry the weight easily, and from what I saw the other day [during] training with Virgil Hunter, he still looks fast, and he's just stronger. To me, it's dangerous for Canelo because of his lateral movement, his combinations and his speed. Canelo has had trouble with Austin Trout. He had trouble with Lara. He had trouble with Mayweather. And they're all elusive, fast fighters. So, it's a dangerous fight for Amir, but it's also a dangerous fight for Canelo.
So, for fans to get the fights they want, it really comes down to the fighters telling their promoters and managers that they want the fight?
That's the bottom line, but as a promoter I have an obligation to create the best matchups possible. The fighters, sometimes they're too brave for their own good, and you have to hold them back. The perfect example is Canelo, when he fought Mayweather—he just was not ready, he was 22 years old. Here's a kid facing the best fighter on the planet. He just didn't have the experience. If I put him in against Mayweather now, does he beat him? Yes. He's a different fighter, he's a complete fighter now. It's a promoter's job to take care of all that. I don't want easy fights for Canelo. I don't want easy fights for Amir.  I want entertaining fights for the fans.