New York Knicks All-Star forward Carmelo Anthony is in a room—a glass box in NYC's Grand Central Terminal, actually—with a polygraph and a polygraph operator, but we can't hook him up to it. Instead, others will try it, with Anthony watching as they answer questions from friends and spouses. For some, Anthony's presence may be enough to make nerves spike, which could make for some uncomfortable trips home.
This whole thing is a setup, of course, a Gillette promotion for their clinical strength antiperspirant–and what better way to test it than a lie detector? It's an interesting event to connect Anthony to, of all people, given what's said in the very first sentence of the very first release regarding the event: "There are few moments that elicit a faster or more powerful pressure spike than the instant you're caught off guard by an unexpected question." Unexpected questions? Anthony has been all about those this year.
After signing a five-year, $124 million deal to stay in New York two summers ago, Anthony endured two of his worst years in professional basketball. One season after guiding the Knicks to a 17-win season of which Anthony missed 42 games because of a knee injury, coach Derek Fisher was fired and the Knicks staggered to a 32-50 finish after a promising start. Anthony enters an off-season FULL of questions: Will he waive his no-trade clause? Will he play in the Olympics? Who does he want to see as the next Knicks coach? We asked the soon-to-be 32 year old some of these and more. If only we could have hooked him to that polygraph.
(This interview has been edited and condensed.)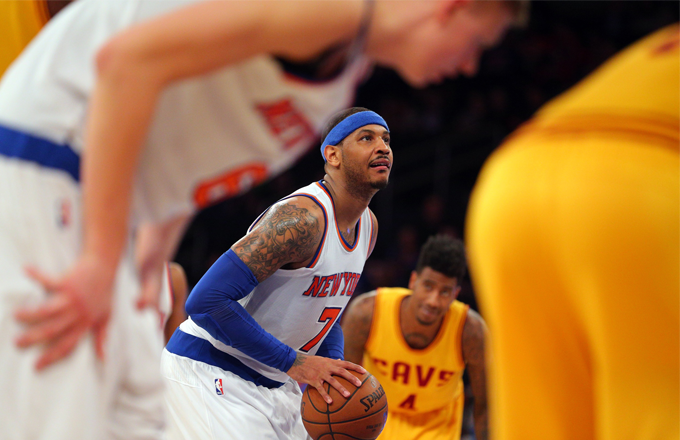 Are you going to play in the Olympics this year?
That's a big decision. It's a big decision, man—I haven't even started thinking about it as far as I'm gonna play or not. I would like to, but there's other things that come in. There's the time commitment, the load it puts on your body, going to Brazil—there's a lot of safety things that's going on. I'm pretty sure sooner than later the USA people would like to know, but I didn't feel like it was a rush. This is the time I distance myself from basketball and try and get some clarity and new energy.
How has that changed for you over the years? Do you give yourself more time now?
I always tell myself I'm gonna take a longer break, but I wind up taking like two weeks off and getting right back into it. Because the hardest thing is to take time off and get out of shape and get back into shape. That's the hardest thing, I hate that feeling, I won't let that happen.
So is it more working out or do you pick up a ball?
Nah, I won't pick up a ball. I won't pick up a ball right now. Maybe next month sometime, early June. Right now it's just more boxing, weights, cardio, stamina—nontraditional working out. No basketball right now. It's hard. Even taking my son to practice, being on the court you get that itch, you get that urge, but I try to get away from it.
I've had three or four coaches in five years already just in New York alone. The coaches come and go in this business, so it's kind of hard to get attached to one.
I know a lot of this event is based on pressure—has there been any particular game that stood out for you in terms of pressure? You played in an NCAA final, gold medal games, the conference finals.
I would probably say the Olympics, the gold medal game against Spain. That was kind of like—that's the pinnacle of basketball, of sports, period. That's the highest level of all sports. So whenever you get a chance to experience that moment, gold medal game, close game, that's definitely a pressure spot.
How do you push through it?
It comes down to basketball at that point. Just knowing how to win, knowing when to do things, knowing the game—your instincts take over.
The Knicks obviously need a coach—if you could have literally anybody be the coach next season regardless of contract situation or anything else, who would you want?
I don't know. For me, man, it's hard to narrow it down to just one person. I just want to see the proper procedure gone through, the proper process, we give everybody a shot to come in and say what they have to say and see if you like that person or not. So it's hard for me to say I want this person or I want that person.
Do you want to be part of that process?
Oh yes, for sure. Because you gotta think about it, this is gonna be a long-term journey of playing and you consider me being part of that plan then I would want to know what's going on.
Have you had a single coach who's been your favorite through your career?
I've had three or four coaches in five years already just in New York alone [Laughs.]. The coaches come and go in this business, so it's kind of hard to get attached to one.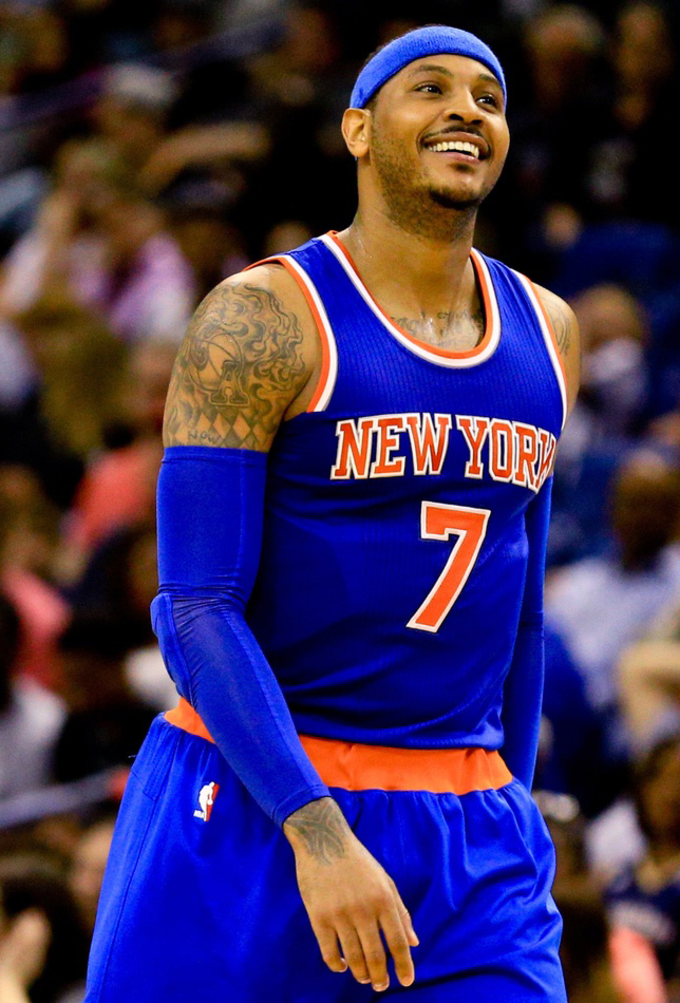 Is there any one particular thing that stands out—what makes a good coach for you?
I think being able to hold guys accountable, but also having a relationship with the player. Kind of seeing things from a players' perspective as well as a coach's perspective. I think if you can build that camaraderie between a coach and a player, I think you're onto something.
Is that something that takes a little time?
Yeah, you have to be willing to do that, you have to be willing to accept that as a coach. It can be hard being a coach and accepting the fact that sometimes I have to see things from an athlete's perspective, that can be hard. That's like an ego play.
Your ex-teammate Allen Iverson is in the Hall of Fame now, was there one specific moment that stood out getting to play with him?
Just the preparation that we put into it. A lot of people don't see that or don't want to see that when it comes to him. Even though it's all the stories out there about him, he prepared for the game just as well as anybody and that's what made him who he is, to be honest.
What was the most important thing you learned from him, either on or off the court?
Without even saying anything, without him even sitting you down and talking to you, what I remember is how to take advantage of that moment. But also learn to just block shit off. He taught me how to let the water just roll off your back. So, that was something that I was in the process of learning how to do that, but he just—without even telling me that, just watching him with the media and doing all of that, just kind of how he let everything roll off and just completely focused on basketball. That's a valuable lesson, especially coming here. Being able to talk to guys of that stature at that time—coming here, Derek Jeter was a big part of steering me in the right direction here in New York and teaching me the ins and outs of the game as a whole.
Last thing I wanted to ask you, we've got this lie detector set up or whatever—if you could link up one of your ex-teammates to this thing and ask them any question, who would it be?
[Laughs.] It would probably be—I don't know. Maybe AI. It would probably be AI.
What would you ask him?
I have a long list of questions [Laughs.].