In 2016, Bart Scott is one of the NFL's most recognizable retirees. The former Jets and Ravens linebacker had a fine career and made the Pro Bowl in 2007, but here are some other linebackers that did the same: Adalius Thomas, Lofa Tatupu, and Julian Peterson. Those are probably names most sports fans haven't thought of since, well, 2007.​
So, how has Scott maintained relevance? Through conscious, strategic effort to become a public figure. In typical Scott fashion, his rise to prominence was indisputably unconventional. Not only did his Pro Bowl career begin unusually, as an undrafted free agent, but his real recognizability springs from one iconic 2011 moment, objectively the greatest post-game interview in NFL history. ​
After "Can't Wait," networks were intrigued. 
"It's just become a part of me," says Scott. "It's like I didn't exist before that happened…everybody that was anti-establishment, anti-Patriots, or people who were just fans of raw emotion, it resonated with them."
Seizing his opportunity, Scott has carefully crafted his image since calling it quits after the 2012 season, even hiring a vocal coach to train him for TV. The work has clearly paid off; the 2016-17 season will be Scott's third as a co-host of The NFL Today.
"Never in 100 years" did Scott think he'd go into television. The irony of his current gig is clear—Scott famously despised the media as a player, once having to be separated from a beat writer in the Jets locker room, and, after his last game, giving reporters the finger—but joining CBS was an opportunity to stay productive, visible, and enhance his "brand," which Scott references often.
"I'm not afraid to be uncomfortable," says Scott. "I'm not afraid to try something new. That's the only thing I get out of life right now that gives the same feeling that I got playing football, that nervous feeling going out and knowing you have to perform, that there's a level of expectations you have to live up to."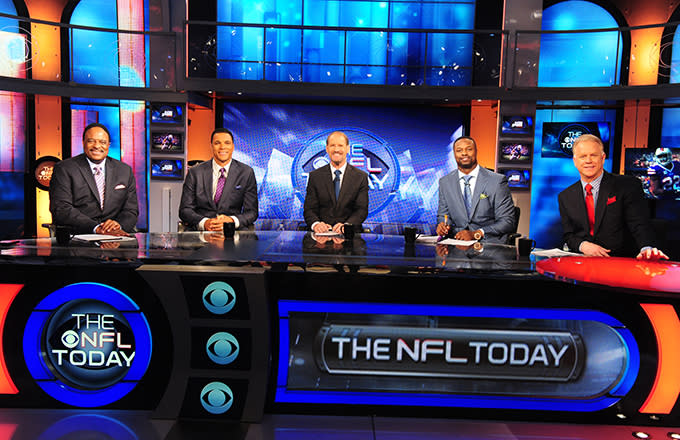 He wants to be on air for a long time (he mentions Boomer Esiason and Tom Jackson as inspirations), but Scott has also paid close attention to recent industry personnel changes. Two weeks ago, Cris Carter and Ray Lewis were unceremoniously dispatched from ESPN's NFL coverage in favor of Randy Moss, who came over from FOX. Before them Scott saw others—even legends he deeply respected, like Emmitt Smith and Jerry Rice—get dumped.​
The cutthroat business of TV media has Scott thinking "three, four steps down the road." With an economics degree from Southern Illinois University, Scott recently partnered with Morgan Stanley to launch a financial literacy program that preps current pros for retirement. He is flying around to NFL teams (he's visited the Jaguars, Steelers, Browns, and Seahawks so far) and premier college programs to spread the word.
"We were sick of hearing all the negative stories that were reported in terms of, this person goes broke," said Drew Hawkins, head of global sports & entertainment for Morgan Stanley. "We make it very conversational, as opposed to the typical Wall Street person coming in and speaking in a lot of sophisticated financial terms and then trying to sell something."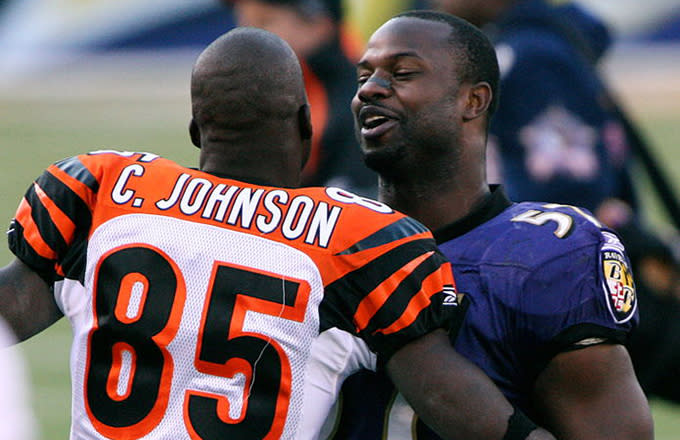 Scott lends his wisdom on managing money (born out of mistakes like buying a fox fur coat and making it rain in the club) and living a productive "second life." Cautionary tales abound, like former Patriots wideout Reche Caldwell, who recently divulged how he partied, gambled, and sold drugs before landing in prison after retiring. ​
"A lot of guys don't have anything to do, so they just party and spend money and leave themselves vulnerable," says Scott. "So often we define ourselves by a sport. So when our sport is taken away, we have to ask ourselves, who are we?"
Scott does have hope, however, citing increased awareness among today's NFL players. They have grown up hearing the stories of stars declaring bankruptcy. They have seen ESPN's "Broke" 30 for 30, which Scott was a part of.
"They're beginning to realize, hey, I'm going to be done with this game at 25 or 30," said Hawkins, the Morgan Stanley executive.
Last week, news broke that former 49ers Pro Bowl linebacker Patrick Willis has built a wonderful second career as a tech executive in Silicon Valley. Former Giants and Raiders defensive end Justin Tuck is heading to U-Penn's Wharton School of Business for his M.B.A. Dante Stallworth writes about politics for the Huffington Post.
These are just a few examples. Not everyone can retire like Kobe Bryant—he's a business, man—and not everyone has a legendary "Can't Wait!" moment, but if Bart Scott has his way, for retiring NFL players, hanging up the cleats will just be a step toward something better.