Today, as a companion to our Oral History of the 1996 Chicago Bulls, we take a closer look at the Toronto Raptors, an expansion team that upset the Bulls 20 years ago today. 
When Brendan Malone looks back on coaching an expansion team in Toronto two decades ago, one of the first things he recalls was a lecture he delivered to the media before the season started about the rules of the game. "It was brand new to them," Malone said. "It was a hockey town. This was their first exposure to NBA basketball." 
Tracy Murray, a member of that expansion team, remembers a lot of teaching moments as well. During a home game early in the season at the SkyDome, Murray was at the free throw line when he started laughing to himself. When reporters asked him about the incident after the game, he told them, "When you have those poppers behind the basket, you're not supposed to wave them at me, I play for the home team."
It was brand new to them. It was a hockey town. This was their first exposure to NBA basketball.
Murray described the Raptors as misfits. Isiah Thomas, part owner and Executive Vice President of the team, saw it differently. In Thomas' view, the league had made it difficult for the incoming expansion teams (the Vancouver Grizzlies joined the league the same season) to build a strong locker room culture. When the expansion draft took place in June 1995, the Raptors and Grizzlies were essentially picking from a list of players who had worn out their welcome, were on the downside of their careers, or had become a distraction in the locker room. Of the 14 players take in the expansion draft, only seven of them—Tony Massenburg, Zan Tabak, Willie Anderson, Ed Pinckney, Acie Earl, John Salley, Oliver Miller—ended up playing for the Raptors.
Thomas would fill out his roster via free agency and through the draft. The Raptors had the seventh overall pick. Thomas had targeted a high schooler named Kevin Garnett, but also became infatuated with Damon Stoudamire, a point guard from Arizona. "I had no doubt about Damon," Thomas said. "I had known both Lute Olson and Jim Rosborough at Arizona since I was in high school. We had to have a strong enough personality coming into the locker room to be able to absorb some of the bad stuff that you had to pick up through the expansion process. He was a four-year player, he carried himself well, I knew he could handle the locker room."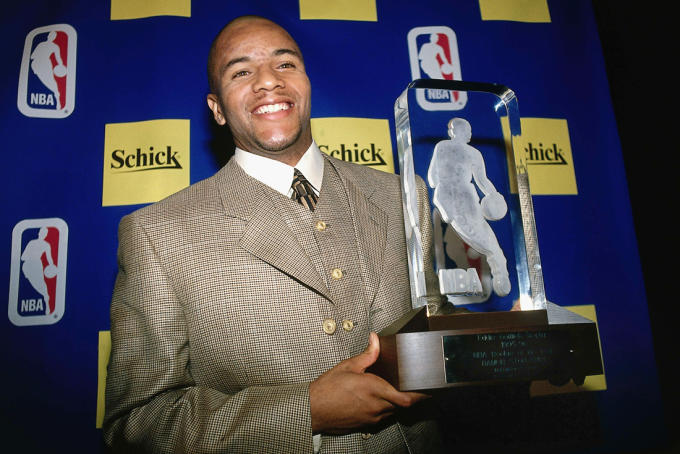 For most teams, Stoudamire went through multiple drills during his pre-draft workouts. When he arrived in Toronto, Thomas simply had him go through a strength test. "They had seen enough of me at my games in Arizona throughout the season," Stoudamire said. "When it got closer to the draft, I heard they were going to take me as long as Garnett wasn't there at seventh." Garnett would go fifth to Minnesota. Thomas selected his point guard with the seventh pick. As he walked to the podium at the SkyDome in Toronto where the draft was held, boos rained down on Stoudamire. "I wasn't concerned about the reaction," Stoudamire said. "I knew I would turn those boos to cheers."
He was right. Stoudamire became a fan favorite, started all 70 games he played in that season, averaged 19.0 points and 9.3 assists and named Rookie of the Year. Murray, who came to Toronto after Thomas promised him playing time and an opportunity to establish himself, averaged a career high 16.2 points that season. The two of them would play pivotal roles in the upset of the 72-win Bulls on March 24, 1996. 
When the Bulls arrived in Toronto, they were 60-7 and had won 19 out of 21 games coming out of the All-Star break. Even without Dennis Rodman, who was serving a six-game suspension for headbutting referee Ted Bernhardt, the Bulls were expected to cruise to their 61st win, on their way to the all-time wins record. Instead, an expansion team pulled off a historic upset. 
They were 72-10. They should have been 73-9.
What the Raptors players didn't know was that the drama had started the day before the game at practice, when Malone was told by a local reporter that Thomas was going to fire him at the end of the season. According to Malone, Thomas was at practice as well, standing right in front of the window of the head coach's office facing the court. Malone knocked on the window and asked Thomas to come in. "Listen, I'm a grown man," Malone told him. "You can talk to me to my face." After initially denying the report, Thomas admitted to his plan to fire Malone at season's end. 
Malone had shortened his rotations all season, playing six or seven guys on any given night. It didn't fit the team's rebuilding plans. "He was thinking like a general manager," Malone said. "But the guys played so hard, it was hard to cheat them by not trying to win." (When Thomas became head coach of the Pacers later on in his career, he hired Malone as an assistant on his staff.)
One beneficiary of Malone's coaching style was Stoudamire, who still credits his first NBA head coach for having a tremendous impact on shaping his NBA career. "Our first game against the Bulls that season," Stoudamire remembered, "it was only the third game of my career. Brendan was diagramming plays before the game. Then, he just erased everything and said, 'First three plays of the game, we're going to run 1-4 low, you against Michael [Jordan].' He just threw me to the wolves, and to be honest, that was the game when I realized I was going to be in this league for awhile."
The day after finding out his coaching stint in Toronto would be short-lived, Malone played only seven guys against the Bulls. Stoudamire scored a career-high 30 points. Murray added 23 points and 12 rebounds. It was a close game throughout, but in the fourth quarter, it appeared Michael Jordan—who scored the Bulls' last 14 points of the game and finished with 36 total—would put out another memorable victory for Chicago in a season full of them.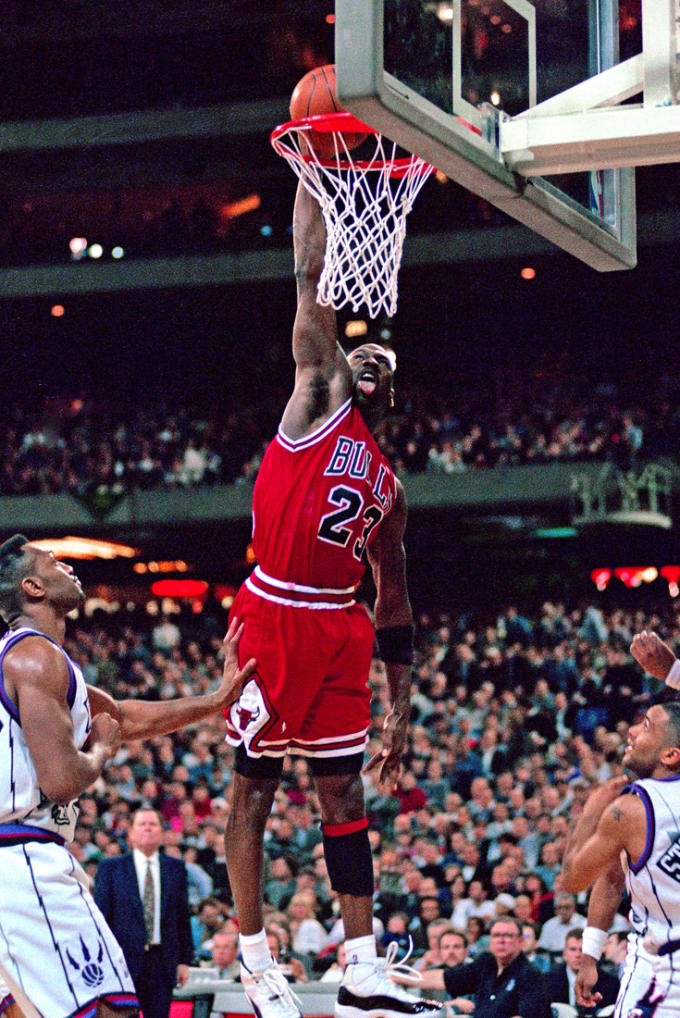 "Michael was being Michael," Murray said. "He was willing his team to a win." 
"He was on fire at the end of the game," Malone said. "He kept making shots and there was one play where he was standing right in front of me at the bench. I was on one knee, and I said, 'Michael, are you ever going to miss?' He said, 'Brendan, you know better than that.'"
Malone had previously been an assistant coach on the Detroit Pistons, and was credited with inventing The Jordan Rules, a defensive strategy employed to limit Jordan's offensive effectiveness. Thomas, who had led those Pistons to back-to-back championships in 1989 and 1990, was now watching near the tunnel where the players entered the court as his former rival took over the game.
Despite Jordan's dominance, the Raptors led 109-108 with under 20 seconds left. The Bulls had called timeout after Miller's go-ahead free throw. They had one final chance to put the ball in Jordan's hands, and escape with a victory. 
Malone decided to put his best defender Doug Christie on Jordan. "We weren't double-teaming," Malone said. "We were going to make him take a tough shot." Jordan lost the ball driving to the basket. Eventually, the ball ended up in Steve Kerr's hands. He launched a three-pointer which clanked off the side of the rim, landing in the corner where Jordan was standing. 
"Michael shot a turnaround fadeaway jumper," Thomas said. "It was an incredible shot from an incredible angle. It hit the top of the backboard and went in." But time had expired as the ball left Jordan's hands. The basket was waved off. The Raptors celebrated as 36,361 fans at the SkyDome erupted in unison. 
"It definitely catapulted us from a public perception standpoint in the city," Thomas said. "Those first couple of years, we had to sell basketball to Toronto and we had to market it to the younger crowd. Hockey was king, and we weren't trying to muscle in on anybody's turf. We wanted to be a part of it. We were definitely met with some resistance, whenever we talked to sponsors or to TV people or tried to get on the radio. I remember the first couple of years, I had to really work, knocking on doors, trying to make sure we introduced the sport the right way. Winning that game was huge." 
Malone was indeed fired at the end of the season. Murray signed a long-term deal with the Washington Bullets that offseason. Thomas made a play to the the majority owner of the team in 1998, and left after his failed bid to gain control of the franchise. Stoudamire played just one more full season in Toronto before being traded to Portland in the middle of the 1997-98 season. All of their tenures with the Raptors were brief, but memories of their upset win over the Bulls remain 20 years later. 
"It was almost like we won the championship," Murray said. "We just beat, quite possibly, the best team in history. They were 72-10. They should have been 73-9."