The man known for tweeting out Jeezy lyrics that always end with "I gotta go to work" joked off the air "It should have been 'I gotta walk to work.'"
It's early Monday morning and Jay Bilas is on the set of ESPN's Mike and Mike, telling hosts Mike Greenberg and Mike Golic, Auburn coach Bruce Pearl, and a national audience how he tripped over a dead possum while walking to the studio.
Because he didn't have a rental car and because the hotel he was staying at a mile down the road didn't run a shuttle to ESPN's Bristol, Conn. campus early enough, Bilas had to hoof it. In the dark, in the rain, and right into the path of road kill.
"When I got to ESPN security I walked up and showed them my badge to get in. I said, 'I bet you don't get too many walk-ups.' I was like the drunk guy at the drive-thru," Bilas said.
You could excuse him for having a basketball hangover considering he was wrapping up a bleary-eyed two-day stretch of near non-stop broadcasting that Complex Sports got to witness. From 11 a.m Sunday to 10 a.m. Monday, ESPN's top college basketball analyst appeared on five different shows, co-hosting two of them. For a second straight year, sleep was sacrificed in the name of Selection Sunday as Bilas appeared all over The Mothership. For the record, he wasn't complaining.
"This is the best time of the year," he said. "Was it hard when the alarm went off this morning? Yeah. But once I'm up it wasn't a big deal."
On the Mike and Mike set, as the Bristol Bilas Blowout was nearing the finish line and at a point when you'd expect him to look like a zombie—or be a little cranky—he instead was alert, feisty, and laughing it up. Working on only a handful of hours of sleep over the past two nights, Bilas was typically self-deprecating and prowling for the perfect opportunity to land a potshot.
"I look at this as I get to hang out with my friends and talk about things that are important to me," Bilas said. "If we were sitting at home we'd be talking about the same stuff. All these guys, we're all good friends. We can say anything to each other. The only thing we can't do is curse on the air."
We first connected with Bilas before he made his way to the College Basketball Live studio Sunday morning. Less than 12 hours removed from calling the ACC Tournament championship game in Washington, D.C., Bilas and his College GameDay brethren—Rece Davis, Set Greenberg, and Jay Williams—dealt with some minor plane issues on their way to ESPN's headquarters in Connecticut. Bilas' head didn't hit a pillow until after 4:30 a.m. Predictably, he was tired.
Jay is going to tell you what he thinks and you're going to listen to it because there's a whole lot of cake and not a lot of icing.
"Nothing a few Red Bulls and heroin can't fix," Bilas joked.
He'd need it. Bilas' day would include two two-hour studio shows—highlighted by Bracketology that analyzed the entire field of 68—and co-hosting duties on the 11 p.m. SportsCenter. At 10:57 a.m., three minutes before the cameras started to roll, Bilas finished reviewing some notes. Suited up, Starbucks on the desk, and sporting his trademark Nikes—he has over 80 pairs of mainly suede Bruins and Blazers—Bilas took a breath.
"The day that never ends is about to start," he said.
Two hours, later, first show in the can, Bilas gets to enjoy his biggest break of the day by watching the conference tournament championship games in one of ESPN's war rooms. Imagine the most amazing setup of gigantic televisions you've ever seen. Every game imaginable available, with a stocked fridge, snacks, and a catered spread. It's sweet. And on this day, Chipotle is on the menu.
"I hope we don't get sick," Davis said.
"It's totally worth it," said Bilas as he bit into a burrito.
Talent, producers, researchers, and other ESPN staffers all greet Bilas and chop it up with him during the down time. In between taking notes and observing the action, his conversations are light and almost always feature a punch line or two. 
"I just appreciate that he's a merciless ball-buster," SportsCenter anchor Scott Van Pelt said. "If you're a guy that gives everyone crap and the minute that somebody comes back at you…then save it. He takes it as well as he gives and he gives really well."
Bilas grew up in a family that loved to make fun of each other's screw-ups and continues that tradition at age 52. Everyone he works with is eligible to get roasted, especially when the cameras are rolling.   
"Nobody really cares, but there are some times when you run across people who saw a segment when we're beating each other up and laughing and they thought we were being mean to each other," Bilas says. "That's what we do."
Some, like Bill Walton, will challenge or even bait him on the air.
Bilas teamed up with the UCLA legend for a game last year and beforehand Walton encouraged him to "say anything you want, it won't hurt my feelings." Right back at you, the Duke grad told him.
"During the broadcast he brought up a name of a former coach named Ted Owens who used to be a coach at Kansas," Bilas said. "So Walton brought up Owens and said, 'Jay, you don't even know who Ted Owens is. You're too young to know Ted Owens.' I said I know who Ted Owens is. He recruited me. And he goes, 'For what?'"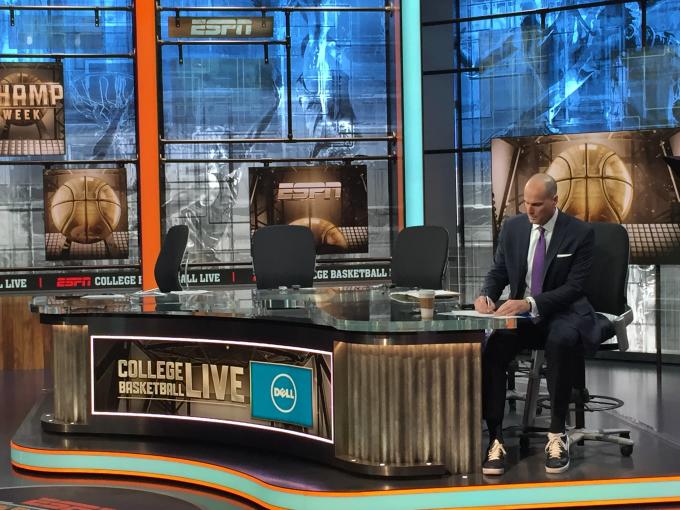 It's 5 p.m. and Bilas is on the set of SportsCenter with Van Pelt. Despite what some might think, ESPN doesn't get to look at the bracket early so Bilas is reacting just like everyone else while it's released in agonizing fashion by CBS. The South region is revealed and Bilas breaks it down with Kara Lawson and Van Pelt. Then he sits off to side of the set and waits for another region to be revealed. Bilas is especially keyed up to see if Monmouth earns an at-large bid.
Hours before the selection show, Bilas argued why the small school on the Jersey Shore deserves to dance. Based on the selection committee's criteria in year's past, Bilas told the College Basketball Live audience the "committee has zero credibility if Monmouth doesn't get in." He went to bat for the little guy who played an extremely tough road schedule, exactly what the committee has said it valued in years past, but failed to win its conference tournament and an automatic bid.
Of course, Monmouth doesn't make it. Bilas is not surprised. No one really is. Later on Bracketology, he will call out the selection committee in his typical researched, reasoned, and devastatingly pointed fashion. Can anyone else rip the NCAA with his temerity and tenacity and not pop a blood vessel?
"So many people yell on TV. I think people like his calm demeanor," SportsCenter anchor John Buccigross said. "It's just easy to consume large portions of him without being annoyed."
Bilas has earned an immense amount of respect with his analysis and nuanced takes on some of the most controversial topics in college sports during his two-plus decades with ESPN. But how? Why? 
"Quoting Jeezy every morning, waking up, and grinding. I think using social media to quote rap lyrics and bash the NCAA has given him credibility everywhere," joked Van Pelt.
"Bluster kind of sells now. I'm not pointing at any person. You get a clicker and you can find it," Van Pelt continued. "Jay is going to tell you what he thinks and you're going to listen to it because there's a whole lot of cake and not a lot of icing. That's one of my go-to sayings about teams. Like the San Antonio Spurs I've said it forever: all cake no icing. JB is all cake, not a lot of icing."
My bullshit will even fool Urban Meyer.
Constantly advocating for the improvement of student athlete rights—he thinks they should be paid—and substantive administrative change within the NCAA, plenty of people associated with college athletics don't agree with many of Bilas' takes.
"I know I would probably be better off if I just talked about basketball and kept my mouth shut and just went along being a cheerleader for the sport," Bilas said. "But I don't think there's anything wrong with us talking about policy. I think it's good. It's hard for some people to wrap their heads around."
This year, he's especially been vocal about how at-large bids should be handed out before championship week since it screws over the mid-majors. And it's his ability to argue in the right tone that just might be his greatest strength. 
"My time as a lawyer I tried to build up my credibility with judges by being prepared, being informed, and being able to do that job," Bilas said. "My goal as a lawyer was when I said something it would be trusted. I guess that's my goal here. Look, when I'm doing a game—I decided a long time ago, and this may be the wrong decision—but I decided a long time ago that everything is fair game. If I'm going to criticize a coach or player, I'm going to say that's a bad call. I'm not just going to ignore that stuff."
There's a story that Davis—who Bilas called "The best teammate I've ever had. In anything."—likes to tell that "captures the essence of why there's nobody better than" Jay.
Back in 2011, ESPN assembled a cast of characters for something called College Football: Blueprint for Change. It was a series that featured the likes of Alabama head coach Nick Saban, Oklahoma head coach Bob Stoops, and ESPN talent like Urban Meyer (between his stints at Florida and Ohio State) in a roundtable format discussing the hot-button topics in college athletics. Bilas was essentially the only non-football voice on the panel.
"So Jay's talking about players having more freedom in terms of marketability and all of that," Davis said. "And Urban's sitting next to me and he goes, 'What's this guy's name again? By-las?' And I said, 'No, Bilas. Basketball guy.' He goes, 'Yeah, yeah, yeah. Well I don't agree with a single thing he says,' he pauses for a moment, 'but he sure as hell has a way of making you think he's right.'"
"My bullshit will even fool Urban Meyer," Bilas said.
"No, it didn't fool him," Davis zinged.
A half hour after Bracketology, Bilas is headed back to SportsCenter to gear up for co-hosting duties with Buccigross. He admits to being afraid because he's out of his element—although the show will devote the most amount of time to Bilas filling out his bracket. He will have to do some hockey highlights. Possibly soccer. He's a huge football fan and can easily talk NBA, but there's only so much Bilas can pay attention to.
"[Last year] I had every foreign sports, every Russian hockey player, I'm sure it just kind of happened, but I wouldn't put it pass Bucc," Bilas joked.
It was more of the same in 2016. They stuck Bilas with a cricket highlight and Giannis Antetokounmpo's triple double performance. Let the record show he got Antetokounmpo's name right every time. There were only a few screw-ups on the interactive board that producers were able to re-do since they started taping parts of the show about a half hour before it went live. By 12:30 a.m. the show was over and Bilas was free to enjoy the next four and a half hours to himself. We say peace until tomorrow morning. 
After a quick chat with Buccigross, who sported his original mucked-up Jordan 1s in honor of his co-host, it's 12:45 a.m. and I'm finally done for the night.
The ride to the hotel closest to ESPN takes all of a minute by car. On a dark, winding road in the middle of deafeningly quiet rural Connecticut, it's nothing if forgettable. And probably kind of scary if you're walking it alone in the middle of the night.
It's after 1 a.m. when I arrive at the hotel. While I'm checking in, Bilas walks through the lobby, hands full of clothes.
"Funny running into you here," I said.
He laughed. "See you in the morning, brother."
I had no idea he trekked the mile. With no ride and no shuttle back to the hotel, Bilas sucked it up and walked. And I have no idea how I drove by without seeing him. Maybe I was tired from the long day. I know I wasn't expecting to see someone walking down Middle St., sans street lights or a sidewalk, at 1 in the morning in Bristol. Somehow the 6'8" Bilas blended into the scenery. He just did what he had to do. No bitching, no moaning. Same thing when morning rolled around. He lived the mantra. "I gotta go to work." Jeezy would be proud. 
Maybe I'm too good, low down, no good. I just keep it real, just like you should. I gotta go to work.

— Jay Bilas (@JayBilas) March 14, 2016