Few players outside of the Premier League can command the type of attention and admiration as Adebayo Akinfenwa.
The 33-year-old AFC Wimbledon striker is the most famous and beloved face in English football outside of the top flight, and he secured legendary status in popular football culture when he was crowned as the strongest man in world football on EA SPORTS FIFA franchise.
Permanently in 'BEAST MODE', Akinfenwa has played at 12 clubs in his career and spends as much time in the gym as the football pitch. He was dropped into another new environment in the run up to the release of EA SPORTS UFC 2, when he competed against the likes of Luke Rockhold and George Groves to see who's got the biggest punch in all of sport.
As one of EA SPORTS' most famous faces, Adebayo Akinfenwa joined Complex for the launch of UFC 2 to talk about his love of the Octagon, his status as football's strongest man and his battles with racism.
Interview: Corey Pellatt
You've just finished up a session with UFC middleweight champion Luke Rockhold, how much of an MMA fan are you?
Yeah man, I'm big into it. Of course, McGregor came on the scene and took it to the next level, more and more people are involved now. I went to the Bisping and Silva fight a few weeks ago in London and that was insane, the atmosphere was just sick. I had a few people sitting behind me shouting "kill him!" – these guys are like modern day Gladiators. That was the first event I went to and it was off the back of the work I've done with EA Sports. I met Luke Rockhold and after the challenge we did, I had so much more respect for the UFC fighters and what they put themselves through.
Your punch power was actually higher than UFC legend 'Big Nog' Nogueira – have you ever done any sort of combat training before?
Nah, I've not done any of that. I've got two brothers the same size as me so you've got to defend yourself and defend your food growing up – I've had plenty of practice in that.
Mike Tyson's an unlockable character in the UFC 2. Where do you think his punch power would have ranked?
Oh my days. I grew up on Tyson and he was a pitbull. I was overly impressed with Luke Rockhold – he surpassed us all – but I think Mike Tyson would have absolutely shattered it.
On the football pitch, you're with AFC Wimbledon right now, who were famous for their no holds barred 'Crazy Gang' attitude back in the 80s and 90s. Does that still exist?
Football has changed, massively. They did stuff back then that we'd never get away with now, no one would. But the fans – bringing back the club from nothing – that's the spirit the Crazy Gang had. The gaffer [Neal Ardley] played in that era so he tries to bring that into the modern age. AFC Wimbledon is such a unique story and at the moment we're in a good place. The Crazy Gang vibe lingers, it's just not quite the same.
One of the most famous moments in your career must be the goal you scored against Liverpool – the team you support – in the FA Cup last year. What did that mean to you?
It was surreal, it didn't sit in until a week later. When I touched the ball in I was actually a little bit embarrassed, should I have been celebrating? The nice thing for me is I did it at the of 32, I could take it in. It wasn't like I did it at 21 and I've got more accomplishments to achieve. At 32, I know I'm up against time, so I was able to take it in and appreciate it. It was a beautiful feeling.
As a lower league player, how important are those cup games against Premier League giants?
It means everything. For us, the media attention is bigger and you want to put yourselves up against the best. I'm a Liverpool fan so to play against Henderson, Sturridge and Coutinho – the players you support week in and week out – is hard to describe. For 90 minutes, you're not a fan. You're equal with them, it's 11 against 11. We want to pit ourselves against the best and we aspire to be at their level.
You're famously known as the strongest man in football. Where did your passion for bodybuilding begin and how do you enjoy having that tag?
I love it now. I still don't really see myself as a bodybuilder. I know that I don't look like a footballer but I've always enjoyed working out and I've always been bigger than most people out there. I come from big stock. If you see my brothers and me together, we look like a wrestling tag team trio. Eight or nine years ago was when the passion came into hitting the gym and then EA SPORTS came and made me the strongest man in FIFA, it's a great title to have. To be the best at anything is a great feat and I'm overly honoured by it.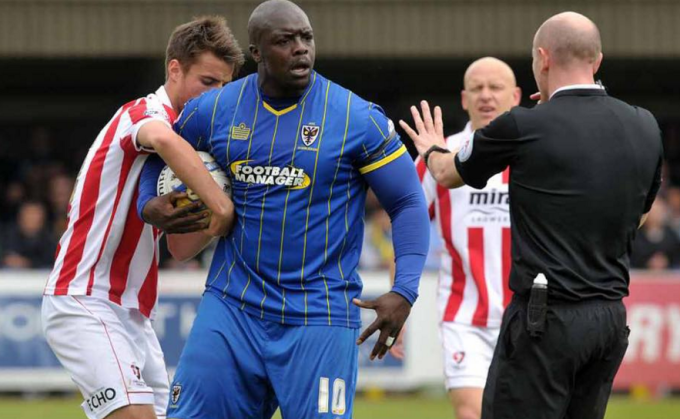 Are there drawbacks to having your size and strength on the football pitch?
There are negatives in the sense that referees target me, defenders know about my reputation and fans will give me some abuse – it is what it is. For me, it's become part of the way I play football. If I'm honest, I enjoy the banter with the fans and defenders are going to do what they've got to do because that's part of the game…but referees do piss me off. They should do their research and not get conned. Just because I'm big and I'm not falling on the floor doesn't mean fouls on me shouldn't be given. It jars me. I get penalised because of my size and I've had to learn to bite my tongue.
You actually started your career in Lithuania but you have said your time there was tarred by the racist abuse you suffered from fans. Did that experience put you off playing abroad later on in your career?
No, not at all. Lithuania was just the start of my journey and it didn't deter me from trying to play abroad. When I started there, I was just very adamant to get back home and that's all it was. Of course, I wouldn't do Lithuania again but it helped to shape me as a person. When I'm going through negative times or a bad run of form, I remember that I've dealt with 1,000 people shouting racist abuse at me when I was just 18-years-old. I'm older now and I think I always go back to how I dealt with that to get me through problems now.
There's quite often talk about you playing in the MLS one day. Is that still something you'd like to target?
If I'm destined to play in the MLS, I will. In terms of the brand and the football, MLS is definitely starting to develop into something much stronger. I think it would be good. There was loads of talk about it last season but it didn't materialise, so I happily stayed at AFC Wimbledon. If the right opportunity came up, I'd definitely look into it.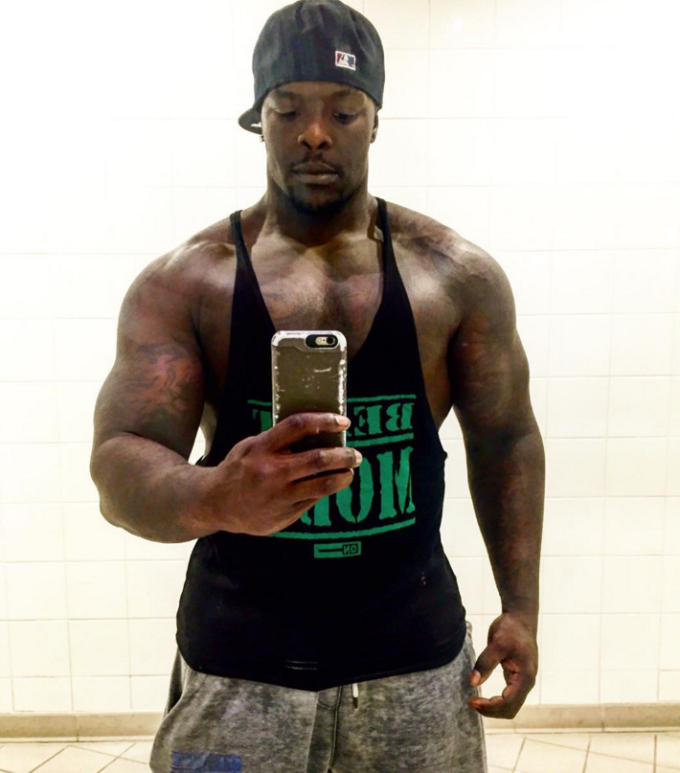 There's been talk that you'd like to give back a little bit and start a mentoring scheme for young people…
We're right at the beginning of that. I was raised in an inner city school and some of my friends that got rejected from their first club never bounced back from it. Luckily, I've got five kids and I want to show them a good foundation and be a good role model. There's a responsibility for society to help younger kids to choose the right path. Currently, society likes to put people in boxes – 'because you're from a certain area you can't do this' or 'because you're a certain size you can't be this' – and my whole mantra is 'if you believe it, you can achieve it'. That's what I want to start telling young people that have taken the wrong turn. I want to tell them it's never too late. It's something I'm very passionate about.
Bayo Akinfenwa took on the Finish the Fight Challenge to mark the launch of EA SPORTS UFC 2 . EA SPORTS UFC 2 is out now on PlayStation 4 and Xbox One. Find out more at easports.com/uk/ufc.