Has Phil Jackson lost his damn mind? 
Quite possibly, yes. Or like most 70 year olds he still has no idea how Twitter works. 
The man who is supposed to lead the Knicks back to the promised land posted a controversial tweet over the weekend comparing the living legend that is Steph Curry, who is currently doing unthinkable things on a nightly basis, to the No. 3 overall pick in the 1990 NBA Draft who had a respectable nine-year career but is probably best remembered for turning his back on the American flag (you can Google it). 
Never seen anything like SCurry? Remind you of Chris Jackson/ Mahmoud Abdul-Rauf, who had a short but brilliant run in NBA?

— Phil Jackson (@PhilJackson11) February 28, 2016
Jackson tried to backtrack from the above brick Monday after he was thoroughly roasted on social media, asking "How does commenting on Rauf mean I'm comparing him to Curry?" But the damage was already done.
Sure, Phil, you've forgotten way more basketball than I or other mere mortals will ever know. But I also know it's borderline blasphemous to mention Abdul-Rauf in the same sentence as Curry. 
Yes, Abdul-Rauf had some nice seasons and put up some decent numbers, mostly during his days with Denver from 1990-96. But we're guessing that Jackson's memory has been clouded by one night—and Des Bieler of the Washington Post deserves credit for pointing this one out.
It was Feb. 4, 1996 and Jackson's Bulls were in the middle of assaulting the NBA, well on their way to that historic 72-10 record Curry and the Warriors are currently chasing. That night, in Denver, Chicago suffered its fourth loss of the season. Abdul-Rauf poured in 32 points to go along with his 9 assists (Jordan went for 39), leading the way for the Nuggets in their six-point victory. That was in the middle of Abdul-Rauf's best statistical season. He would score at least 30 points another nine times that year, including one 51-point performance. He would finish the season averaging 19.2 PPG (2.1 3PG) and 6.8 APG in just 57 games.  
Through 56 games this season, Curry's gone for at least 50 three times and scored at least 30 in 29 games. He's averaging 30.7 PPG (5.1 3PG), 6.8 APG and 5.3 RPG. There's almost no argument that he's the best player in the world and he just happens to also be the reigning NBA MVP. Just look at his cumulative shots by game this season: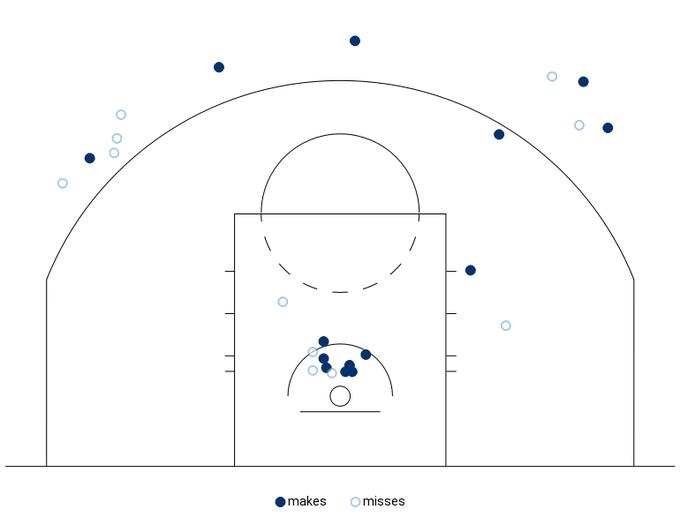 But brilliance, just like beauty, is in the eye of the beholder. Phil Jackson obviously has different standards than we do, but we can't give him a pass for his basketball faux pas. Thanks to StatMuse, we were able to put together some interactive visual evidence to prove that comparing Curry's six and a half years to Abdul-Rauf's nine is kind of like comparing Kid 'n Play to Kendrick Lamar.  One had a moment, the other has been a revelation.