Yesterday, Nike announced that they were terminating the contract they had with Manny Pacquiao due to some controversial statements that he made about gay people and gay marriage earlier this week. Pacquiao compared gay people to animals and said that he doesn't agree with gay people getting married.
"We find Manny Pacquiao's comments abhorrent," Nike said in a statement. "Nike strongly opposes discrimination of any kind and has a long history of supporting and standing up for the rights of the LGBT community. We no longer have a relationship with Manny Pacquaio."
During a subsequent interview, Pacquiao said that he respects Nike's decision to drop him. But early today, Pacquaio dug the hole he's currently standing in a little deeper when he took to Instagram to try and explain why he feels the way he does about gay marriage. He didn't offer up any commentary of his own, but he did post a Bible verse about how gay people should be "put to death" on his IG page. He then deleted the post after it racked up about 18,000 likes, but ABS-CBN screengrabbed it before he did: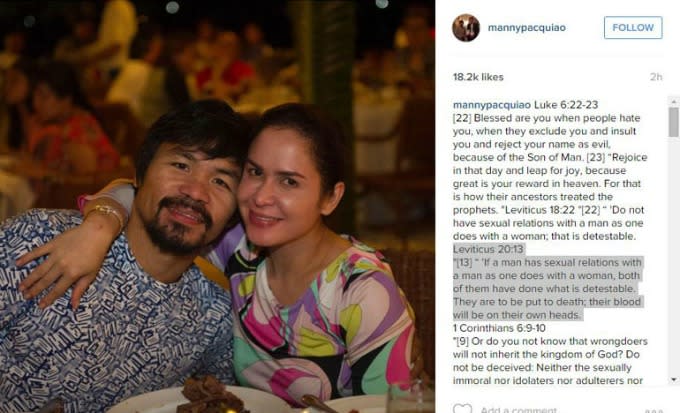 Pacquiao is  entitled to feel however he wants to feel, but posting and deleting social media posts is probably not in his best interest right now. All he's doing is making this situation even worse for himself. Think another apology is on the way?
Send all complaints, compliments, and tips to sportstips@complex.com.
[via TMZ Sports]