Last month, a photo of a young boy wearing a Lionel Messi jersey made out of a plastic bag went viral with people all over the Internet trying to figure out who the kid was. He was eventually identified as Murtaza Ahmadi, a young boy living in Afghanistan who is known around his village as "Messi's biggest fan" (because duh). BuzzFeed News tracked him down and got their hands on this adorable image of Murtaza in his "jersey":
At some point in the near future, it now sounds like the young boy is going to get the opportunity to meet Messi, and we're sure it'll be an amazing moment. But for now, he will have to settle for this signed Messi jersey that Messi himself just sent to him. It's one hell of a consolation prize: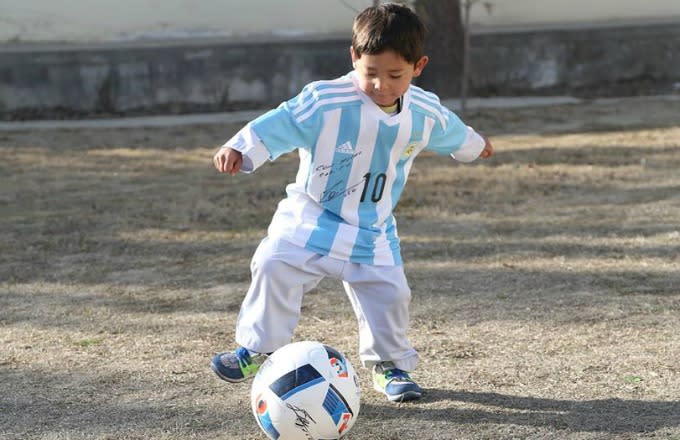 The UNICEF Afghanistan Facebook page posted some photos of Murtaza and included this message:
As of today, Murtaza Ahmadi can proudly show off the new signed jerseys and a football he received from UNICEF Goodwill Ambassador Leo Messi.

Murtaza's photo went viral after he was pictured wearing an Argentine National Team soccer jersey made from a plastic bag with 'Messi' and the number '10' penned on the back.

"I love Messi and my shirt says Messi loves me," said five-year old Murtaza.

This year UNICEF is appealing for $2.8billion to reach 43 million children trapped in emergencies worldwide. Like so many other children, he has the same right to thrive, play, and practice sports.
Messi also reportedly sent shirts to all of Murtaza's siblings, and Murtaza's response to receiving his shirt was every bit as adorable as you'd imagine.
"I love Messi," he said, "and my shirt says Messi loves me."
Awesome.
Send all complaints, compliments, and tips to sportstips@complex.com.
[via BuzzFeed]