DeMarcus Cousins didn't play against the Bucks last night because of a sprained ankle that he suffered against the Grizzlies on Saturday. But that didn't stop him from having an impact on what took place at Sleep Train Arena in Sacramento.
When he showed up at the arena for the game, Cousins noticed that some members of the Kings staff were busy putting Year of the Monkey T-shirts on chairs as part of a giveaway for the team's fans. The NBA is making a strong push to celebrate the Lunar New Year this season, and the shirts—which featured a large purple monkey on the front of them—were intended to be a part of this celebration. The shirts looked like this: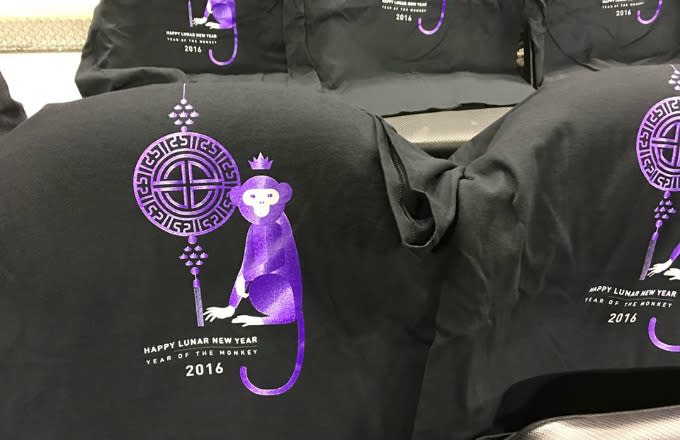 But Cousins wasn't a fan of the idea of the Year of the Monkey T-shirts being given away on the first day of Black History Month, and he openly protested against them. He even went as far as to call former NBA player/Bucks TV analyst Marques Johnson over to get his take on the shirts. Johnson posted this on Facebook:
I walk into the building and DeMarcus Cousins calls me over to an animated discussion he's having with Kings operations people. He ask me, "Olskool, what you think about this T Shirt? Told him a little insensitive on 1st day of Black History Month". They pulled the shirts...
After Cousins raised his concerns, the Kings ultimately decided to scrap the promotion. They did do several things last night to celebrate the Lunar New Year, but the T-shirts were removed from chairs in the arena and not a part of the celebration. Johnson posted this photo on Facebook of ushers collecting the shirts: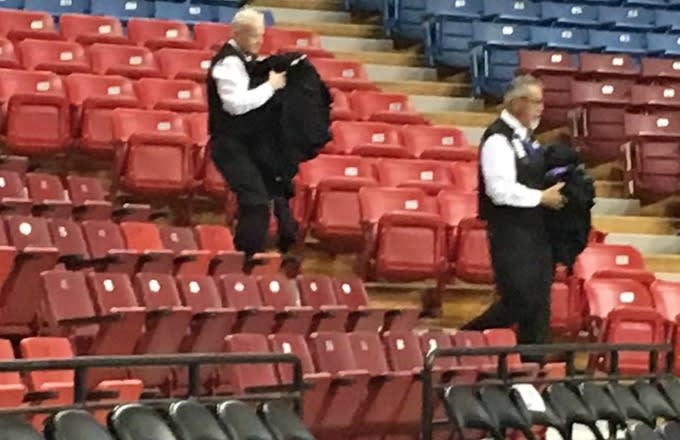 Cousins hasn't spoken with members of the media about the incident yet, but Kings president Chris Granger did speak about the team's decision to pull the shirts after the game.
"We all need a lesson in sensitivity," he said. "In an effort to celebrate Chinese New Year, we had some concerns about the T-shirt giveaway, so we pulled them all before the doors opened. Certainly we don't want to offend anybody, and we acted as soon as we heard the concern."
We'll be sure to let you know if Cousins has anything to say about the matter the next time he speaks with reporters.
Send all complaints, compliments, and tips to sportstips@complex.com.
[via Deadspin]