When you're 22 years old, on course to get a considerable raise in restricted free agency, and walking into your first NBA All-Star game as perhaps the best rebounder on planet earth, things are good.
Such is life at the moment for Detroit Pistons center Andre Drummond. The budding star from Mount Vernon, N.Y. has been making headlines this season the old fashioned way: by dominating. While some players are totally reliant on wearing rare sneakers or dust-ups on Twitter to get the media's attention, Dre doesn't need any of that. Sure, he is signed to Jordan brand and wears J's that make the swagless among us jealous. And sure, he has a social media presence (Twitter | IG | Vine) that should make most other NBA players jealous. But the point is he doesn't need them. 
Who needs gimmicks when you're pulling down 20 rebounds in about every fourth game you play?
So with the All-Star game and tomorrow's Dunk Contest looming (which Andre will be chronicling LIVE from the @ComplexMag Snapchat), we caught up with Dre for a few minutes to discuss how it feels to be selected, along with random topics like his favorite song from the show The Boondocks and his post-basketball acting career.
First off, congrats on being named an All-Star for the first time. 
Appreciate it, thank you, thank you.
Just want to get a sense of what you're most looking forward to experiencing in the 6. What are you looking forward to in your first All-Star trip?
You know, honestly, I'm just really excited to really be there. You know I've watched the All-Star game as a little boy...and to have the opportunity now to play in it is so overwhelming.
You're not the tallest guy in the league, you're not the heaviest guy in the league, but you still lead the league in rebounding. ...How? Is it just having like that Dennis Rodman-type mentality? 
You know, for me it's just the will to do it. The more times you go after it the more times you'll get the ball. So every chance I get I try to chase down the rebound.
Is it just a desire thing, like you've gotta want it more than the next guy?
Absolutely.
You're 22—it seems weird that you're a 22-year-old getting scrutinized by middle-aged men every day who write columns and talk on ESPN. How does that feel to you? Does it ever feel weird that a 50-something year old who has never coached or played pro ball gets a chance to talk about you for hours?
Uh, I don't pay attention to stuff like that. You know, everybody gets paid to do a job and their job is to report stuff so, you know, I just play the game and I don't really worry about other people's opinion. 
I know around our offices that SVG [Stan] Van Gundy picture that looks like he's on a mixtape cover—
[Laughs.]
It's a hit in our office. I'm curious how that worked on your bus, in your locker room—there has to be a story behind that picture and you guys clowning him a little bit.
I mean, I made it.
You made it??
Yeah, I made it. We did like a little appearance in the city and it's called "Slow Roll" where a bunch of people just get out and ride bikes for a couple miles. The picture that he took...it just looks like a mixtape cover. [Laughs.] Like there's no getting around it. I just found it hilarious so basically I did a little editing with the picture and I was like, "It looks like Stan Van Gundy gonna drop the hottest mixtape in 2016."
He's getting ready for the hottest 16-bar verse you've ever heard in your life on that bike.
[Laughs.] Ever. Ever.
Has he ever acknowledged it? Has he ever said anything to y'all about it?
Yeah, he laughs about it all the time. Every time somebody brings it up.
I saw you did a birthday shoutout to Ronda Rousey, too. 
[Laughs.]
I've seen a couple guys shout her out. Have you met her yet?
No, I haven't got a chance to meet her yet. One day I will.
I know you do some [MMA] for training, would you wanna link up and do some UFC training with Ronda?
I wouldn't mind it. I would not mind that at all. [Laughs.]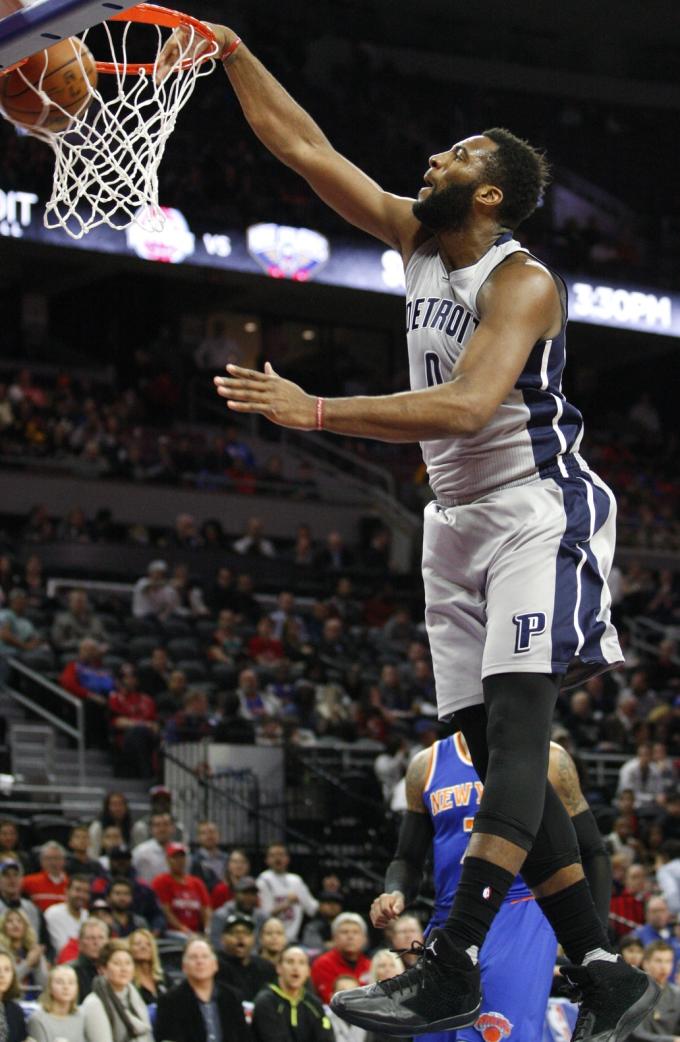 A little random: I was going through your Twitter and saw you going back and forth with one of your teammates about the Gangstalicious and Thugnificent episodes of The Boondocks.
[Laughs.]
We just ranked the best Boondocks episodes of all time. What is your favorite Boondocks track? We got "Booty Butt Cheeks," "Thuggin Love," "Eff Grandad,"—
[Laughs.] Yeah, "Eff Grandad" is probably—no. "Do the Homie" is probably the funniest one then "Eff Grandad." [Laughs.]
What video games do you have in rotation right now? I saw you playing Mortal Kombat on some YouTube thing. What else are you playing these days?
Mortal Kombat [X], 2K [16], Madden [16], Call of Duty, Grand Theft Auto [V], Assassins Creed...
I thought I was the last one still playing Grand Theft Auto. Glad to hear somebody else is still playing—
Yeah, I'm still playing. That game never gets old. 
I know you were talking about maybe doing some acting when your basketball career starts to tail off. Have you watched any of the [Oscar] nominated movies this year? Do you have any favorites from this year?
Uh, I saw Straight Outta Compton recently and I was a huge fan of that. Creed was great, too. And I think the next one I need to watch is Concussion. Trainwreck was good, too. I thought that was hilarious.
Do you think when you get into acting you're gonna do more like what LeBron did in Trainwreck or do you wanna do more drama?
I mean, I think for me since I have a pretty good personality I'll probably start there first, and then the more serious I get the better I get I'll do a little bit of everything.
Do you think Straight Outta Compton or Creed should've been nominated for Best Picture?
I mean that's not my field, honestly. But for me I think they should've gotten more credit than they got. 
When are we getting an Andre Drummond signature shoe?
Talk to Michael Jordan. [Laughs.]
I'll text him right now, sure thing.
[Laughs.]