UFC Fight Night 84 in London had a blood bath for a classic main event between Anderson Silva (33-7 MMA, 16-3 UFC) and Michael Bisping (28-7 MMA, 18-7 UFC). The match went for five rounds, and it looked like Silva was going to be the victor in many instances. But even thought Bisping was completely covered in his own blood, courtesy of Silva doing some serious damage to him, Bisping won by one point 48-47 from the questionable judge's decision. It was Silva's first loss by decision, and Bisping's third straight victory.
Here is a clip and a photo showing you how Silva looked like he had the edge in the fight. He even hit Bisping with a late high-knee to the head as the bell was about to sound towards the end of the third round, right after the judge gave Bisping time to retrieve his lost mouthpiece: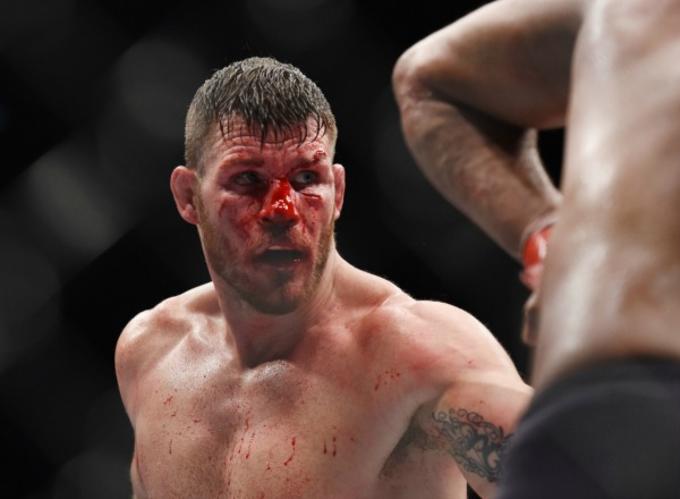 But Bisping had a comeback of sorts against Silva to even the score but pinning and pummeling him in this clip:
The final score seemed suspect to Silva when asked about the judge's decision that made Bisping the victor. Bisping said this about the turning point of the fight in the third round when he lost his mouthpiece and took the high-knee to the head that almost KO'd him:
"When the round stopped, I wasn't sure," Bisping said at the post-fight press conference. "I wasn't sure what had happened. I was like, 'No, please. Please don't tell me that this is over. I'm fine.' Of course, when you have just taken a couple knees and elbows, etc., your faculties aren't exactly the sharpest at that moment in time. Fortunately, it wasn't the end and I got the job done."
In a post-fight interview with Silva, he compared the scoring system to corruption in his homeland of Brazil.
"Here's the deal, you can't win one way, they try to take it away the other way. That's it. You saw how that went, right? So, there's nothing left to say. I fought for you, and that's it. Thank you for the support. My family, I'm coming back home, I'm fine. Mission accomplished, mission given, but sometimes it's like in Brazil, total corruption."
Sour grapes for a sore loser, or does Silva have a point about the questionable scoring system? For once, it seems like the judges got it right, but you can be the judge, too, after reviewing the score card below.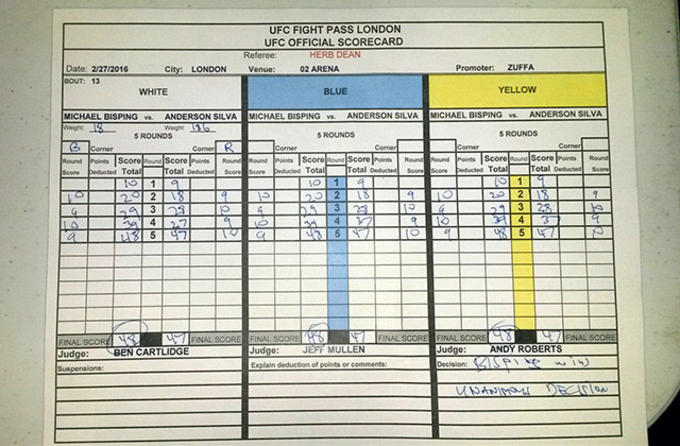 Send all complaints, compliments, and tips to sportstips@complex.com
[via BroBible]