This wasn't how Ty Lawson's first year with the Houston Rockets was supposed to turn out. With nearly half of the 2015-16 season in the books, Lawson has struggled to get consistent minutes and as a result, he's posting career lows in points per game (6.4), field goal percentage (37.1) and three-point percentage (31.3). The Rockets have publicly stated in the past that they are committed to Lawson, but the 28-year-old point guard's representatives have reportedly been looking for ways to get him out of Houston. 
During times like this, it's best for Lawson to stay quiet and avoid making any rash decisions through social media. But, if Ty's history with sites like Twitter have shown us anything, it's that thinking before hitting the "Send" button isn't really Lawson's forte. According to ESPN's Calvin Watkins, the Rockets point guard posted a picture of himself on Instagram with the caption "Let a dude ball out." It has since been deleted, but the post still exists on his Facebook page.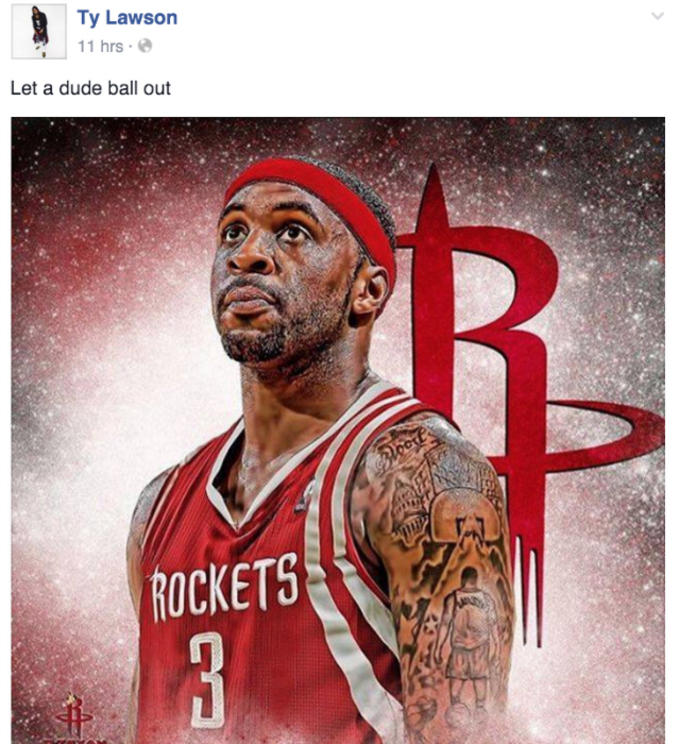 Whether Lawson is frustrated with his minutes or role on the team, he needs to think before he acts, especially on social media. Save yourself the stress and drama, Ty, and just delete your account. It's probably for the best. 
Send all complaints, compliments, and tips to sportstips@complex.com
[via Eye On Basketball]