When the 2015 Royal Rumble ended, fans were...less than pleased. Roman Reigns had just "won" after doing much of nothing for his entire duration in the ring, and the Philly fans were so livid that they even booed a returning Rock for his participation. We all know how that turned out when it came to WrestleMania 31: not bad at all. That's because WWE works best when it's put into a corner and forced to abandon its sometimes-outdated philosophies and focus on the E part of the equation: entertainment. Fast-forward a year later, and here we are again, with injuries replacing fan disgust as the catalyst for change, and would you look at that, they seem to have pulled a coherent story out of their butts. So, while the Internet cries foul and nepotism, it seems clear that not only did Triple H have to win the Royal Rumble on Sunday to become a 14-time WWE World Heavyweight Champion, but in fact, there remained no other option worth considering.
First off, let's take the big ass elephant in the room out back and shoot it: this is no one's ideal WrestleMania card. Due to injuries, what was once being hailed as the biggest WrestleMania of all time had devolved into half-baked booking ideas and last-minute plans at the mercy of fate. What was once a card where a goddamn Shield triple threat match might be overshadowed because of all the awesomeness has become one where 46-year-old Triple H will walk into the main event as champion. This should be terrible, and yet, just by sticking to their guns, no matter how predictable the bullets may be, WWE has created a scenario where we will get something they have avoided giving us recently: a story they committed to, from beginning to end.
Whether you agree or not that this "Authority vs. Roman Reigns" storyline is what WWE needed to tell right now, it's commendable how well they've build up the skeleton of the feud. This was a dead-in-the-water story just a few months ago, but with the insertion of Mr. McMahon and the physical involvement of Triple H, Roman Reigns was given the most fan support he's had as a singles performer...ever. And while it may not make sense for the Authority to keep giving Reigns title shots (in kayfabe, at least), by prolonging the feud with a variety of beatdowns and screwjobs, we at least are being given clear babyface and heel alignments; another rarity in modern WWE. And while it may seem we're patting them on the back for doing basic wrestling shit, sometimes the basics work better than any alternative.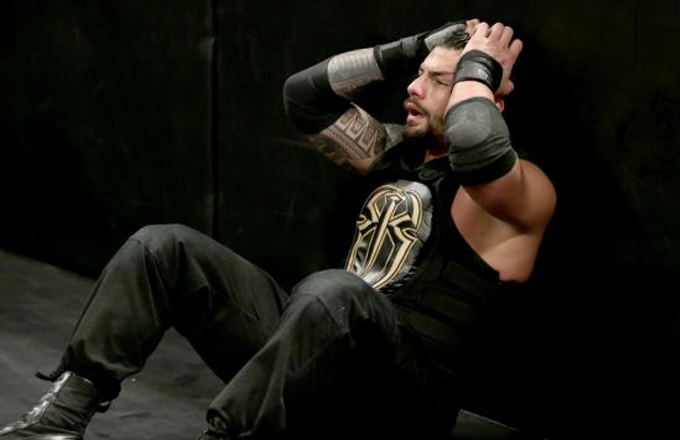 To tie it back to both the Royal Rumble and Monday's relatively strong episode of Raw, we now have a FastLane main event that you should be drooling over: Reigns vs. his buddy Dean Ambrose vs. the Beast Brock Lesnar, all for the right to face Triple H at WrestleMania. Even if it feels obvious (here, I'll book it: Bray Wyatt and his Family interfere, cost Brock, Roman and Dean tear it up for 5 minutes or so of "friendly competition" before Roman wins), the match should be a barnburner and exactly the type of match to anchor the most useless live special of the year (this is true every year of the February PPV). Even if the victory that Reigns is no doubt headed towards feels preordained, it should be a fun ride there, which is more than we can say for the build to last year's shockingly good WrestleMania. 
 If Triple H as champion defending against Roman Reigns isn't your cup of tea, well, there are plenty of other flavors to choose from this year, thankfully.
On the other end of the card, your complaints about Triple H booking himself to win a title in 2016 may be based in some reality, but not WWE's. After all, this is a business trying to sell out the largest stadium they've ever worked at, and so they need as many draws as possible. Like it or not, Triple H was the best opponent for Roman Reigns the second Seth Rollins' knee exploded. As soon as the Shield triple threat main event was thrown out the window, WWE had to scramble to find a solid heel for Roman to triumph over. Lesnar couldn't be turned, because he would get cheered over Roman, guaranteed. Bray Wyatt isn't at a main event level just yet (which is their own fault, but that's a story for another day). Kevin Owens is beloved and talented enough for the slot, but probably not ready yet in WWE terms (this is going to be his first WrestleMania, which feels crazy to think about given how well he's adjusted to the main roster). Sheamus? Rusev? Del Rio? Someone from the New Day? These are all choices that would work at Battleground, but not at the biggest WrestleMania ever.
At worst, WWE probably thought they could break the John Cena emergency glass for a high-profile face vs. face matchup to elevate Reigns. So, when Cena went down himself, Triple H became the perfect answer to their main event question. In fact, he became the ONLY answer. And, truly, it should work out for the best; despite all the shit Roman gets online (from yours truly, included), he can go in the ring when pitted against someone who can guide him through more than just his signature spots. Triple H showed he can still boss at WrestleMania 30, when he put on the best pure singles match of his career against Daniel Bryan. There will almost definitely be Rock and McMahon shenanigans for the casual fans, and I wouldn't be shocked if Ronda Rousey popped up as well. All in all, it should be the type of match that WWE knows how to put on well, and even if it doesn't live up to last year's brutal main event, it won't offend anyone like two straight years of Rock vs. Cena did.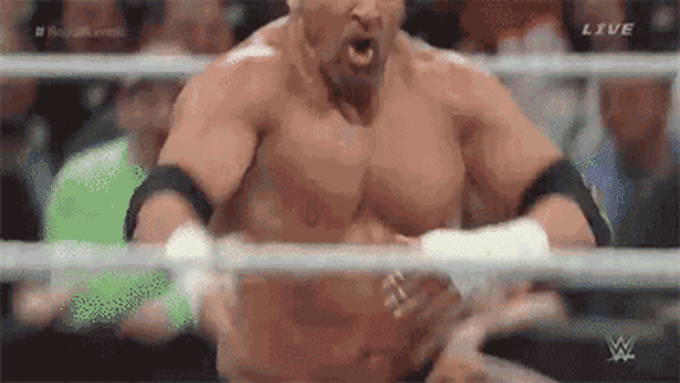 And if you're still not convinced about the main event situation? Well, WWE turned back the clock to its better years, deciding to use the Royal Rumble to set up a bevy of interesting undercard storylines that will almost certainly carry over the Grandaddy of Them All. The Phenomenal A.J. Styles debuted, was put over like a boss by everyone involved, and then was eliminated by the perfect choice in Kevin Owens...who was then tossed by his forever-rival Sami Zayn. Any combination of these three men (including a triple threat) would be a show-stealing candidate and match of the year contender, easily. 
Meanwhile, Lesnar got tossed by the Wyatts, which will almost certainly be the second biggest feud entering WrestleMania. They also had Braun Strowman look strong as hell, which could lead to a *gulp* rumored Undertaker match for the Wyatts' BigAss McStrongman. Ambrose and Chris Jericho set up a possible title feud themselves, which could be fun if Jericho puts on his working boots. Elsewhere on the show, Kalisto regained the U.S. title, and should be part of a fun match against...someone (Sheamus would actually work wonders here), and the seeds were sown for Sasha Banks to win the Divas title at the big show. Only the tag team titles are in a weird limbo of uninteresting feuds, but they are tied to the most entertaining performers on the roster (the New Day), so I'm not too worried.
All in all, the Royal Rumble was a great PPV from top to bottom, telling a variety of stories with a deft hand, and ending it with an iron fist. If Triple H as champion defending against Roman Reigns isn't your cup of tea, well, there are plenty of other flavors to choose from this year, thankfully. 
Now, let's hope everyone makes it to April with their limbs intact.