Growing up in the mid-'90s, America's Funniest Home Videos was a staple in my household. I remember sitting on the floor in front of the TV in our living room and laughing until my sides hurt as grown men slipped off docks while trying to tie up stubborn boats, mortified brides watched as their wedding cakes toppled helplessly onto dance floors, and as father after father got bonked in the gonads by their careless and often giggling children.
As a kid, it was easy to disassociate their hilarious misfortune with the inevitable suffering that immediately followed. After all—this was TV! They don't show people actually getting hurt on TV!
Today, AFV is still on the air (hosted by Alfonso Ribeiro now), but it has largely been rendered obsolete by the internet and its endless supply of viral viewing options. And thanks to social media, it's easier than ever for these clips to spread and reach massive audiences. From that news reporter who fell while crushing grapes with her feet, to that dude in the monster mask who got snuck while trying to spook his classmate, to that woman who took a catapulted watermelon to the dome on The Amazing Race, we all watch these videos and enjoy a laugh at the expense of the subjects in them. Then we move on.
But what happens after the camera stops rolling? How do these traumatic events affect the stars of these videos, and how do they cope with their newfound celebrity in the aftermath of being "meme'd"? Which brings us to the Dallas runaway golf cart.
The video has it all—action, turmoil, heroism, a golf cart! And it's all set on a grand stage, the 2011 Texas State 5A Division I High School Championship Game at AT&T Stadium in Arlington, Texas. It is truly a piece of viral art. But how did the cart get going in the first place without a driver behind the wheel? Were people seriously hurt in the accident? Were those struck by the cart ever compensated by deep-pocketed Cowboys owner Jerry Jones? The people need answers. 
Finding willing interviewees to shed light on the incident was anything but easy. For starters, many of the key players—the hapless cart attendant and the guy in the white shirt and khakis who inexplicably falls while meandering slowly towards the cart, for example—were impossible to ID and track down. And the true star of the video, Spring Dekaney High School head coach Willie Amendola, eventually sued Cowboys Stadium, L.P. for $1 million, citing "considerable physical injuries" and more importantly "great personal embarrassment and mental anguish" in the event's aftermath. Amendola, the father of Patriots wide receiver Danny Amendola, is the one in the blue polo shirt who is struck from behind and lifted into the passenger seat, where he feebly attempts to steer the cart before bailing about 25 yards past the point of impact.
Or, if we're using Amendola's own description immediately following the event, he "rolled off of the thing, just like James Bond."
But several of the involved parties were willing to speak with us and offer up their own accounts of the moments prior to, during, and immediately following the incident. Today, on the four-year anniversary of the cart crash seen 'round the internet, join us in revisiting one of the hilariously tragic moments in recent sports history.
Blake Hurtik, Cart Survivor/High School Sports Reporter 
A reporter at the San Antonio Express-News from 2010 to 2013, he was one of several writers huddled around Coach Amendola when the runaway cart barreled into the scrum. Fortunately for Hurtik, who now covers agriculture for Argus Media and swears the transition away from sports was unrelated to this incident, he was able to narrowly avoid the cart thanks to keen reflexes. He can be seen in the video gracefully side-stepping the scrum just prior to the moment of impact before holding his notepad to his mouth in horror and later attempting to chase down the disobedient vehicle. He was wearing a light blue collared shirt and jeans. 
Michael Silvers, Radio Play-by-Play
A broadcaster for the last decade and a half, Silvers primarily calls high school sports in the Houston area but also does arena football and collegiate and junior hockey games on occasion. That evening, he was broadcasting for KSEV, an AM talk station based out of Houston that claims to be the channel "where conservative Texans find their voice."
Undre Smith, Cart Survivor/High School Sports Reporter
Since 2009, Smith has been the co-administrator of Odums & Smith Sports Highlights, a company that provides editorial and multimedia coverage of high school sports in the Houston area. He was one of two reporters hospitalized after the incident, suffering injuries to both his knees as well as his right elbow. He is wearing a green sweater in the video and can be seen narrowly avoiding being run over by the cart's right-front wheel.
Craig Way, Television Play-by-Play
Based out of Austin, Texas, Way has been involved in sports broadcasting for the better part of 20 years. He was the play-by-play man for Fox Sports Southwest on December 17, 2011, and his chilling reaction to the cart incident has been heard by more than five million people on YouTube alone.
Lorne Chan, Cart Survivor/High School Sports Reporter
​A reporter at the San Antonio Express-News from 2005 to 2014, Chan now works as a digital reporter for Spurs.com. Working alongside Blake Hurtik on the evening in question, he was also on the far side of the scrum when the cart collided with the group. Unfortunately, he was not quick enough to get out of its way, and you can see him sitting on the ground in a white dress shirt and jeans after impact, clearly befuddled. Chan was unwilling to speak on the record, but he was kind enough to direct us to an interview he did with a local television station shortly after the incident. Quotes from that broadcast are used throughout this piece.
Way: It was my seventh game in 72 hours, because they have 10 high school state championship games each year at AT&T Stadium for different classifications, and I usually do seven of them—three on Thursday, two of Friday, and two on Saturday. And this was the last game, since the two teams—Spring Dekaney and Cibolo Steele—were part of the highest classification in the state. So you talk about a way to climax the weekend! 
Silvers: I don't recall my pundits thinking Dekaney had much of a chance to dethrone the reigning champs. The second quarter was when they really took control, and it was all Trey Williams, who rushed for 197 yards and 3 of the Wildcats' five touchdowns. Dekaney scored 34 points in a row before Steele scored their last touchdown of the game. Steele had current Nebraska QB Tommy Armstrong at the controls, and they really bottled him up for the bulk of the game.
Chan: Steele had a really rough day on offense, 164 yards, which is much lower than they're used to…. They were the favorites, and it was just about the opposite of how it went for them the year before. 
Hurtik: Because the cart incident became sort of the legacy thing for this game, I don't really remember much about the actual game itself at all. I mean, I wrote my little notebook piece for the newspaper the next day, and my lead story was the cart incident, because that was the most notable thing. I think it was a relatively close game? [Ed. Note—The final score was 34-14 in favor of Dekaney]
Way: It was a strange day for me too, even before the cart incident, because my daughter was getting married the next day and I had to miss the wedding rehearsal. She and her husband were planning their wedding back in July, and I told them, "Just don't plan the third week in December, because I've been doing the state championships for over 20 years, and I said I'm already locked into doing them." But sure enough, she comes back shortly after that and tells me they're getting married that Sunday, the 18th.
"I was hurt probably more than I'd ever been hurt before. But honestly, it was hilarious." —Undre Smith
Hurtik: So we were all down on the field after the game, and it's probably 10:30 or 10:45 [p.m.] and everyone's on deadline, just scrambling around out there to immediately get a quote and run back upstairs to write. So Willie Amendola, the winning coach, comes out, and we all huddle around him. So the interview had been going for maybe a couple minutes, and that's really when it all happened, I guess.
Silvers: At AT&T Stadium, the radio booths are up on one of the suite levels, but in the corner of the stadium. It's sort of like playing Madden, where the game action is moving up and down on the screen. And so we're breaking down the game and providing the wrap up to our audience, and I couldn't help but notice an unmanned golf cart was heading towards the middle of the field from the near endzone right beneath us. I also notice that this golf cart, which I believe was being used to pick up florescent orange yard line markers, was angling towards a group of people.
Hurtik: Mind you, this is only a few minutes after the game had ended, so all the Dekaney fans are still in the stands celebrating at this point. The team had just gotten its trophy, the MVP got his medal and stuff. So there were a good amount of people there who saw this cart thing happen in person.
Silvers: This was one of the lesser attended state finals I think I've been witness to, and I've been involved in six of them since 2008. Dekaney is in Spring, Texas, about 30 minutes north of Houston, and it doesn't have a rabid fanbase relative to some other schools—15,092 was the official attendance of the game. I want to say just a few thousand were still there when the cart incident occurred. 
Chan: I had no idea what was really going on. Blake Hurtik yelled "watch out" about a split second before, and I thought it was going to be a Gatorade shower or something like that, since it was a state championship game. Instead I got a golf cart to the knee.
Hurtik: I was able to jump out of the way, because I caught it out of the corner of my right eye a couple seconds before it hit. I had my recorder going, and I went back and played it back afterwards, and you can actually hear me go, "Oh, shit!" right before it made contact.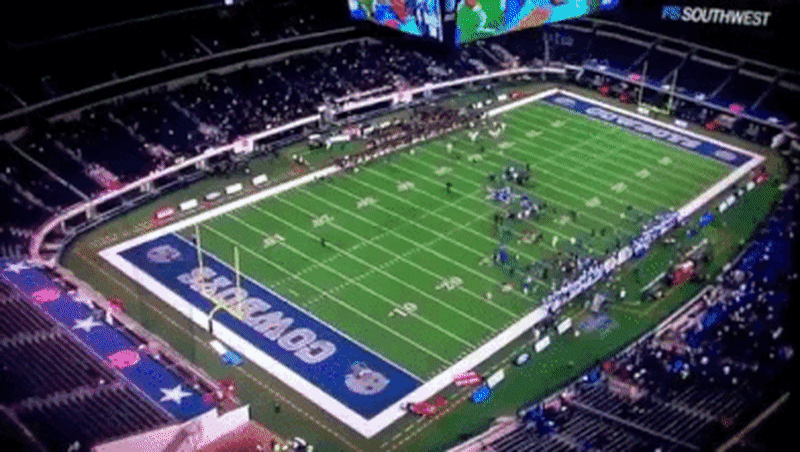 Smith: There were these two guys on the other side of Coach Amendola, and it looked like they were facing more towards where the cart was coming from, and right when it got within a few yards they hurried up and jumped out of the way. I guess they got a chance to see it. Of course, at the time I had no idea what had happened. It's funny, because I thought at first that maybe one of the kids had gotten a pickup truck or something and was celebrating and driving down the field and that he'd hit us.
Silvers: As soon as the cart made impact, I yelled into my microphone, "Oh, no! A cart has just slammed into a group of people on the field here at Cowboys Stadium." Then we just tried to continue to describe what was happening—medical personnel coming out to check on the injuries sustained and whatnot. To be honest, we didn't know until the next day, once we saw that the video of the accident had gone viral, that Coach Amendola was one of the people struck by the cart.
Chan: I had no idea what hit me, and I didn't really realize what was going on. I was kind of just on the ground in a daze. My tape recorder actually ended up in the cart, so I guess it got about 30 yards after contact. And I'm kind of wondering what's going on, seeing if any of these guys were injured, and seeing if I could help out. Blake's running around seeing if anyone can help out.… Kudos to Willie Amendola, who got taken for a ride on the cart, and while he's sitting on the front manages to steer it away from a guy on the ground.
Smith: It kind of hit me twice. And after I got hit the first time, I got put on the front of the cart sort of, and I looked up and saw Coach Amendola there behind the wheel. And he was looking right at me, and I was looking at him, and you know what he did? He tried to guide it away from me, so it didn't hit me straight on. But I was too close, so it still got me a little bit. I actually got knocked out for about 10 or 15 seconds. 
Hurtik: It was just a surreal thing, seeing a ghost-riding golf cart just coming at this group of people with a pretty good rate of speed, and then seeing a bunch of the people crumpled on the ground afterwards. A couple guys there got seriously hurt, I think. I mean, Lorne was a little sore the next day, but nothing worth pressing charges against Jerry Jones about, I guess. 
Chan: I guess I was the seven pin there. 
Way: I didn't see it live, but the game had just ended, and we were in commercial break preparing notes for our wrap up. We had our headsets on, though, and I heard the commotion, and my producer comes on and says to me and my analyst, Shea Walker, "Guys, we have something on tape from an incident down on the field, but we don't know if we should show it." And I had no idea what it was, so I said, "Well if you've got it on tape, and it's something on the field, I think we've ought to show it." I figured it was just some people pushing and shoving or something. So they start rolling it, and he says to me, "Tell them there's been some sort of disturbance on the field and then just describe what you're seeing." So I see this cart, and at first I'm confused, and then all of a sudden the cart slams into them and you're just like, "Oh, my gosh." Everybody in the booth was just shocked.
Smith: I was hurt really bad. It kind of loosened my left knee from my thigh. No broken bones, but I tore my meniscus. My right knee was just kind of shaken up pretty bad too, but my right elbow was actually the thing that ended up being the worst problem. When I came down on it, I was in pain, but I didn't realize how serious it was.
Hurtik: A couple of us actually went up to Coach Amendola after things quieted down and interviewed him about it. And I wrote about this later, once he filed a lawsuit, but he pretty much just joked about it at the time, saying "I wonder what the UIL's going to do about this." The UIL is the governing body for high school sports in Texas. And he was in pretty okay spirits at that point. 
Chan: Afterwards, it was probably 11 o'clock, and we still had a deadline…so we kind of just recovered and went on with it. 
"My tape recorder actually ended up in the cart, so I guess it got about 30 yards after contact." —Lorne Chan
Hurtik: I just hauled ass back up to the press box so I could write. And we're all just up there kind of gathering our thoughts, wondering what the hell just happened. And I had to just write some sidebar story about how the Steele quarterback had a good game or something like that. And Lorne, who actually got hit, he was the one writing the main game story. 
Smith: It was actually really emotional for me, because I had this thought as I was lying on the field that maybe I wasn't going to walk again. The only thing I could think about was whether I'd be walking on crutches or in a wheelchair or something, because I was in so much pain. 
Way: I got downstairs after the broadcast was over, and there were some safety personnel down there, and they just said, "Yeah, apparently the throttle got stuck, and it was just one of those weird deals where the guys are tossing those pylons in the truck and one of them fell on the gas pedal, and it took off." The crazy thing was that it made a perpendicular turn, straightened itself out, and then picked up speed on the straight away before crashing into them. And you can tell the guy throwing the pylons into the cart is in complete disbelief. If you roll the video back, you see him kind of frozen with shock, watching the cart careen slowly drift away before he starts to run after it. And by then, he had no chance of catching it.
Smith: What I heard was that the cart was parked in the end zone, and this guy was picking up the pylons, and one of them fell off and hit the gas pedal. The cart was parked sideways in the end zone, and what happened was when it took off there was a Dekaney kid's helmet in the end zone. So the cart's front, passenger-side wheel hit the helmet, and it made the wheel turn. So the cart redirected and came straight towards us on the 50-yard line. The impact of that hit was really something else. I couldn't believe it.
Hurtik: The next day, I just called to confirm that everybody was released from the hospital, you know, that no one died or anything like that. It was scary for the people who got hit. I think one guy broke a leg or something. But then after watching so many damn replays of the thing, watching Coach Amendola do his little John McClane bailout thing. It was just such a random event. There's really no other way to describe it.
Smith: My arm muscle actually came off the bone, so I had to go to physical therapy to get that taken care of, and for my knee. My arm hurt every day for about nine-and-a-half months, with no day in between without pain, and I'd never experienced that kind of pain before. But with God's help, it sort of just healed on its own. The doctor can't believe it, but now everything is just fine.
"One of the things I remember most about that night is that half the people there thought it was hilarious, and the other half thought it was tragic."
—Craig Way
Smith: For a while, I was really thinking about the guy who put the pylons on the cart, and I really felt so bad for him. I was just praying that they didn't fire him, because it was just an accident. I wished I could have talked to that guy and to his boss, because there was nobody to blame. I was just glad there weren't any little kids or women on the field when it happened.
Hurtik: I just marvel at the ridiculousness of it all. Just the fact that you're doing a story on this speaks to how silly this all has been. For me, though, I'm just a faceless guy in the crowd. And the fact that Amendola filed that lawsuit because of embarrassment, essentially, is pretty incredible. 
Way: I didn't think it was this big national disgrace or anything. It was bizarre, it was strange, and thank goodness it wasn't ultimately tragic, although it did ultimately injure some people. One of the things I remember most about that night is that half the people there thought it was hilarious, and the other half thought it was tragic.
Smith: I was hurt probably more than I'd ever been hurt before. But honestly, it was hilarious. I laughed like crazy for about 15 minutes the first time I watched that video, and for the next three or four months I'd just pull that video up and laugh. I was like, man, that cart didn't have nobody on it, and I wondered if it was Bugs Bunny was driving it or something. There was just something hilarious about that video. I mean, nobody was even driving it!