Last night, Ronda Rousey got obliterated in a fight that likely humbled her and the massive hype machine that has propped her up as the "most dominant athlete" in a sport that hasn't really been tapped into. Last month, on the Tonight Show with Jimmy Fallon, Rousey pretty much predicted the way Holly Holm was going to try and finish her, a prediction that was eerily correct except for the part where she said "But it's not gonna go like that."
The quote in full was:
"She's a nice chick, ya know. I don't have anything against her. She's a nice chick that's going to lose though. 
"This one is going to be a much longer fight. She's a 19-time boxing champion with 100-percent takedown defense and head kick knockouts. She's undefeated and an amazing athlete and the biggest threat definitely to me, especially on paper and stylistically. She's the type of fighter that you have to be very, very patient with. I feel like she's going to try and, like, keep distance and keep far away from me and get me frustrated into a point I'll make a mistake and she can try and kick me in the head.
But it's not gonna go like that. Not the way that she wants."
Clearly she did enough tape-by-tape study to foretell her defeat, but not prevent it, as you can see below: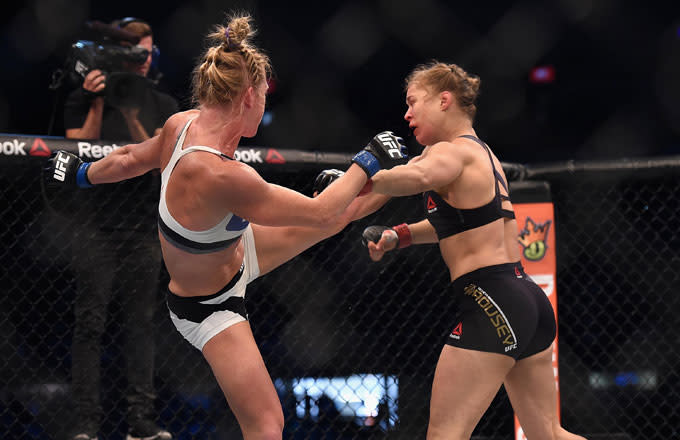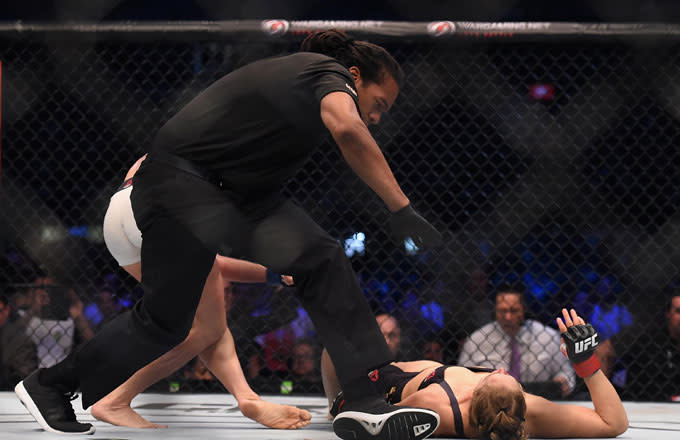 We'll just have to wait and see if she switches up her execution in the inevitable rematch.
[via YouTube/The Tonight Show]
Send all complaints, compliments, and tips to sportstips@complex.com