Emanuel Duncan is a high school senior who attends Lawrence Central High in Indianapolis. He has a terminal illness called Duchenne muscular dystrophy, and he has no idea how long he has left. When that's your reality it's good to live it up each day. He's already been to Bristol, Conn. through the Make-a-Wish foundation, chatted up Stephen A., presumably on purpose, and intentionally skipped talking to Skip Bayless because (in his words) "I don't like Skip Bayless."
At this point pretty much everything on his bucket list has a line through it. Here's what's left.
1.) Meet LeBron James
That's it.
Duncan explained his wish to Indy Star columnist Gregg Doyel:
"My bucket list is to meet LeBron. That's the one thing I want to do. Meet LeBron James. That's my role model. He inspires me to do everything. To be a good person, to put other people first, to live your life and do what makes you happy. If I meet LeBron James, that would make my day. I wouldn't ask for anything."
The Cavs will visit Indy on February 1. But even before he comes to town, LeBron responded. Doyel revealed as much by showing his text thread with Duncan on Twitter::
In said package, James sent Duncan stuff...:
...along with a letter. Read it in full here and then, perhaps, comb through your own Twitter feed and delete any hairline jokes you may've previously made and/or retweeted: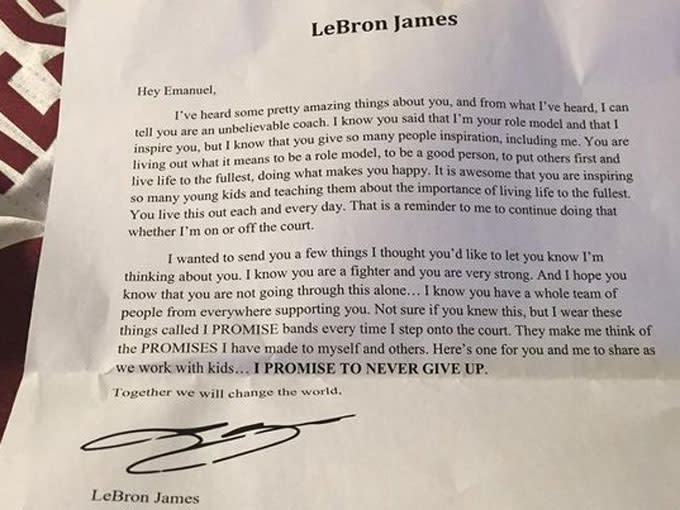 [via Indy Star]
Send all complaints, compliments, and tips to sportstips@complex.com