We're about two weeks into the season and the questions about the Thunder are marinating.
And that's just perfect.
You know the questions—sitting there cooking in their own juices, about to simmer to a rapid boil—about how Kevin Durant looks disinterested in his final (possibly) year in Oklahoma City or how new coach Billy Donovan hasn't gotten his team to play the "Billy Donovan" way.
Or, how there is too much pressure to preform after what happened last year when the Thunder played large stretches of the season without Russell Westbrook, Durant, Serge Ibaka, Anthony Morrow and others. Ultimately, it cost the Thunder the playoffs and then it cost Scott Brooks his job.
It's November. In college football November means Heisman candidates make their best case. In the NFL, the playoffs start to take shape. In the NBA, November means something close to nothing, but in Oklahoma City, it means a 7-5 start and a look more of apathy than anything else.
Nothing wrong with asking those questions. Nothing wrong with doubting, and fretting, and disassociating this team from one that has plans on ordering championship rings and mapping parade routes.
Pretty sure that's what they want you to do because ultimately the Thunder need a reason, a motivating factor, a common cause to rail against for success.
It works for them.
These things will fuel a Thunder season that will ultimately end up with a championship. Not only are Westbrook and Durant the best tandem in the NBA, they have more to prove than anyone else.
Durant won his MVP two seasons ago, largely due to a stretch where he carried the Thunder when Westbrook was injured, piling up 30-point games at a rate only Michael Jordan matched. Westbrook turned last season into a resume builder, establishing himself on Durant's level while Durant was injured. His triple-double assault was equal parts impressive and a personal shout-out that he, too, could carry a team. 
Westbrook, doesn't hold a grudge, he grabs it with both hands and chokes the life out it, playing his best when there's an enemy—real or imagined—in his way. 
And, there are plenty of both this season for the Thunder. 
Durant is going to get more attention than the Kardashians about his upcoming free agency, his inability to win a championship, and his foot injury that kept him out most of last season.
Westbrook continually sees himself as shorted, slighted, and picked on from whether he shoots too much, makes the right decisions, or can co-exist with Durant.
And it works for both of them. 
But there's more. The Thunder not only have Durant and Westbrook, they have complementary pieces like never before, including a coach in Donovan who has a big contract and plenty of motivation.
Dion Waiters is in a contract year, Morrow has never made the playoffs, Enes Kanter is being paid like few others, and Ibaka is an elite defender. No one, not collectively, has more to prove than Oklahoma City does. Not the Spurs with their fistful of championships, not the Warriors, who reached elite status last season. Not even LeBron, who's won it before.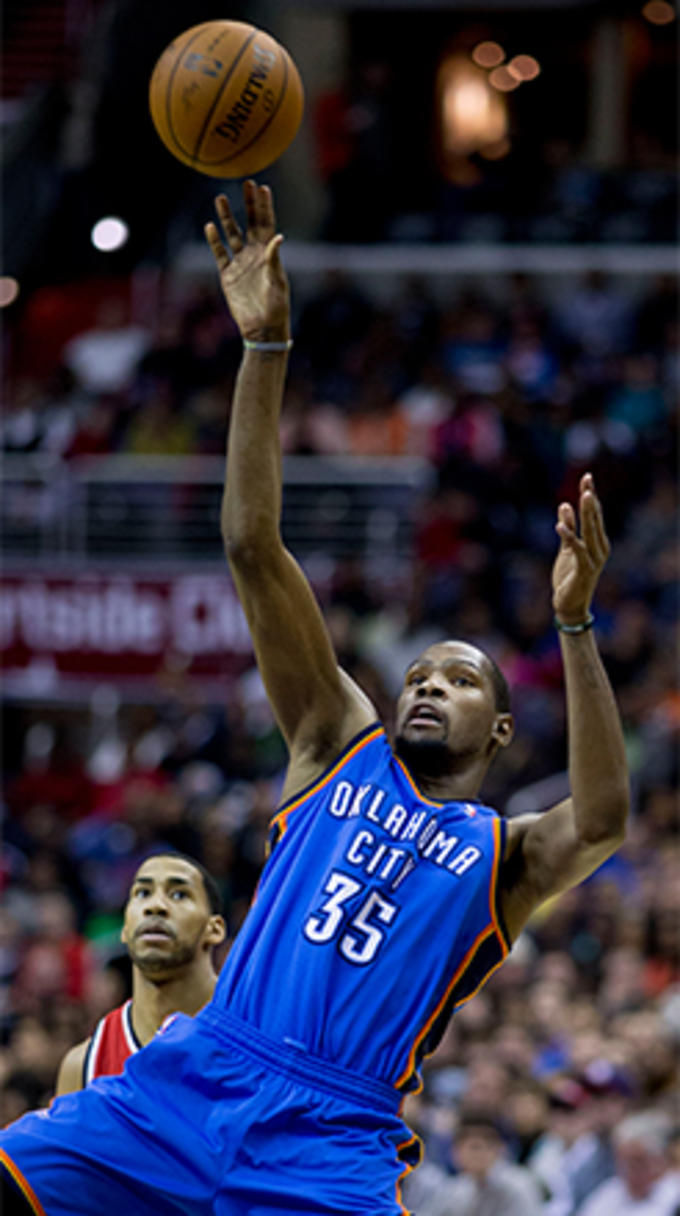 But, ultimately what the Thunder have, in addition to more motivation, more talent, and more experience, is health—something that was their undoing a season ago and has been the reason for early playoff exits before that. KD's recent hamstring injury is just a minor bump in the road, nothing to be worried about. 
Two seasons ago, Ibaka was hurt and missed games in the Western Conference Finals. Before that, Westbrook was injured in the playoffs and the Thunder were bounced out.
The season before that, Durant, Westbrook, and Oklahoma City made the Finals when they were all healthy, yet young with less experience.
They're finally healthy again, with a better roster and more to prove, especially now that you're starting to doubt them again.
So, yes, ask questions, start your doubting. The Thunder are giving you every reason to do so. It's November. Everything is bleak. 
"Obviously you have four guys who have been here a long time," Donovan said earlier this season, talking about Durant, Westbrook, Ibaka and Nick Collison. "They have a lot vested in terms of leadership, but the one thing I admire about Russell and Kevin is that they are vocal. They create a presence out there each and every day."
The presence is significant. The two have the most to prove, gain, and show. And it will happen this season. This is the year the Thunder flourish and take home that coveted Larry O'Brien trophy.