The Return is imminent. It's just not happening this week.
Sidelined since suffering a devastating knee injury in Week 6 of the 2014 season, Giants WR Victor Cruz was hoping to make his triumphant return to the field Sunday. While his surgically repaired knee is strong, Cruz has battled a calf injury since training camp and official word came down Thursday that it will keep him out of Big Blue's game against the Bills. 
During his off-day Tuesday, Cruz dropped by Complex to talk his return—which he said will be emotionally "taxing"—as well as dish on some teammates, discuss the release of his signature sneaker and Snickers' new "Hunger Bars" campaign.
You announced last weekend that you're "convinced" you'll return to the field on Sunday. When will we get official word and how crazy will your emotions be leading up to the game?  
I think we'll get the official word at some point by the end of the week. Friday, Saturday, so we'll see. But I'm excited, man. The emotions are kind of going to be all over the place. It's such an emotional, big deal when you get injured and you're out for a long period of time and then you come back. There's just so many emotions that you feel. There are parts of you that feel you'll never play again and then once you start building yourself back up you start to feel good and feel better. Emotionally, it's taxing. So when I get out there again all those emotions might creep back in.
What will be more significant: your first TD post injury or your first career TD?
First TD post injury. I think it's the first TD post injury because the first TD of your career I think you know it's a matter of opportunity, a matter of time before you score a touchdown. But I think the one after an injury, it's emotional; it's one that you think back to the times when you were on the couch with your leg in the air; you think about those times you were crushing around places, trying to get yourself together. Those are the kinds of things that go through your mind. So there's a lot more emotional attachment to that touchdown.
Philly will always be a sore spot, in more ways than one.
The Giants have a Monday night meeting with the Eagles in Philly in two weeks. Does returning to the scene where you suffered your injury have any special significance?
Philly will forever be a place where I will think about that injury. I will always think about that right corner in that endzone down there. And it's always going to be a place where it's kind of a sore spot for me, obviously due to the injury I suffered there. It'll be good to go there and kind of overcome that, run that route in that endzone, run those specific plays that I've had and take it from there. Philly will always be a sore spot, in more ways than one.
With almost a year since the injury, what was the most grueling part of the rehab process?
I think it was the part where I was getting the knee flexibility, that range of motion back. It took to get it all back maybe about five or six months of just continuous doing it. It took a while, man, but it's something that you have to be diligent with the process.
The Giants are off to a 1-2 start and many weren't picking you guys to be a playoff team before the season. And now things have changed in the NFC East over the first three weeks. What makes the Giants a playoff contender?
I think we have a good balance with veteran players and young players to guide them along. We have a tremendous amount of talent on both sides of the ball. And I think we're reaching a point now where we're really healthy and feel really good about the team we've assembled and our teammates. I think it's something to be said about a team that's facing all these things and to be able to get through the other side. We're excited about the challenge to fight through the other side and make a nice push over the next several games.
Eli Manning received a lot of criticism over the first two losses. He's paid like one the game's elite quarterbacks. What makes him an elite quarterback? 
His attention to the game. If you see him in the meeting room, even on days off, on Tuesdays, when guys are taking time off to do things with their families, he's in there watching film and paying attention to the team we're facing this upcoming week. He's really a student of the game. That's what makes him one of the best and that's what makes him a guy that deserves to get paid like one of the best. And two Super Bowl rings don't hurt either.
Is he really one of the best pranksters?
[Laughs.] Yes he is. And you would never believe it. But he so is, man. He's pretty funny when he does it. He kind of picks on the younger rookies, at least early on when they don't really get to know his character. But he gets some of the other guys, too.
Was your prank a memorable one?
He's never gotten me. I shouldn't say that because now I'm going to be targeted. He hasn't gotten me to this day.
Actually, I lied. He did get me. But it wasn't like a joke. We were walking out as captains together to do the coin toss and we were the home team and he goes, "Yo, you want to pick heads or tails?" And I'm like, you're going to make me do it? It's my first time and he says "Yeah, you go it. First time, you've got to get the jitters out." So I'm walking up there bright eyed, I'm like waiting for them to ask me and he goes "Only the away team picks the coin toss." And I'm like, thank you. Thank you for that, Eli. Now I feel like crap.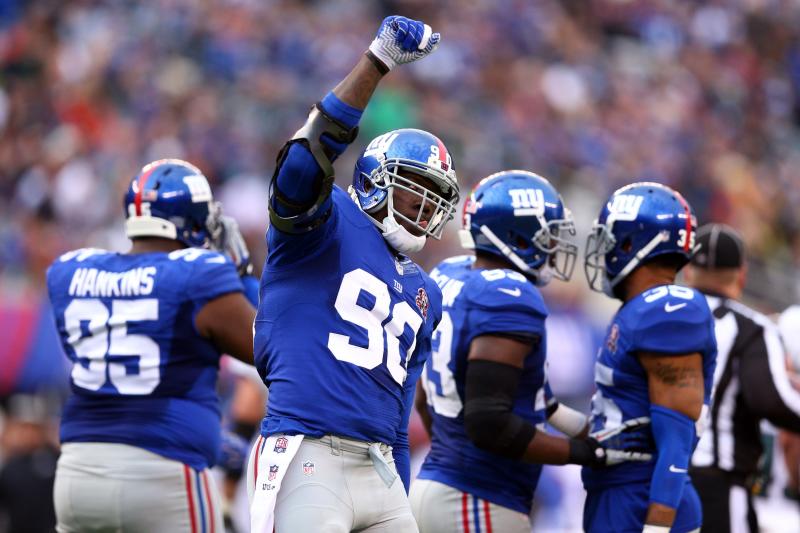 How much communication have you had with Jason Pierre-Paul? How have you and your teammates offered support?  
I spoke to him a two or three weeks ago just to see how he was doing. He was doing well; his spirits seemed to be high. He seems to be continuing to train and work out on his own and things like that. Outside of that, that's all I can manage is just making sure he's okay as a person, as an individual. Football comes second to that.
Has he relayed that your support has meant a lot to him?
Us reaching out to him, us calling him and talking to him, he liked that. He knew that we're a family, we're tight knit.
And he can be a dominant pass rusher again?
Absolutely. I think he can. I think he has a skill set that's very, very unique and he can still apply that skill set despite his setback.
What lessons have you taught Odell Beckham Jr.? And what have you learned from watching him?  
I've just taught him to be patient. Everything's not going to come in one shot, everything's not going to come overnight even. You have to pace yourself and make sure that you can do all the things you want to do one step at a time, on and off the field. And the things I've learned from him are to just let go. All these years I've been worried about the next day, worried about the next ball I have to catch, worried about the next touchdown. Now I can just let go a little bit and just play the game, play carefree and just enjoy the moments I have with my teammates because they don't last forever.
Is that something you maybe didn't have when you were younger?
When I was younger, no matter how well you're doing you're always kind of looking over your shoulder, especially a guy like myself who was undrafted. You never know what's going to happen tomorrow, let alone two, three years from that point. I was always looking over my shoulder, making sure I was overexerting myself, doing everything I needed to be as best as I possibly could be.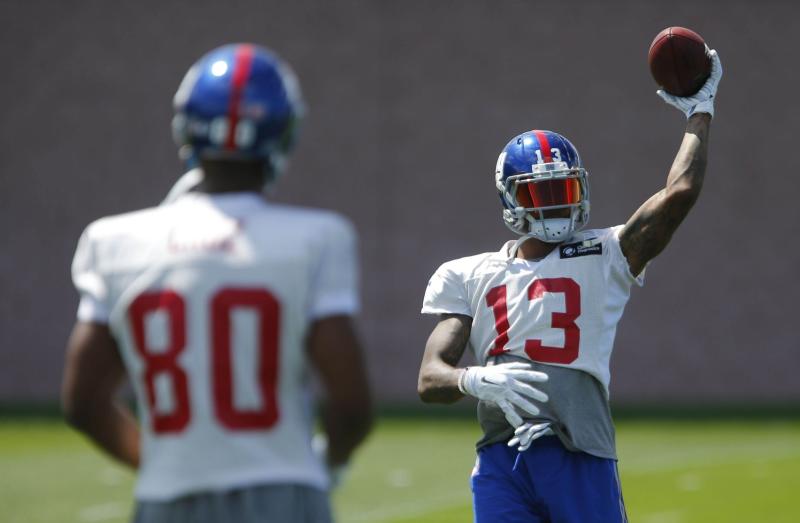 How much jealously is there around the league for a guy like him—a guy like you—who is highly visible off the field?
I don't know. At least other guys in the league don't let us know. I don't know. I'm just blessed to be in the position I'm in, blessed to play alongside a guy like Odell Beckham. I just take advantage of every opportunity given my way. I feel like everything is meant to happen, everything is supposed to happen, I don't think anything is coincidence. I just relish these moments.
I bring that up because you were outspoken about Odell being targeted in the preseason and your teammates said similar things following last season's game with the St. Louis Rams. Is that something you may have dealt with in the past, something you may have to deal with going forward?
I've had to deal with it. It's a part of the game. Targeting may be a strong word because it seems like teams are maliciously trying to do it and some teams may be. But I think certain defenses make a concerned effort to apply an exerted amount of force to one specific player to get him out of the game so they can upgrade their ability to win that ball game. It's part of the game. You just have to fight through it and run your routes and Eli will find you.
The Nike Air Cruz, your signature sneaker, is releasing in November. Are your prints all over that thing?
My prints are all over that thing. I wanted the Air Max Trainer 1 midsole. I wanted it to have a strap. I wanted it to be one of the first lifestyle shoes to have two straps on it – there's a half strap on the back of it as well.  I wanted to be the first person to have all these different elements that apply what I do on the field as well as apply what I do off the field with a style aspect of it. I think we hit it out of the park.
What are the chances we see coach Tom Coughlin sporting a pair on the sidelines?
[Laughs.] I'm going to try and get him to wear a pair. I don't know how meticulous he is with his footwear so I don't know from a comfort perspective if he'll be up for it. Once you've reached a certain age, you're fixed in your ways. So we'll see if we can get him into an all blue pair.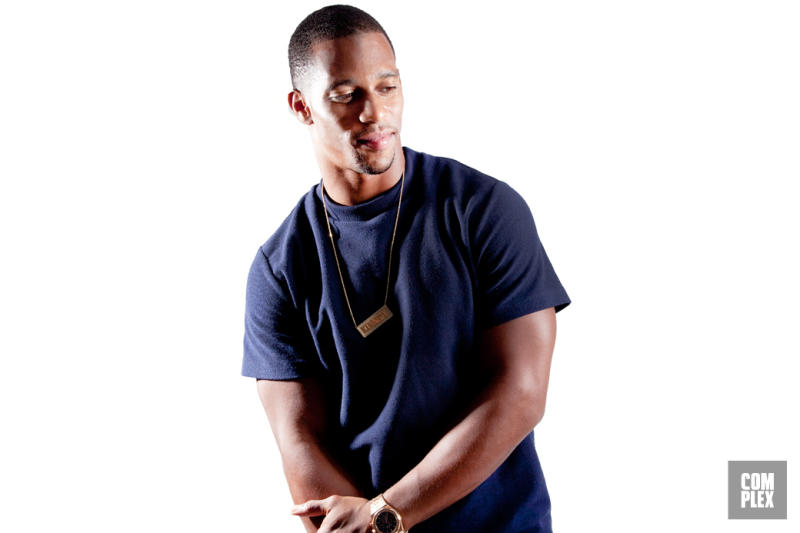 What's bumping in the Giants locker room these days?
Future x Drake is bumping so loud right now. From dusk til dawn, that mixtape is blaring.
What will you listen to on your way to the stadium Sunday morning?
I'm a Fetty Wap guy. I'm a little biased obviously, because I'm from Paterson, NJ. Other than that, I've got Jay Z. Anything Jay Z. Any album. Specifically Blueprint or Roc-La-Familia. Those are my two favorites.
Do you have a favorite pump-up track from Jay Z?
One is "Guilty Until Proven Innocent" and the other is "Who Gon Stop Me" off of the Watch The Throne album.
Future x Drake is bumping so loud right now. From dusk til dawn, that mixtape is blaring.
Speaking of Fetty, are you the second most famous person from Paterson now?
I am, man. It's crazy. He's on stage with Taylor Swift, he's got all these different things going, but I'm so happy for him. It's good because my city is a city that isn't known for a ton of positivity. Obviously, there's guys like myself and guys from the past like Tim Thomas that have come from that city and spread some positivity. But to have both of us being out there right now, in the limelight, it's good for the city and good for the community.
Are we going to see you in Ballers season 2?
Unfortunately as of right now, I probably won't be since they're filming in November. It'll be right smack in the middle of our season so that would be tough to do. But I had fun doing the first season, man. It was eye opening for me to be on that type of show and really opened my eyes to the world of acting.
What was so fun and unique about filming those episodes?
I think it was just the organic-ness of it all. You have your lines and you're on set with The Rock and Rob Corddry and both guys are amazing actors. And they're walking you through things, it's just amazing how, you know, once you say your lines you can kind of go off the cuff and be yourself. That was the biggest thing for me. I was a little nervous going through it, but once I got to see the environment and see how I could be myself it ended up being cool.
Did your teammates end up giving you glowing reviews?
Yeah, man. They said I did well. Prince [Amukamara] was obviously looking at me and laughing, asking me 105 questions. But it was fun. I got a good response.
Were they trying to get the hookup for next season?
Absolutely.
And your partnership with Snickers?
They're changing the wrappers on these Snickers bars to apply the personality of who you are individually when you're hungry. It may be Ornery, Princess, whatever it may be, you can go pick up your very own custom packaging from your local store. And you can go on social media and use #eatasnickers to get everybody involved.