Jacksonville Jaguars host the Buffalo Bills at Wembley this weekend in the second of the NFL's three-game long International Series – and London can't get enough.
It's rare to see rival players co-exist just one day before a competitive fixture but that's exactly what happened in the heart of London on October 24th as an NFL Fan Festival started a carnival atmosphere before the big kick off between two titans of American football.
Allen Robinson and Ron Brooks put pre-match tensions to one side for a New Era signing session at Selfridges just one day before they faced off at Wembley and spoke to Complex about the NFL's London takeover, style essentials and how FIFA 16 dominates the locker room.
Interview: Corey Pellatt  Photography: Elliot Simpson
It's very rare to see two guys from opposing teams come together like this just one day before a game – what's the atmosphere like here?
Ron Brooks: We just met but it's cool.
Allen Robinson: Yeah, for me what happens in between the lines is in between the lines, that's the motto, but when Sunday comes – it's football.
You're approaching the end of you week in London, how have you found it here?
AR: You know we only got here yesterday but it's been pretty cool for us as far as getting acclimated, we had to do it quickly, but it's been cool.
But the Bills have been here all week, Ron?
RB: It was a little bit rough at first but we're approaching the back end of the week now so we've adjusted to time and stuff like that, hopefully it works out.
You've been signing New Era products in store at Selfidges this afternoon, what's you headwear game like back home?
RB: The whole top shelf in my closet is nothing but fitted caps, snapbacks. I've got hundreds.
AR: I've got more than twenty, maybe even thirty, so I'd consider myself a hat guy.
Have you noticed any style differences with the way guys dress in London compared to the States?
RB: Oh, definitely. The closest thing to what I've seen out here is probably in California with the drop crotch pants and the loose fitting clothes – the longer clothes, the more comfortable clothes. That's a lot of what I've seen and on the other end of it, there's a lot of tighter clothes and shaped pieces – that's in terms of the more high-end fashion here, anyway.
What are your style essentials?
AR: I got some drop jock pants and some lined tees, stuff like that. Pretty simple.
RB: I've got nothing! I came out here to shop. This is my third time in Selfridges this week so I'm tryna get something every time I come in here.
I spoke to fellow Bills players Tyrod Taylor and Bacari Rambo earlier this week and they were telling me about the comforts you've got in your hotel…
RB: It's been really good fun for us. A lot of us haven't been here before so we walked around in big groups and hit a mall or go out to eat, see what the city of London has to offer.
And how have the Jaguars settled down?
AR: Pretty good. Yesterday was about getting off our feet, we got in yesterday morning and went straight to practice! With this being my second year here and a lot of players third time here they're pretty used to being here in terms of good places to eat and shop, stuff like that.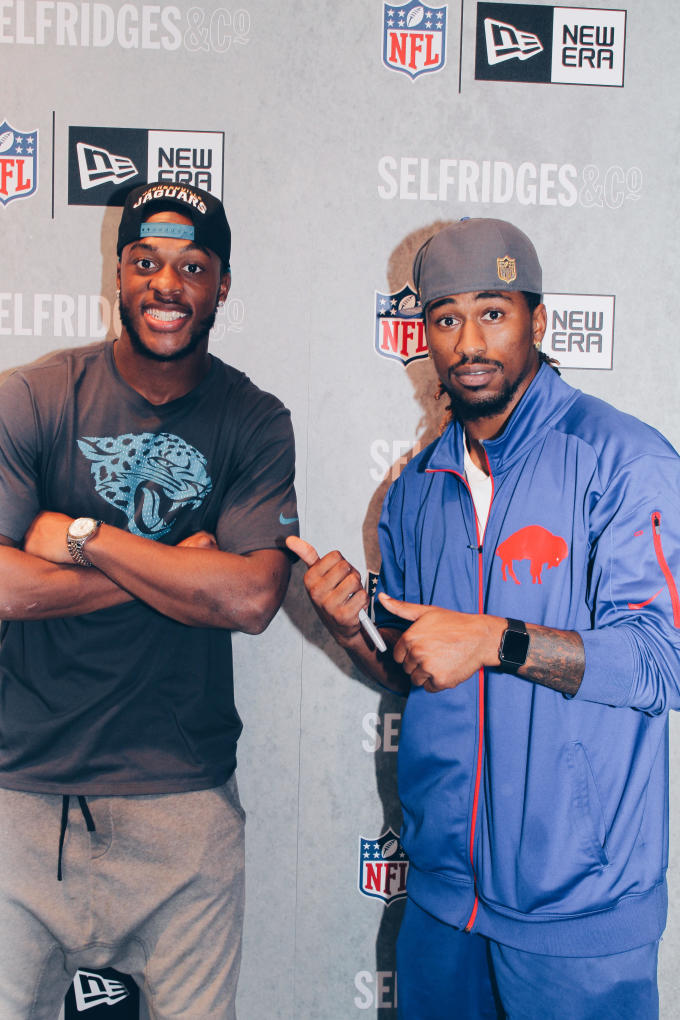 There's a lot of talk about an NFL franchise one day coming to London – do you think it'd work?
RB: It has its good and its bad – I mean the Jaguars only just got here and it's a long trip. Doing that weekly, or every other week, whenever you've got to fly out and play an opponent, that'd be tough on the team. I'm interested in seeing how that works out.
Could you ever see yourself playing out here permanently?
AR: It's a possibility but that's a lot to wrap your head around in a brief moment. In this league playing for the franchise that you play for, it's an honour, so if anything came up it's something you've got to deal with at that moment.
Over here, football and the NFL are two very different things – is there a growing 'soccer' fanbase in you locker room?
RB: I don't know about in theirs but in our locker room FIFA is the biggest competitive game that we have! We're competitive on FIFA…
AR: Yeah, that's the same for us.
Is 'FIFA Rage' a thing amongst NFL players?
RB: Yeah, we've got about six or seven people that claim to be the top players in the locker room and when one of them lose, it's an intense situation.
And where do you fall in that pecking order?
RB: At the top! Top three per cent, not one percent – I gotta keep it real – but the top three per cent
I know that Premier League players get quite worked up about the ratings EA assign them on FIFA, is that the same for you guys with Madden?
AR: Sometimes but you always think you're better than what you've been rated, you always think you're a 99…
RB: I'll tell you this, my strength ain't 67! I'm a lot stronger than 67. Y'all gotta give me some points.
What are you expecting from the British crowd at Wembley?
RB: From what I've heard it's gonna be pretty wild, a lot of people don't get a chance to see American football so when the opportunity comes they show up in big numbers and I already seen how they do the soccer games, with the soccer chants, so I'm hoping we get some of that behind us.
It's a home game for the Jaguars so does that give you any extra boost going into the game, Allen?
AR: From playing here before I know the atmosphere is pretty balanced but it's an awesome opportunity just to get out there. It's gonna be a fun game.
Finally – and I don't think you're gonna see eye to eye on this one – what are your predictions for tomorrow?
RB: Buffalo 42 – 9 Jacksonville.
AR: I dunno man, 42 is a lot of points! I don't have a score prediction but I know we're prepared and we're gonna play well to put up a show.
Allen Robinson and Ron Brooks were appearing for New Era at Selfridges. New Era products are available to buy at Selfridges in store or online at selfridges.com.