Thank the wrestling gods for the New Day. On a night with retreaded matches, a botched Beat the Clock challenge, and a weird stalker/sexual harassment storyline, the tag team champs felt less like heroes and more like saviors. After last week's embarrassment by the returning Dudley Boyz, the New Day has a stable with a cause, and that cause is to #SaveTheTables. It's as ridiculous as it sounds, right down to altering the "New...DAY ROCKS/SUCKS" chant to fit "Save...THE TABLES," but considering how low other points of the show were, we'll have to enjoy Xavier Woods' advocacy for cheaply made plywood tables. Also, we especially have to enjoy his "Andre 3000 in the 'Hey Ya' music video" hair: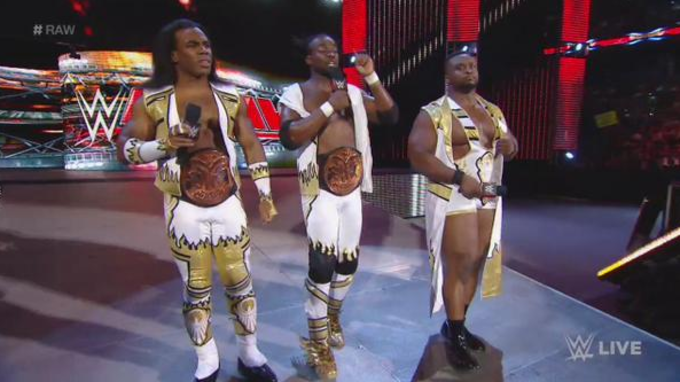 Honestly, the match that followed the promo was a bit disappointing, but considering the Dudley Boyz have been stuck in the TNA wasteland for years, it's to be expected. And perhaps more importantly, the crowd was fully engaged throughout the entire (pretty long!) match, a rarity in tag team wrestling these days. Maybe the shine of the brand-new-yet-old Dudley Boyz will wear off soon, but in the meantime, a mix of nostalgia pops and New Day hilarity is just what the rejuvenated tag team division needs. 
The rest of Raw wasn't even all bad, to be honest; after all, Sting opened the show and it'll be a cold day in hell when that doesn't deserve some praise. Sure, his hair looks like it's going to fall off with the first hard bump he takes, but Sting in a WWE ring, challenging the WWE World Heavyweight Champion no less, is never going to stop being surreal. Also, you know Sting enjoyed skipping over Hogan's name as he ran through the list of legends that Seth Rollins is certainly not better than. He also got in and out pretty quickly, which is always welcomed at the start of Raw; Triple H may be a better man than everyone ever (that Sting promo had to be written by Haitch, right?), but he could take some lessons from the Icon on wrapping things up.
The second half of the main event program closed the show, and was perhaps even more enjoyable: Seth Rollins came out to whine about Sting stealing his toy (ok, it was a statue, but still), while also saying that he's definitely better than Triple H so suck it. That brought out Stephanie McMahon, who is the G.O.A.T. at putting over Triple H, to verbally slap and emasculate Seth Rollins. You know, business as usual. Of course, it wouldn't be a Raw segment humiliating Seth Rollins without…
Seth's reaction really says it all.
To be fair to ol' Mr. Brrrrapadoo, Cena's inclusion in this segment was brief, to the point, and served a purpose. After running down Seth some more (ha ha, our champ is a goober), Cena announced that he was going to invoke his rematch clause for the United States title at Night of Champions, meaning Rollins would be pulling double duty that night. Stephanie McMahon agreed to the stipulation, despite Rollins' protestations (oh, good, the "trouble in the Authority" storyline that we've recycled for two years is back), and the show ended with a cool image of Cena and Sting at the top of the ramp together.
That is BRILLIANT...but only if booked right. Allow me to beg real quick: please let Rollins go over Cena clean. It would solve a lot of problems, including allowing a screwy ending for the Sting match, which it already desperately needs. It would also allow Big Match John to move on to something else; perhaps elevating the Intercontinental title the way he elevated the US one? Regardless, putting Rollins in two high-profile matches is a good way to make sure Night of Champions delivers on the in-ring side; now, if only the storyline keeps up.
But, ok, the rest of Raw not including that was, in fact, pretty bad. Rusev and Dolph Ziggler continued their directionless feud, this time including some GOOD OL' SEXUAL HARRASSMENT, as Summer Rae snuck into Ziggler's locker room with the intention of seeing the little ZigZag. We did get Summer Rae talking about "the cute little tattoo on his pelvis," so maybe it wasn't all bad. Elsewhere, Braun Stowman a.k.a. That Big As Shit Wyatt debuted in the ring by rag dolling Dean Ambrose around, which is fun because Dean sells beatdowns like he's being tased in the genitals. He also spoke in the pre-match, talking about the Apocalypse while looking like Gimli from Lord of the Rings took some steroids:
Kevin Owens and Cesaro had another good-to-really-good match in their Best of 73 series, this time with Cesaro possibly hurting his ribs for real (that finish was so rushed that it seemed legit). Big Show and Ryback did something, but my mind blacked it out. Retreads for all!
And then there was the Beat the Clock challenge for the Divas #1 contender spot. What a mess. It all started ok, with Becky Lynch beating Alicia Fox in 3 minutes and 21 seconds, a time that assured we would get under 7 minutes of total women's action on the night. Then came Charlotte and Brie and oh boy, if you ever want to see a useless 2-minute (make that 1:41) match, check this one out. Brie spent the entire duration of a very long pee avoiding Charlotte before walking into the Natural Selection (yes, Charlotte has another finisher aside from the Figure 8) for the loss. 
The final match of the challenge was Paige vs. Sasha Banks, which normally would be an incredible match to have on Raw. Normally. As in, not last night; not even Sasha Banks could save this mess, considering she got more time for her entrance than for her actual match. Short story short, Paige failed to defeat Sasha in time, due to Team B.A.D. interference and possibly a time botch. So, Charlotte vs. Nikki Bella will be the inaugural Divas Revolution title match; cue to collective sigh of apathy. Hey, Paige, how do we all feel about this?
Here's hoping the road to Night of Champions picks up some steam next week, or this is going to be a long month.

RESULTS
Dolph Ziggler defeated Rusev by disqualification when Summer Rae interfered
Beat the Clock Challenge: Becky Lynch defeated Alicia Fox by submission in 3:21

Ryback defeated the Big Show by pinfall (Intercontinental Title match)

Beat the Clock Challenge: Charlotte defeated Brie Bella by pinfall in 1:41

Kevin Owens defeated Cesaro by pinfall

Braun Strowman defeated Dean Ambrose by disqualification when Roman Reigns interfered

Beat the Clock Challenge: Paige and Sasha Banks fought to a no-contest