Game Recognize Game: The 25-Year-Old Math Whiz Behind NBA 2K16's New Player Ratings
Using the deepest data system in basketball gaming history, Mike Stauffer and his team are making the franchise more realistic than ever.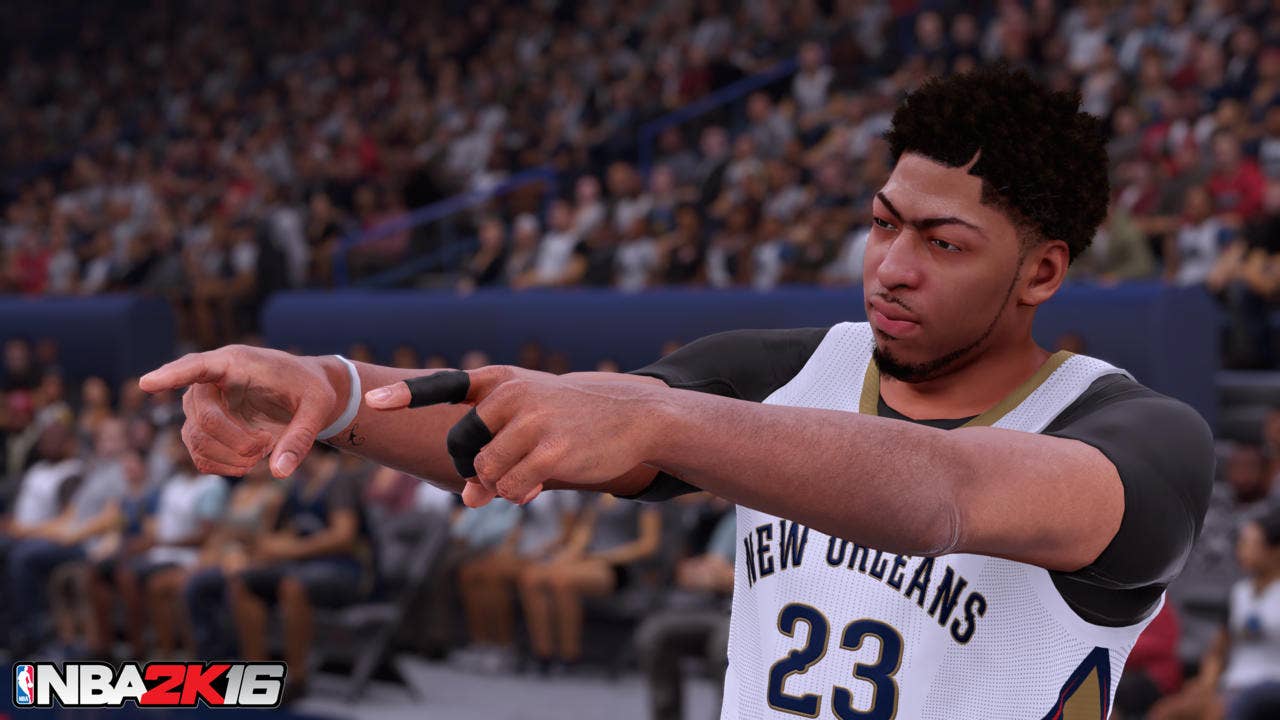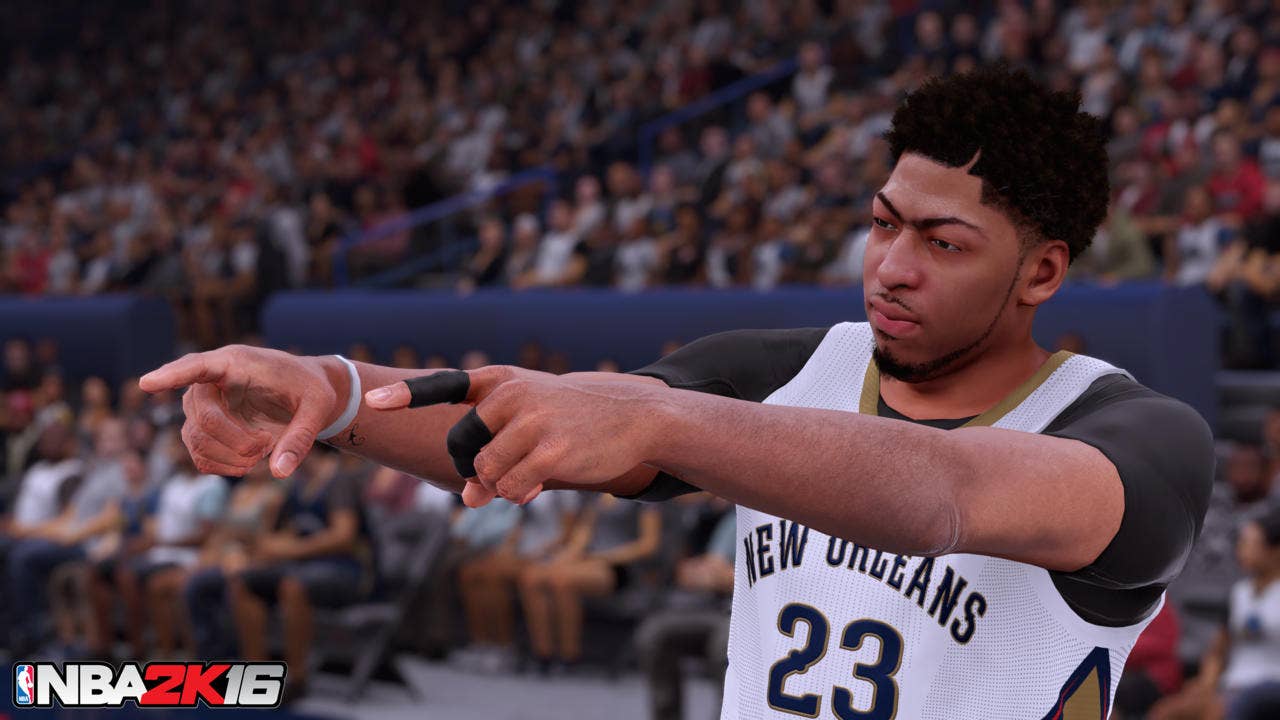 It's one week until the soft launch of NBA 2K16, and Mike Stauffer is feverishly typing values into a lengthy spreadsheet, his shoulders hunched and his face obscured by dual monitors. The 25-year-old leads a modest team at 2K's headquarters in Novato, Calif., working tirelessly to make the world's most popular basketball video game as authentic as it is addictive.
It's 2K's development team that creates the universe within which the greatest basketball players in the world are digitally confined, but it is Stauffer who creates the boundaries that keep those 1,500 players in check. He decides how high Andrew Wiggins can jump, how effortlessly Russell Westbrook can split double teams, and with how much tenacity Tony Allen plays defense in the closing minutes of games.
But despite his godlike presence within this immersive world, Stauffer is refreshingly realistic about the limitations of simulating real life using 61 attribute sliders that range from straightforward staples like speed and free-throw shooting, to more complex measures, like defensive pass perception and boxing out.
These ratings are an inexact science that Stauffer, hired by 2K in May 2014, has been studying for a long time.
Growing up in the small town of Twinsburg, Ohio, he was a die-hard Cleveland sports fan, a self-described stats geek, and an avid gamer. His first love was baseball, and while in elementary school he would spend hours memorizing the information on the backs of Topps cards and playing World Series Baseball on his Sega Nomad. The realism of that game, at the time considered to be one of the most accurate virtual simulations of sport ever, was what initially appealed to Stauffer. But it wasn't until he upgraded to the more robust Sega Dreamcast in 1999 that he began to experiment with editing rosters.
"John Wall's speed just didn't feel right. He didn't feel like John Wall when put side-by-side with Jeff Teague. Teague's by no means slow, but John Wall has elite speed."
—mike stauffer
"I lived off the original NBA 2K," he says of the first installment of the now preeminent roundball franchise. "When I saw that I could create new players, edit rosters, change the way the stars of the league played, I was immediately drawn to that. Originally, I just spot-edited here and there, fixing things about the game's ratings that felt off or updating things based on the slumps or hot streaks certain players were on. From there, it just grew."
By the time Stauffer enrolled at Ohio State University to study middle school education in 2008, he'd developed a methodical system around roster modification. He created his own mathematical formulas based upon multiple statistical measures, using them to try to bring order to an imprecise and, by nature, imperfect system.
When 2K12 launched early in his senior year, it did so without including any of the members of the NBA's rookie class, thanks to the rules of a prolonged and ugly lockout imposed on the players by the league's 30 owners. Stauffer, bothered by this debilitating omission, took matters into his own hands.
For hours each night after the game's release, he created each and every one of the missing rookies himself via the game's create-a-player feature, using scouting reports, combine measurements, and college statistics to determine the players' individual attributes. When he was done, he uploaded his customized roster to 2K Share, an in-game platform through which gamers can exchange user-created content.
"I would cringe watching an excellent defensive possession by a user only to see their opponent hit a 12-foot fadeaway with Dwight Howard as the shot clock expired."
—Mike Stauffer
It quickly rose to the top of the most downloaded list, prompting officials from 2K to take notice. When a position opened up with their development team in 2014, Stauffer was one of the first people to whom they reached out.
"I had just finished my master's degree in education, and I was teaching fourth and fifth grade math when I got the call," he says. "They flew me out for an interview, and we just talked about the things I'd done as a community member. They were on board from the start about my vision for the ratings, and they decided to bring me on and let me start to implement that."
Because Stauffer was brought on somewhat late in the development phase of last year's release, 2K16 is his first opportunity to put his mark fully on a release from conception to completion. When users fire up the game for the first time, they should be able to feel the changes immediately.
The first thing they'll notice is that just about everybody has had their overall rating reduced since 2K15. Even LeBron James, whose overall rating hasn't dipped below 98 in any of the last five iterations of the franchise, will open at a 94 this year. In fact, only six players, including James, are rated in the 90s; Steph Curry (93), Anthony Davis (92), James Harden (92), Kevin Durant (91), and Chris Paul (90) are the other five.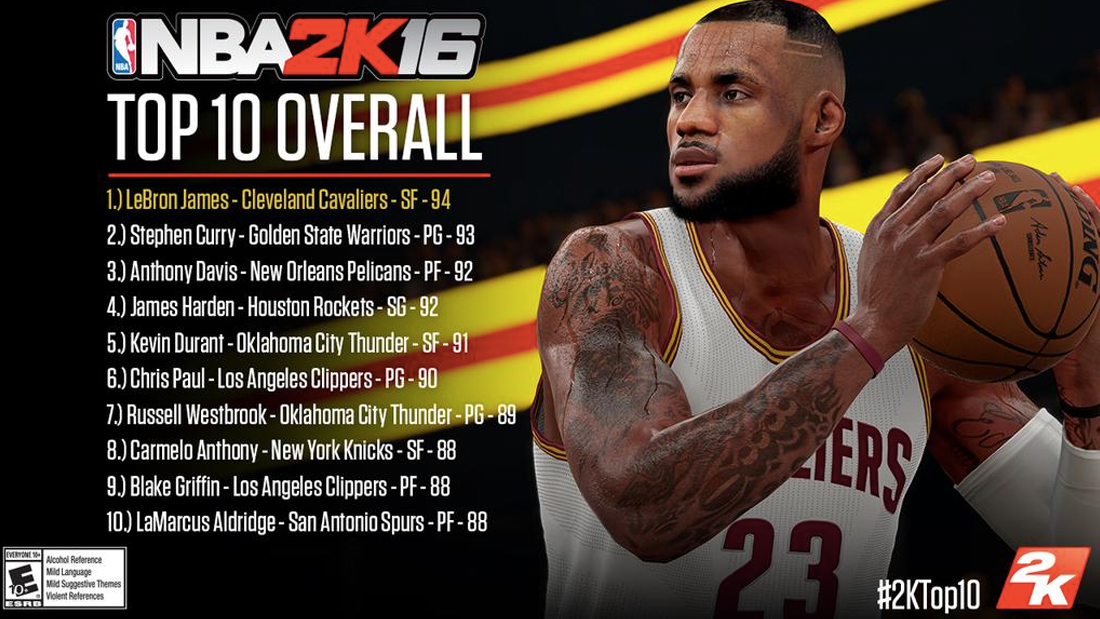 But it isn't just the game's stars who've had their ratings reappraised. Bulls center and 2014 Defensive Player of the Year Joakim Noah, whose rating dipped from 87 to 83 during the course of last season, will be a 79 when NBA 2K16 ships. Timofey Mozgov, who played the best basketball of his five-year career in the 2015 Finals with Cleveland, had his overall rating reduced from 80 to 77. Even analytics darling Rudy Gobert, the third-year French behemoth who helped Utah reinvent its defense down the stretch last season, was knocked down from an 81 to a 79.
At the heart of the overhauled ratings system is the desire to eliminate what fans of the game refer to as "cheese," grossly inaccurate aspects of gameplay that allow users to spam a certain player or move ad nauseam en route to victory.
"Having watched hours of YouTube footage, there would be times that I would cringe watching an excellent defensive possession by a user only to see their opponent hit a 12-foot fadeaway with Dwight Howard as the shot clock expired," Stauffer explained in a statement to the 2K community on Aug. 21. "Reading on the forums about users experiencing a player taking a drive baseline and having the ability to dunk or get an easy layup over the entire defense also does not sit well with us."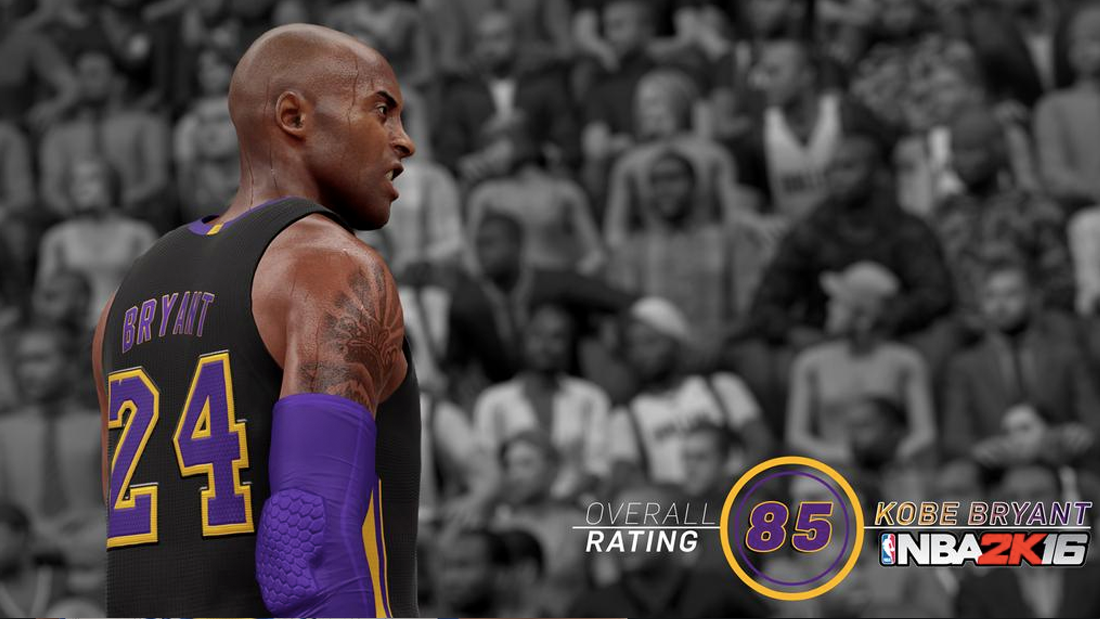 "It's a double-edged sword. if you complain about your three-point rating and I see that your mid-range rating looks a little high, sometimes I'll drop points off there."
—Mike Stauffer
The goal was to undo years of ratings inflation within the game, making it so there is a noticeable and true-to-life difference between the athleticism of, say, Ben McLemore and Zach Lavine. Stauffer and his team also hope that by creating a wider scale, aspects of players' games that truly are elite shine through even more.
"One day early in the development cycle, one the guys from gameplay and I were playing with the Wizards and the Hawks," he says. "And we noticed that John Wall's speed just didn't feel right. He didn't feel like John Wall when put side-by-side with Jeff Teague. And Teague's by no means slow, but John Wall has elite speed, and it just didn't stand out when we were testing the game.
"We realized in that moment that we wanted players with elite skills to stand out a little bit more. So we started with speed and readjusted that scale, and we made it so the top rated players in that category felt elite because players who maybe had once had inflated speed ratings were now dropped a little bit. After that, we kept going and did the same thing with every attribute."
It's something that 2K is calling the Hall of Fame Scale, and what that basically means is that in order to earn a 99 in any individual category one should be considered the greatest of all time in that category. From there, everyone is graded against the curve set by that player. The same is true for overall rating, where a prime Michael Jordan is the only 99 in the game.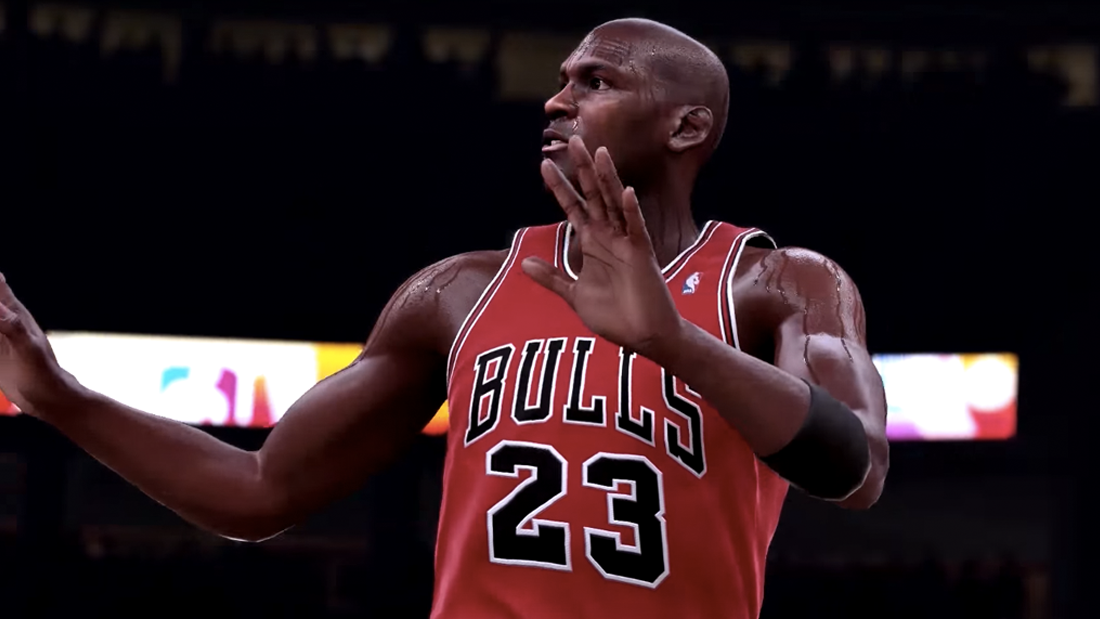 Asked if the new system will make the all-time greats better than in past versions of the game or if it will simply make the current players whose ratings have dipped worse than they once were, Stauffer pauses for a moment and says, "We made everybody more accurate."
Accuracy is a theme that comes up often when talking to Stauffer about his work. His obsession with the concept is what drove him to devote hundreds of hours of his life to improving 2K's rosters on his own time while in college, and it's that same attribute that makes him so great at what he does now. 
His devotion to accuracy has, at times, made him an unpopular figure amongst the players he and his team are attempting to digitally reproduce.
Last season, Hassan Whiteside became a champion for NBA players dissatisfied with their in-game ratings when the Heat center's public appeal for a boost was granted by the 2K roster team. After posting 14 points, 13 rebounds, and a Heat franchise-record 12 blocks in a nationally-televised Sunday matinee game against Chicago on Jan. 25, Whiteside was asked on live TV about what had inspired his performance.
Within hours the 2K ratings team acted, and Whiteside had his overall score bumped from 59 all the way up to 77.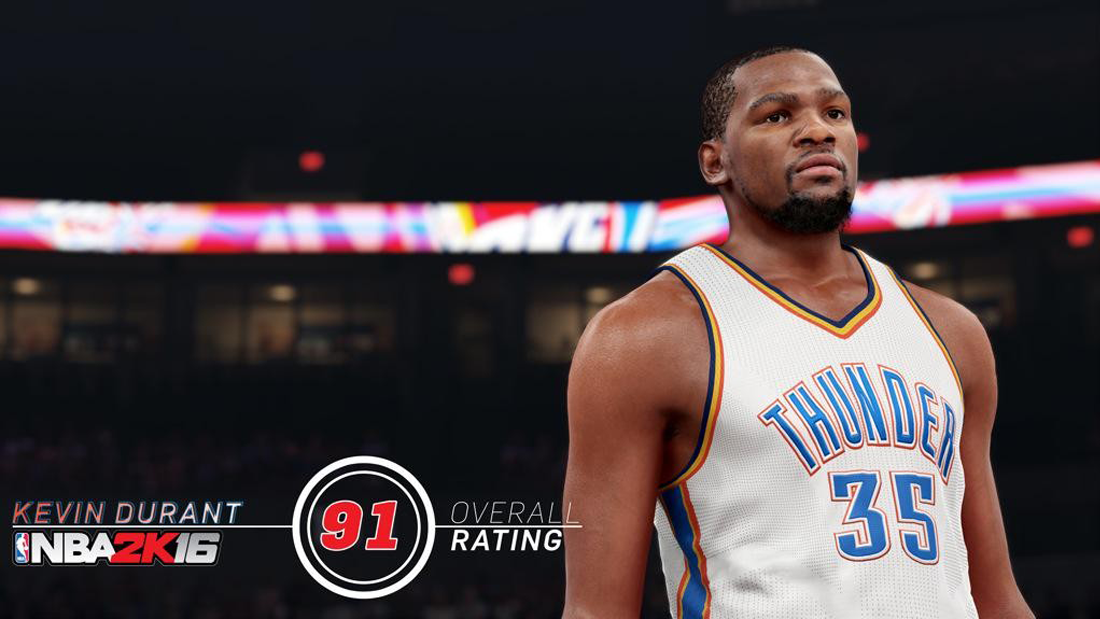 It was by far the most sizable bump Stauffer had given a player during his time handling 2K's roster updates, and it was largely deserved. Coming into that game against the Bulls, Whiteside had averaged 12.1 points, 8.0 rebounds, and 3.0 blocks during an eight-game stretch. But one of the reasons it took as long it did for the the 25-year-old center to receive the boost is that he had no history with which to back up his impressive run.
The former second-round pick had been, for the most part, labeled a lost cause two years prior, after notching exactly 29 points and 39 rebounds in two seasons with the Kings from 2010–12. Whiteside was waived by Sacramento in the summer of 2012 and spent the two subsequent seasons toiling in the NBA Development League and in leagues in China and Lebanon, attempting to prove to teams that the promise he had once shown was real.
Miami signed him in Nov. 2014 and he slowly earned the trust of head coach Erik Spoelstra, who began to give the 7-footer consistent playing time for the first time in his career. Whiteside took off, turning that aforementioned eight-game stretch into a long-overdue third season, in which he averaged 11.8 points, 10.0 rebounds, and 2.6 blocks in just 23.8 minutes per game.
But most players Stauffer encounters are not like Hassan Whiteside.
There is a desire to keep rosters true to current day, and when an established star like Russell Westbrook is in the midst of a five-game tear 2K wants you to feel that when you play as the Thunder. But at the same time, Stauffer knows his team can't be too quick to award boosts after breakout performances by fringe players or to punish role players for poor stretches. It's a difficult balancing act, it's one that the 2K team will readily admit is an imperfect science, but it's one that they are determined to figure out.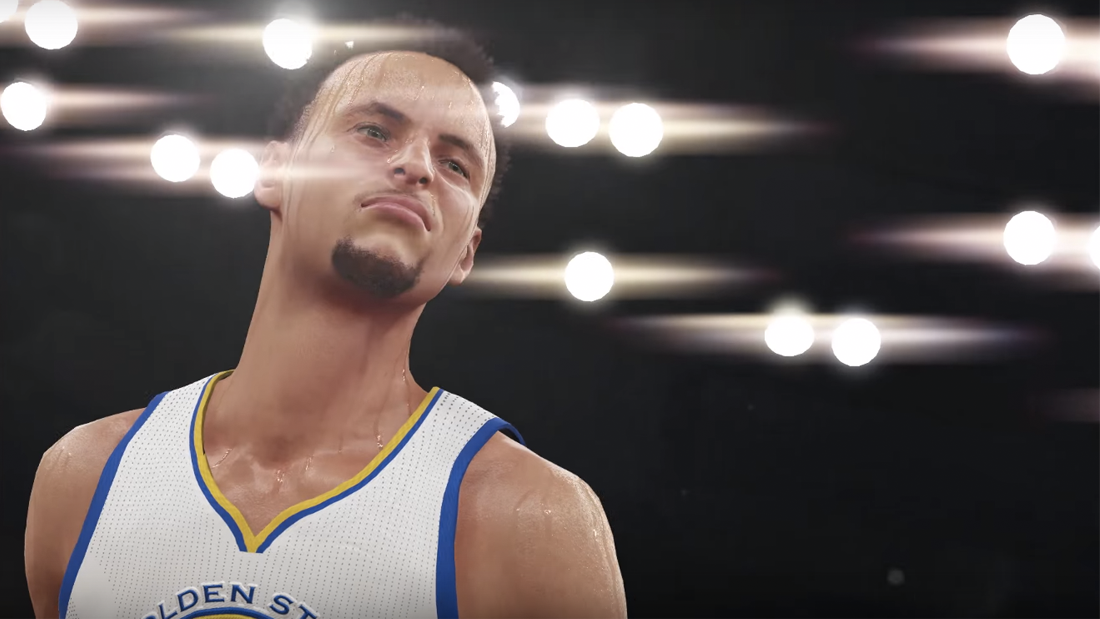 Stauffer stands by his ratings, and outside of rare cases like that of Hassan Whiteside, he and his crew are usually remarkably accurate. Yet still, almost every player believes that they, too, are deserving of a ratings bump. After all, professional athletes represent a subset of society that is overwhelmingly fueled by ego and a desire to be the best in everything they do. A public valuation of their talent acts as a trigger for that obsessive mindset.
When he sees these public appeals by players, Stauffer always investigates. He's not too arrogant to believe that he and the team never make mistakes; with so much data through which to sift it would be impossible not to. But if you're going to come to him with a complaint, be prepared to have the rest of your attributes audited as well.
"It's a double-edged sword," he explains. "Because if you complain about, say, your three-point rating, and I go look and see that your mid-range rating looks a little high, sometimes I'll drop some points off there."
Sure, Stauffer and the ratings team can seem harsh, but they're exceedingly fair. For them, it's all about creating a true-to-life experience, and each year the game's developers introduce new ways to make the virtual representations of the NBA's stars play more like their real-life counterparts.
One of the tools at their disposal to give players more individual flair without introducing unnecessary cheese into the game is a set of 82 skill badges. The badges range from personality traits like Alpha Dog, which will increase a player's attributes when his team is in need of a rally, to more situational talents, like King of the Euros, a badge that simply boosts the efficiency of Euro step finishes for the players to which it is assigned. Each badge has three levels—bronze, silver, and gold—to denote the strength of their effect.
"When you watch LeBron James run up and down the court and dunk over everybody, that's something he did more in 2007," said Stauffer, a lifelong Cavaliers fan. "It's still something he can do when he goes and tries, but he doesn't dunk over everybody on every possession anymore. And that's something that maybe you could do in 2K15, but through this new ratings system you should see reality reflected more in 2K16."
But at the end of the day, the realism only works if the game is still fun to play. Nobody wants to play a game where Nerlens Noel swats away every shot attempt at the rim, Nick Young drives baseline and hammers on would-be defenders with ease, and Danny Green can't miss an open three. The NBA 2K franchise didn't become one of the world's best-selling video games by being the basketball equivalent of a flight simulator, it did so by melding elements of advanced statistics and real-life probabilities with the arcade-style fun of the games that preceded it.
Stauffer strives to create a game that appeals to both extremes of realism and entertainment and everything in between. If you still want to run up and down the floor and jack up threes, switch the game's difficulty level to rookie or pro, he says. If you want a more realistic experience, play on the harder settings.
"We just want to make it fun for people to play real basketball," he says. "If that's what the new ratings can do, then maybe those people who just want to dunk on every possession start to think, 'Well, I want to win more than I want to dunk, so I'm going to try and learn how to do it.' Really, there's something for everyone in this game."
NBA 2K16 ships to those who pre-ordered on Sept. 25 and drops in stores on Sept. 29. It can be picked up for Xbox One, Playstation 4, Xbox 360, Playstation 3, or PC.