Here's one of the most fundamental lessons in WWE scheduling: the worst of an international house show tour is the Raw that comes after. Whenever the company takes its show away from the U.S./Canada tag team, the residual effects are felt on its flagship show. Case in point, this week's Raw, which followed a (by all accounts) highly successful Australian tour over the weekend. While not necessarily the worst show of the year, everything felt diminished by the understandable lethargy that comes with jet lag and exhaustion. When even Cesaro has trouble crafting a very good Raw match, you know something's off.
Regardless, Seth Rollins did his best to get Raw off on the right foot with one of his opening promos that drags on for far too long. This one, however, could have been longer and it would have been fine: the champion's unrelenting assault on John Cena's dignity is a thing of beauty, after all: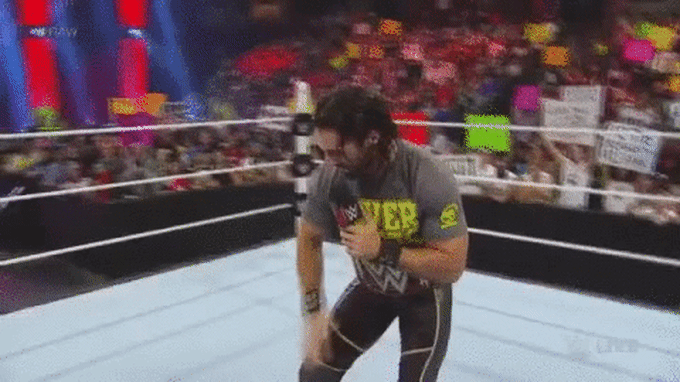 Between that and the Photoshopped Cena "live via satellite," Rollins was more than holding his own, until the aforementioned Cesaro came out to demand a title match as part of the WWE World Heavyweight Championship open challenge...only to be told that the challenge was a one-time thing only last week. That brought out both Kevin Owens and Randy Orton to similarly demand title shots. Care to guess what happened next? Triple H came out, to a rather surprisingly loud pop, and made a triple threat for a title shot in the main event. Obvious booking can be fun!
That triple threat, however, was not. Or rather, it was fun in spots and extremely slow in others, which should never happen with these three. Aside from some nifty high flying from Owens and Cesaro's usual uppercutting brutality, the match didn't wow like one would hope; whether it's due to the Aussie tour or due to not wanting to pick up an injury before the second biggest show of the year, these three played it mostly safe (although Owens's dive to the outside did look like it injured Cesaro's knee; thankfully it turned out to be nothing). The finish was appreciated, however, as Orton blocked Owens from doing a Pop-Up Powerbomb on Cesaro with an RKO, before also hitting the Swiss Superman with one for the win.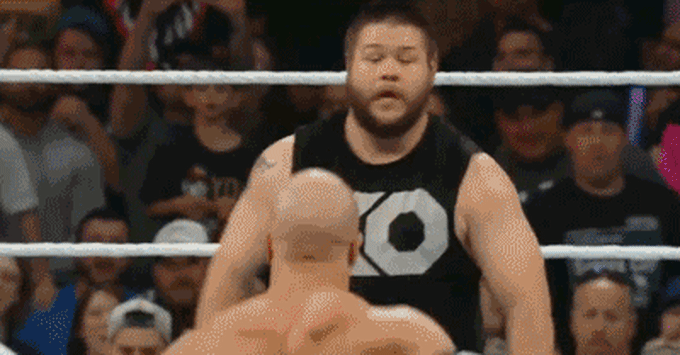 And so, Orton vs. Rollins was set up...again. That match was basically the same match they had earlier in the year, minus the great conclusion, of course. Unfortunately, Sheamus is a thing, and he interfered, costing Randy the title in order to...well, try to cash in but fail when the ref apparently did not understand what a Money in the Bank briefcase does. It was the worst teased cash-in in memory, and that was before Orton hit the Celtic Warrior with an RKO to end the attempt and the show.
Elsewhere, the Divas have hit the first real roadblock in the #DivaRevolution: After last week's SmackDown disaster (read more about it here), Team Bella and Team B.A.D. put on a weak trios match that ended in a Brie Bella roll-up, before devolving into a 9-person brawl. The more things change, the more BRIE MODE stays the same. At least we got the announcement of a cool triple-team elimination match at SummerSlam.
Brie's husband Daniel Bryan was also featured last night in his home state, which will never not be cool. Before his Miz TV segment got derailed by the god-awful Intercontinental Title build, Bryan reminded us just how over he is in Washington, all the while making us miss the genuine "YES" chants that accompany his every journey into the ring. Get well soon, Daniel.
The real highlight of the night, however, came from the show's guest star, which is a rare thing to say: Stephen Amell, of the CW's Arrow, was ringside throughout the night, teasing a Stardust confrontation that eventually came after a forgettable Neville squash of King Barrett. The Cosmic One pushed Amell in the face, which led to...well, this: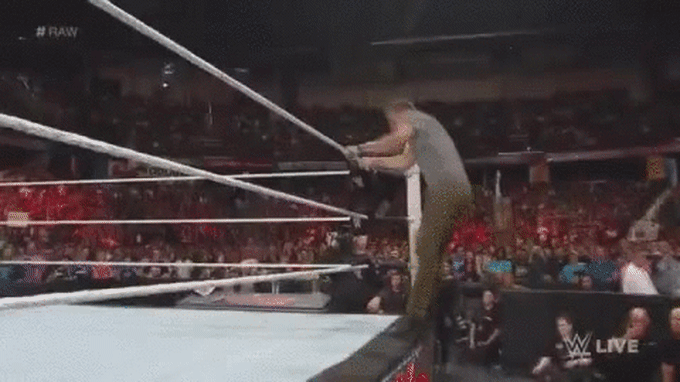 Oliver Queen don't fuck around. After a commercial break, Triple H confronted Amell backstage, with the Arrow demanding a match at SummerSlam: him and Neville vs. Stardust and King Barrett. Amell even claimed he'd sign whatever papers WWE's lawyers (hopefully David Otunga) crafted up, which led to Triple H granting him the match. Given the speed with which he got into the ring on Raw, it looks like this might be more of a match that normal guest star matches, praise be to Arrow. And so, another set of matches is announced for the huge SummerSlam in a couple of weeks, which is looking like it could surpass this year's great WrestleMania for Show of the Year honors.
RESULTS
Team Bella defeated Team B.A.D. by pinfall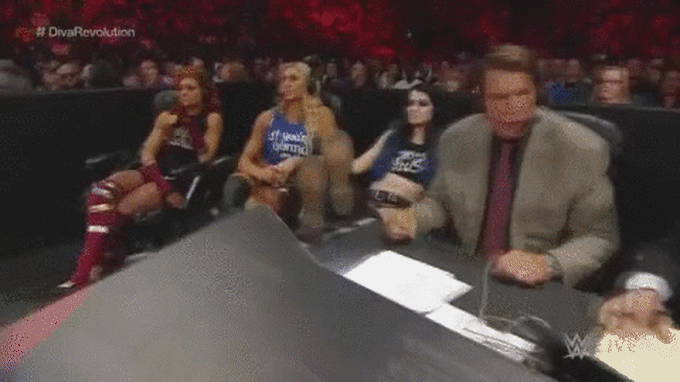 The New Day defeated Los Matadores by pinfall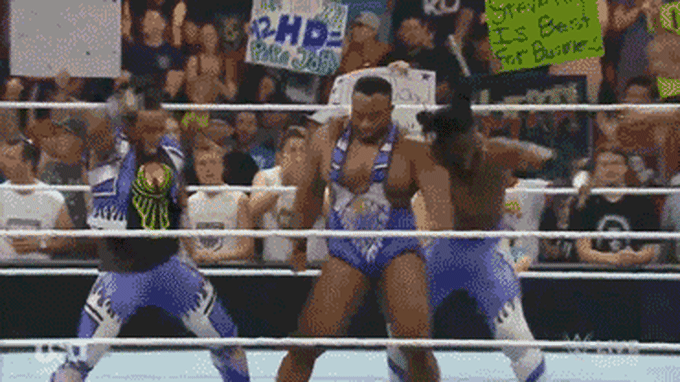 Randy Orton defeated Cesaro and Kevin Owens by pinfall (No. 1 Contender's Match)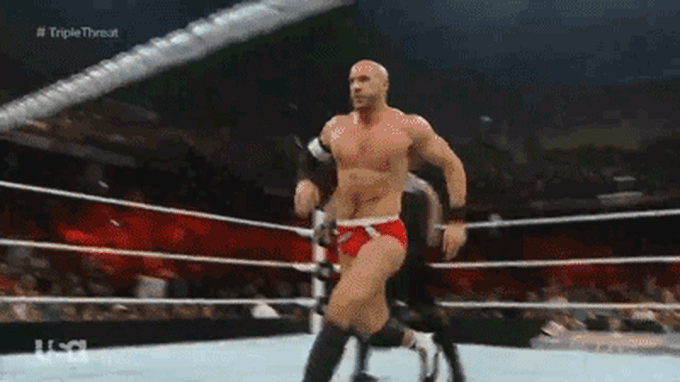 Luke Harper defeated Dean Ambrose by pinfall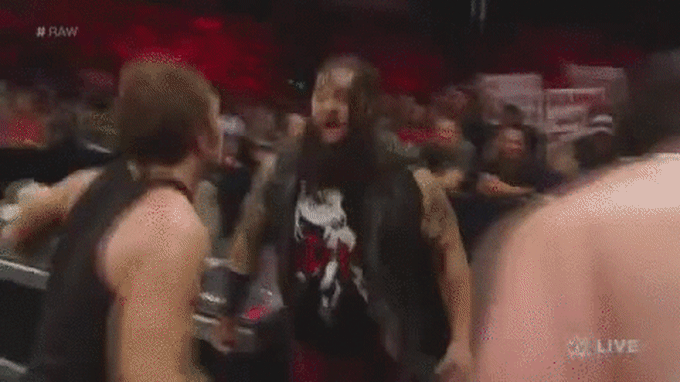 Miz TV featuring Daniel Bryan (appearances by Big Show and Ryback)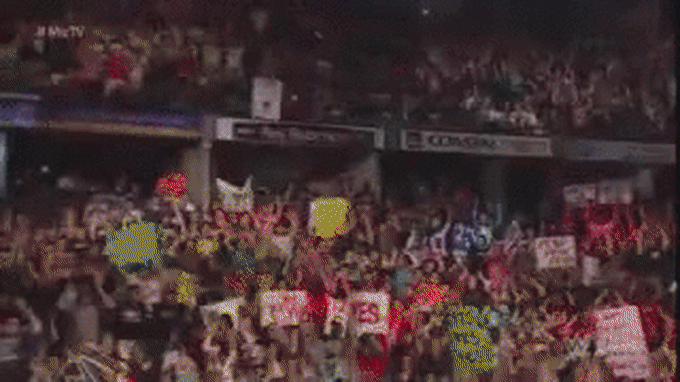 Rusev and Mark Henry fought to a no contest after Summer Rae and Lana interfered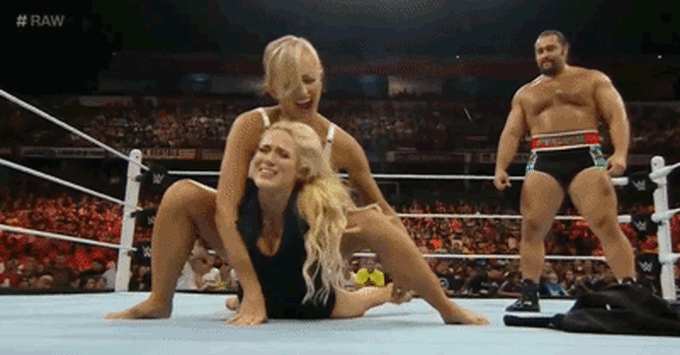 Neville defeated Bad News Barrett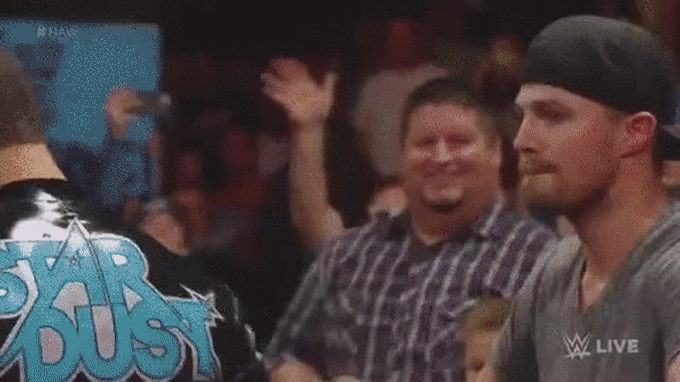 Randy Orton defeated Seth Rollins by disqualification after Sheamus interefered (WWE World Heavyweight Championship Match)