Between LaMarcus Aldridge taking his talents to San Antonio, DeAndre Jordan giving the Dallas Mavericks blue balls, and poor, poor Luke Ridnour getting dealt four (FOUR!) times in less than a week, there was no shortage of drama this NBA offseason. However, few if any transactions fused a player to a team like the one involving Matt Barnes, who was jettisoned to Memphis after being shopped to Charlotte in June. His on-court identity is tailor-made for the Blues City.
In a season where pundits ranted about the development of pace-and-space offenses, a mind-bending influx of three-point field goal attempts, and position-less lineups, Memphis remained fundamental—some would label it archaic—in traditional, slow-moving sets, and hoisted the second-fewest attempts from beyond the arc of any team in the league. Where other teams sought flash and highlight-reel fodder, Memphis doubled down on its stock of second-chance scoring opportunities, airtight pick-and-roll defense, and brawn. The Grizzlies, under second-year head coach David Joerger, amassed 55 wins, the fifth seed in the Western Conference playoff bracket, and an appearance in the conference semifinals for the third time in the past five seasons. 
"I think Memphis is a team that has a playoff brand of basketball year-round," Barnes says. 
They don't find success by aligning their blueprint with that of the rest of the league. While a lion's share of NBA franchises play at increasingly frenetic paces, the Grizzlies played at one of the slowest. Watching Memphis play can feel like an exercise in nostalgia, evoking memories of long-lost eras: back-to-the-basket offensive cadences, defense-first mentalities, an inability to attack their paint defense and come out unscathed. There's showmanship on the court, sure, but make no mistake—the Grizzlies are a grit-and-grind, rinse, repeat franchise, playing in an arena colloquially and aptly known as the Grindhouse. 
"I grew up in the '80s, watching (the) Lakers, Celtics, Detroit, Chicago, you know, just "real" basketball: guys being physical, really being allowed to play."
Enter Barnes: a basketball nomad with more ink on his body than your lay tattoo artist, and the last person you'd find in a Pottery Barn. Memphis will be the ninth team of his soon-to-be 13-year professional career. Like essentially every member of the team's current roster, Barnes is a hawking defender—two members of the starting rotation were selected to the NBA All-Defensive First Team last season, including Marc Gasol, who was named Defensive Player of the Year in 2013—with a mouth unmatched by anyone in the league and perhaps anyone in any professional sport. "Shit, I've spent too much on fines over my career," Barnes says. "If I had to say how much I've paid in fines over my career, I'm sure it's over $500,000, going toward $1 million."
A small chunk of that came this year. In last season's playoffs, the NBA doled out a $50,000 fine to Barnes after he got into a verbal altercation with James Harden's mother. "Like, for me to get fined $50,000 for saying something to someone, and in the same day someone get a $25,000 fine for pushing a fan — that's laughable," Barnes says. "It's a joke. But there's nothing you can do; you can't fight the NBA."
And last month, Barnes made waves throughout the Twittersphere, openly voicing his opinion of Oklahoma City Thunder center Serge Ibaka. On ESPN, he posited that he'd be down to fight the Congolese native. The comment was acknowledged by Ibaka, who subsequently reached out to UFC president Dana White about the prospect of the showdown. "On the court, there's just too many cheap shots, and he's always claiming he's innocent," Barnes says. "I'm sure he's a great guy (off the court), he does a lot of good things for the community, but just the way he plays, I don't get it. If we're going to play basketball, let's play basketball. If we're going to play WWE, go to the WWE."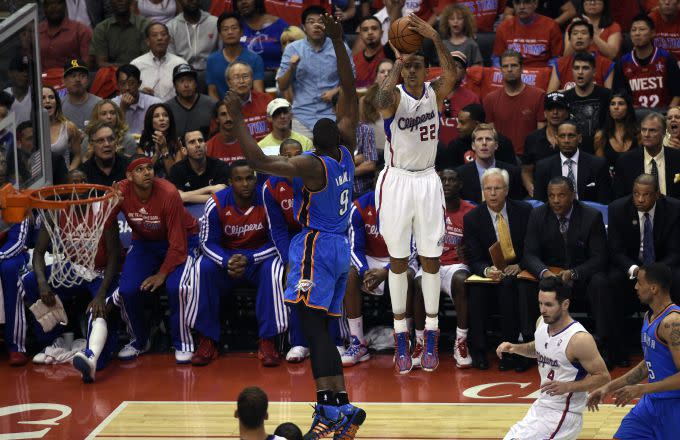 His motor is equal parts aggression and loyalty: a dude who has no problem cold cocking you in the teeth if you inadvisably foul one of his teammates. The Santa Clara product finished fourth this season in technical fouls accrued (13), and was ejected from two games. "Nowadays, you know, the NBA is more like a flag football league than anything," Barnes says. "You can't touch certain people, you can't do certain things. It really slows and bores the game down."
Yet, despite the controversies that tail him, and his advancing age, Barnes remains a valuable player in the league. With all 30 teams capped at having no more than 15 players on their roster, the active NBA fraternity is less than 500 players deep each year. Of the 492 athletes who logged at least one minute of game time last season, less than 5 percent of them were over the age of 35. Barnes turned 35 in March, but that didn't stop him from setting a career high in single-season minutes. It didn't stop him from ending San Antonio's season by volleyball-spiking an alley-oop attempt. He'll be the second-oldest player on the Grizzlies roster next season. He credits his late-career stamina to a lack of playing time in the first five years of his NBA career, and his diligent work ethic. 
"I've never had a huge contract," Barnes says. "Up until five or six years ago, every contract I was on was a one-year deal. Every game was an audition. I think I developed a reputation early on and it was to do whatever it took to survive." When Barnes speaks of survival, it isn't hyperbole; the guy grew up watching his father—a part-time drug dealer who kept a knife and a gun in his car—physically assault other people. "I think what I came from and what I saw molded me into a certain person," Barnes says. "Nothing was ever wrapped or a silver spoon, so I don't think I would know how to live and I don't think I'd want to live if it wasn't a grind." 
The hard-nosed, by-any-means-necessary brand of basketball Barnes plays was instilled by those he looked up to. "I grew up in the '80s, watching (the) Lakers, Celtics, Detroit, Chicago, you know, just "real" basketball: guys being physical, really being allowed to play." There isn't a single player, past or present, who he says he wouldn't step to for a rebound, though. "The game is competitive, so I'm going to go after any and every rebound—Shaq, anybody," Barnes says. "As far as stepping to them, probably like OGs like Anthony Mason, rest in peace, and Charles Oakley — those kinds of guys, the guys I really love watching back in the day."
His roots never left him. Barnes lost his mother in 2007 after she was diagnosed with four different types of cancer. "Mother" is inked in large, wavy font down his left side, and Barnes started a non-profit organization, Athletes Versus Cancer, in her honor, in 2008. 
"Two years ago, I teamed up with Snoop (Dogg) to do a football game. He lost his uncle to cancer. We're going on our third year of the football game and have spread it into an entire weekend: comedy show, pool party, and the football game. We just call up all of our friends throughout the industry, throughout athletics to come out and support a great cause."
It speaks to a side of Barnes that one doesn't often hear about. Preconceived notions have followed Barnes like a shadow most of his playing career, including his tenure at UCLA. "I think I've been judged so harshly on who people think I am that when they actually meet me they're like, 'Oh, OK, well that's nothing like you,'" Barnes says. "I just think that my road has been so difficult to get where I'm at that I don't take anything for granted."
That includes, unfortunately, his day job. Barnes was in New York with his twin sons when he was told his three-year run with the Los Angeles Clippers—the most successful seasons in the history of the franchise—had ended. Friends and his financial adviser broke the news rather than the team. "There's definitely a double standard there that's frustrating as a player," Barnes says. "Take DeAndre Jordan for example: when you want to leave and go somewhere else, you're the bad guy. But at any given time, a team can trade you or cut you." 
"Nowadays, you know, the NBA is more like a flag football league than anything. You can't touch certain people, you can't do certain things. It really slows and bores the game down."
Regardless, Barnes is optimistic about the change of scenary. "I'm really excited about coming to Memphis," he says. "Tony (Allen) and I are really good friends. We went to each other's weddings. We always said, you know, 'Man, I wish we could play together. I wish we could do this, I wish we could do that, and we actually have a chance now. We're interchangeable and we're going to cause some havoc this year."
The addition of Barnes doesn't signify Memphis as a championship lock for the upcoming season, but they will—as they have for the past half-decade—contend. It says something that a franchise firmly rooted in an identity isn't out chasing marquee free agents (though they did re-sign Gasol to a max deal), but rather glue guys. Memphis isn't looking to recalibrate its system with Barnes; it's looking to reload.