The same unintentional joke happens every morning after a Ronda Rousey fight. One Twitter or Facebook user posts the knockout and the moments leading up to it. Another user sees it and says something along the lines of, "That's crazy. Where can I see the whole fight?" The usual answer: "That was the whole fight lol."
It's been like this for the entirety of Rousey's professional career, which is a greatest hits reel. If you think that's being hyperbolic for some reason, watch all of her fights back to back. Never mind the knockouts or the submissions. Note how much time it takes—less than 30 minutes.
Rousey's last three matches each lasted less time than it takes to read this intro. Her last opponent, Bethe "Crazy Eyes" Correia, actually did better than Rousey's last two opponents. This fight lasted longer than the last two combined.
However, this is what doing better against Rousey looks like: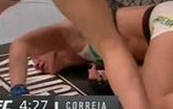 And 34 seconds is still painfully short for a professional-level fight. It's open to some Twitter slander, too, just like everything else. Here's the lunacy that went down on #ThingsShorterThanARouseyFight.
[via Twitter]
Send all complaints, compliments, and tips to sportstips@complex.com