Knicks rookie power forward Kristaps Porzingis has been hitting the interview circuit a lot over the past year or so, which isn't unusual when you're a Latvian-born player trying to increase your profile in the U.S. Generally, rookie interviews tend to be bland: Say you're dedicated to working hard, you love your new city, love your teammates, and call it a day.
Porzingis' interviews? Anything but bland.
Aside from professing his love of the movie Friday and telling strangers in Las Vegas that he's 8 feet tall, Kris Porzingis gave us another gem in a recent interview with Bleacher Report:
Carmelo Anthony reached out to me after I got drafted. He said, "Congrats, welcome to the team." I didn't have his number, so I texted back, "Who's this?" And then a few minutes later, he said, "This is Melo" with his No. 7 as the "l." I met him actually when I came for my Knicks tryout for the first time. We've talked a couple of times since then.
Wait—Melo refers to himself as "Me7o" over texts? This is amazing information.
For all the negative press Carmelo Anthony receives due to being the best player on a horrible team in the nation's largest market, nobody can say he isn't great at branding. Responding with "This is Me7o" as opposed to simply saying "Carmelo" is a savvy veteran move, especially since the man's website URL is thisismelo.com.
Get your customs ready!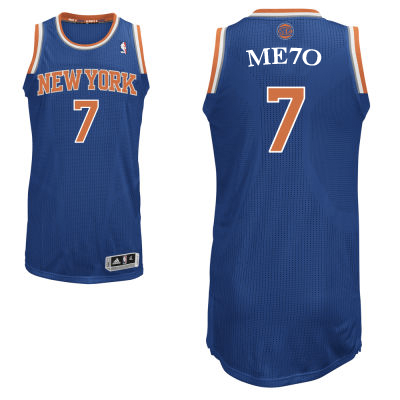 [via Bleacher Report]