ComplexCon returns to Long Beach Nov. 6 - 7 with hosts J. Balvin and Kristen Noel Crawley, performances by A$AP Rocky and Turnstile, and more shopping and drops.
Secure your spot while tickets last!
On May 2, the world witnessed a master-class in the sweet science of boxing, as Floyd Mayweather Jr. soundly outpointed Manny Pacquiao in the richest fight in the history of the sport. But while boxing pundits may have appreciated the skills exhibited by Floyd that night, boxing fans, on the other hand, were left dissatisfied having spent hard-earned money on a hyped-up fight ultimately devoid of any sustained two-way action. The ensuing public backlash towards the so-called "Fight of the Century" has been tremendous, and once again proclamations of boxing's death have grown louder and louder.
Enter Triple G. Gennady Gennadyevich Golovkin, the reigning WBA and IBO middleweight title holder is poised to assume boxing's pound-for-pound mantle. As the sport's most active champion, Triple G has been fighting quality opposition three to four times a year since 2012, absolutely laying waste to any contender willing to challenge him. In doing so, he has compiled a knockout streak that spans 19-straight fights while also becoming a cult hero for boxing fans all over the world in the process. But while fans have flocked to see him fight, the big names in boxing have steered clear of Triple G's war path, refusing to step in the ring with a fighter who has clearly become the most feared man in the sport.
We caught up with the middleweight destroyer at his training camp in Big Bear Lake, Calif. to discuss his fight against Willie Monroe, Jr. tomorrow night on HBO​, his motivations, and what it will take for him to crossover to a mainstream audience.
Interview by Anthony J. Asencio​ (@budgerodriguez)
In boxing, sometimes the guys who talk the most trash are able to land the biggest fights. For you, it's been nearly impossible to get the big names to even recognize you as a viable opponent, let alone actually fight you. Do you ever feel pressure to change your approach and subsequently become the bad guy? Or do you ever feel pressure to start being more vocal and calling out the big names to get them to fight you?
No, I never talk bad towards [other champions]. I don't have a bad mouth, you know? First, thank you very much to my coach, Abel Sanchez. He brings my style, my power, my speed, and is very good for my team.
What concerns you about Willie Monroe's style, if anything?
He's a good fighter. He's a very smart fighter. He has a lot of movement, [which is] a little bit different for me. I work with big punchers, you know, strong guys. This will be a little bit different. I want to beat any style. Right now that's my motivation for Willie because he is very good at moving, he's a little bit different.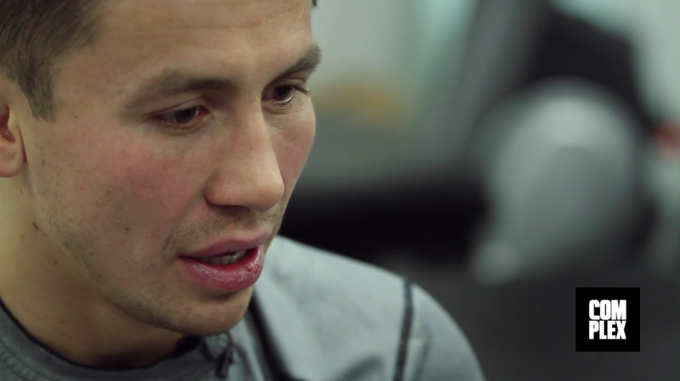 In boxing, there are often times "trap fights," where you have a fighter on the cusp of crossing over into superstardom take a fight with an underrated fighter who might be easily overlooked, and ultimately loses. How do you stay focused on the task at hand, knowing there are big fights on the horizon?
Right now I understand my situation. I have WBC Interim Belt. Miguel Cotto, he has the regular belt. This is my motivation. Of course, my focus is on Willie Monroe right now, and I understand this is not an easy fight for me. I hope so for [the] future, I have a fight with Miguel Cotto. Because for me it is very important who is number one in the middleweight division. My goal is all the belts in the middleweight division.
Do you think those belts, those titles, still matter to people?
Absolutely, hopefully.  
Carl Froch and Andre Ward have said they'd fight you, but they don't think you're serious about moving up in weight. Let's say Cotto doesn't choose to fight you. At what point do you see yourself moving up in weight and chasing those guys?
Everybody wants money, not belts. Just money. Ratings. I like old school. I like, 'who is number one?' Who is best in the world?

Right now my focus is 160. I want unification fight. If not Miguel, maybe Andy Lee. Right now there is a very interesting fight between [Hassan] N'dam and David Lemiux. [The] IBF title is very interesting for me too. I want a unification fight. Of course, Andre Ward and Carl Froch are two big guys, two great champions. I respect them.  
What would a loss mean to your career at this point?
I think of my Olympic game, final of my Olympic games.  Bad day…
Do you fear anything when you step in the ring?
No. I understand the situation. This is business. This is the boxing business, it's difficult for everybody. Everybody wants money, not belts. Just money. Ratings. I like old school. I like, "Who is number one?" Who is best in the world?
So you fight for glory?
Yes, absolutely. Outside the ring you're a pleasure to deal with, you're very easy going, but in the ring you're a killer? How do you turn the switch on and off?
I'm a little bit different. I am regular in my life. I am a professional sportsman, a professional athlete. I go into the ring, I understand my job, I understand my situation. This is my work, this is my life. In the ring, I am Triple G. It's a little bit [of a] different situation.
Why do you train in Big Bear, and what do you like about training up here?
I like Big Bear because it is a little bit difficult for training. Big Bear is an amazing place for boxing.  One hundred percent focused on boxing. Everybody comes for hard training, not for easy training. Not for parties. Not for games. Not for night parties, just for training, boxing.
What kind of music do you listen to do get you amped up for a fight?
I like Michael Jackson. My style is a little bit old style, Michael Jackson.
This is your second fight in Los Angeles, a city you've recently relocated to. How does it feel to be embraced by other cultures in LA, specifically the Mexican audience?
It feels great.  Thank you very much for my fans. For my Mexican fans, for my American fans. That was my debut in the Stub Hub Center. It was an amazing atmosphere. I hope this fight is the same. I will bring an amazing show for my fans. Big present. I promise a Big Show.
Do you think it's possible for you to crossover into the mainstream without landing one of those big fights, one of those elite name fighters?
Absolutely. First, my goal is all the belts in the middleweight division. Of course, I want a pay per view fight, Chavez Jr., Miguel Cotto, Canelo Alvarez—I'm open for everybody. I want a unification fight. For me it is very important [to know] who is number one in the world.