As a general rule of thumb, guys should steer way clear of proposing to their girlfriends at sporting events. It's been done so many times in the past that it's become a huge cliché at this point. But the guy who proposed to his girlfriend at a Rays baseball game earlier this week gets a pass because of his relationship's back story and because of the unique approach he used to proposing.
Back in January 2012, Melissa Dohme was stabbed 32 times by her ex-boyfriend after she agreed to meet up with him one final time. She survived the stabbing due in large part to the care she received from a team of paramedics, which included a guy by the name of Cameron Hill. After she recovered from the severe injuries she suffered during the brutal attack, Dohme and Hill started seeing one another. And on Wednesday night, Hill proposed to Dohme when she threw out the first pitch before Tampa Bay's game against the Yankees. The ball that the Rays gave her to throw out said "Will You Marry Me?" on it and, after she saw it, Hill dropped to one knee and proposed: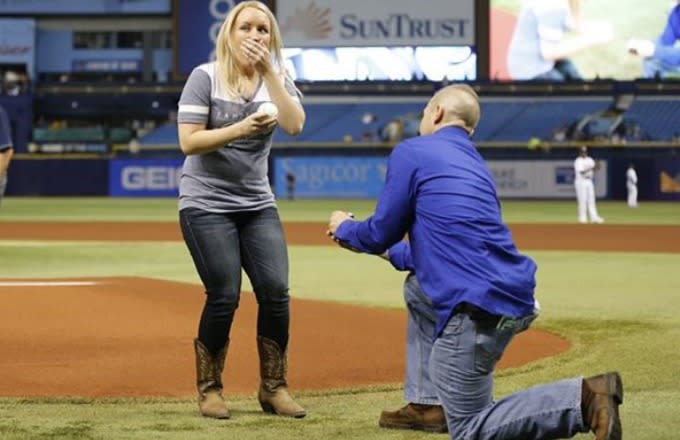 Is that an incredible story or what? Watch the video above to see the entire proposal. Sorry, guys, but you're not going to top this one. So don't even try.
Send all complaints, compliments, and tips to sportstips@complex.com.
[via SB Nation]