After a stellar season at Ohio State, D'Angelo Russell declared for the NBA Draft after only one year. Which seems like a smart choice, since the Louisville, Ky-born guard is a projected top-three pick and should be ripping apart NBA defenses when the season kicks back up in October. But we must also remember that he's still a 19-year-old kid that won't turn 20 until next February. And as a social media-era baby, it makes sense that he would use some of his down time until the NBA Draft on Instagram.
As you might know, the Lakers and Sixers will pick No. 2 and No. 3 respectively in the 2015 NBA Draft. Karl-Anthony Towns appears to be a consensus No. 1 overall pick at the moment, leaving Russell most likely to be drafted by Los Angeles or Philadelphia. The fan bases of these two teams have been going insane on Instagram, posting picture after picture of Russell edited into their squad's jersey. He's also been tagged in many of these, meaning that Russell himself is seeing them. How do we know he's seeing them? He's been showing love to a lot of the pictures of him involving Sixers and Lakers: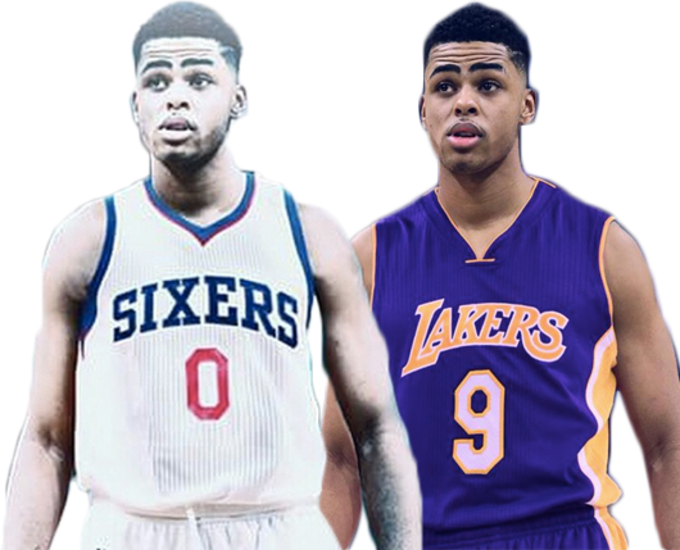 I did some extra investigation and checked the tagged photos on the Instagram accounts of other top picks (Emmanuel Mudiay, Jahlil Okafor and Karl-Anthony Towns), and didn't see them double-tap any pictures of themselves in NBA uniforms.
What does this all mean?
Nothing bad, really. Russell is a 19-year-old kid that's about a month away from reaching an insane dream of making it to the NBA. Obviously he's excited. And we're excited that we can vaguely follow his thoughts through Instagram. Since he's liking both teams' pictures it's not as if he's showing a preference for any one city. He knows that he's most likely going to be a top-two or top-three pick and that one of these places could be his next home.
If you want to investigate yourself, go to Russell's Instagram page and check out his tagged photos for yourself. For what it's worth, we still haven't seen any likes from him in Knicks gear.
Send all complaints, compliments, and tips to sportstips@complex.com